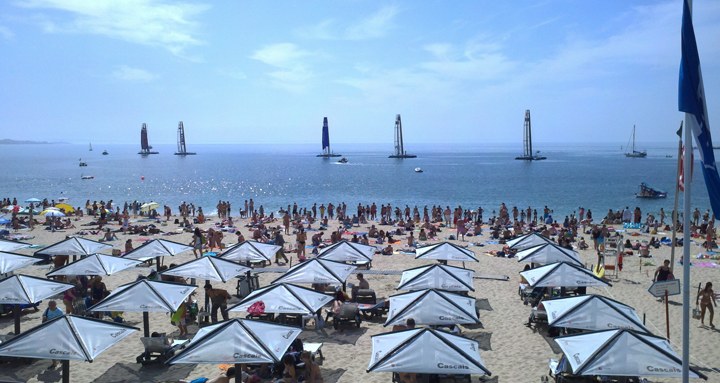 The America's Cup honchos wanted to bring the America's Cup "to the people," and based on this photo by Mike McMullen of Tiburon and the San Francisco YC, that's exactly what's being done for the first America's Cup World Series currently being held in Portugal.
Swept up by America's Cup fever, the McMullen clan — Mike; wife Karen, who has been interviewing Paul Cayard and others; son William; and daughter Mariel — flew over to Cascais to be a part of it. They have not been disappointed.
"Armed with a press pass and airplane tickets, and emboldened by promises of seeing the first AC Worlds Series up close and personal, I took a week off from my life with the family — all fans of the Cup, including one racing-crazed son, to fly to Cascais and check it out," reports Karen. "Cascais is an incredible international city, with everything one could want.
"The first race on Wednesday was postponed until 4 p.m., two hours after the scheduled time. But once the race was on, the energy was fantastic. Three nine-boat match races and almost all the action was visible from our hotel deck. Although you could watch while strolling down the promenade, or even while swimming at multiple beaches, the best viewing is at the waterfront Jumbotron which offered close-up tack-by-tack action and commentary. Turning one's head 45 degrees allowed you to watch the action on the water. We were there watching the start when Oracle Racing's Russell Coutts crashed into Emirates Team New Zealand; when we realized something had happened on the starting line, the replay was right there on the big screen.
"We had aspirations of sightseeing in this lovely country, but I'm having an impossible time dragging my son and my husband — and even myself — away from the excitement. And it's building. We aren't going anywhere but here."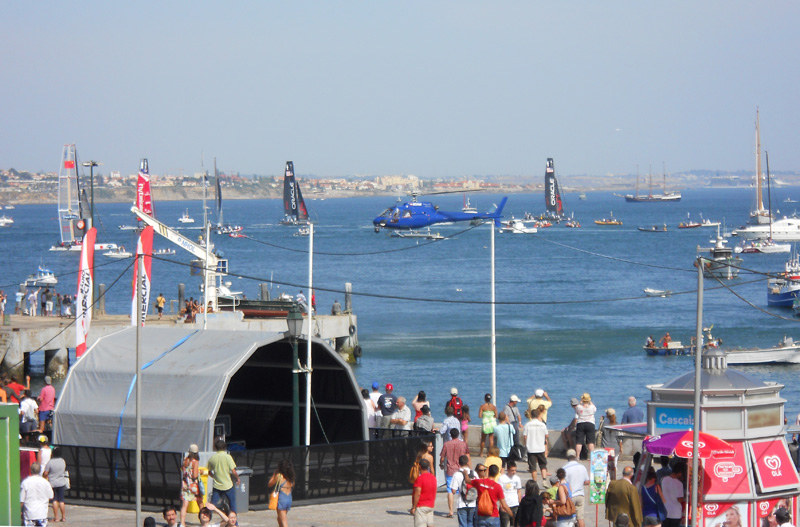 Emirates Team New Zealand hasn't let anyone down this week, having won nearly every race they've sailed — including today's match with Paul Cayard and Terry Hutchinson's Artemis — with nearly flawless boathandling and comparable speed. ETNZ goes into the ACWS Cascais Match Racing Championship atop the quarterfinal qualifiers, followed by Oracle Racing Spithill, Artemis Racing, Oracle Racing Coutts, Chris Draper's Team Korea and Loïck Peyron's Energy Team.
There were some big announcements today from the America's Cup Event Authority. Newport, Rhode Island, was announced as the first stop in next year's America's Cup World Series events. The most storied venue in the history of the Cup will play host to the Series from June 23-July 1, and will mark the end of an eight-month gap that follows the San Diego event in November.
The Event Authority also announced that it will be partnering with YouTube to create a brand new viewing experience for America's Cup racing. The new system will now offer online viewers the choice of different video and audio streams — instead of just one — thanks to the YouTube multi-screen experience. With the new player, viewers can choose from live footage onboard with a team, a graphical overview, or an eagle's-eye view as part of the daily livestreaming from race events. The different audio tracks will run the gamut from either expert sailing- or standard sports-commentary. This feature will be available on both the America's Cup YouTube channel and the America's Cup website, and will complement the live and highlight coverage offered by traditional broadcasters.
Receive emails when 'Lectronic Latitude is updated.
SUBSCRIBE