On Monday we couldn't resist sharing the astounding video of the sloop Atalanta trying to squeak past the bow of an 870-ft long supertanker during Cowe's Week off the Isle of Wight. Dozens of readers lent their wit to our caption/headline contest for the video. Below is a sampling:
"So what part of 'starboard' don't you understand, you big red behemoth?" — Walter Conner.
"Tanker Foils Yachts Attempt to Steal Ships Anchor." — Jak Ayres
"And now our top nominee for the Sailor's Darwin Award is. . ." or "Sailor's cure for constipation" — Dan Begonia
"Diagnosis: Crew suffers from acute case of SFB (shit for brains)." — Patrick Okey
"In the immortal words of Jim Kilroy, 'Mass times velocity equals right-of-way.'" — Chris Ericksen
"Vessel limited in her ability to maneuver runs down vessel limited in her ability to think." — Tim Schaaf
"Captain to crew, "hold my beer, watch this!" — Jim Van Cleve
"Does insurance cover new underwear?" — Bob C.
"Sometimes it sucks to be the frontrunner! — Ken Fouts
And our favorite: "Artist Cristo attempts to wrap a supertanker in pink," submitted by Paul Clausen who will be receiving some 'official' Latitude 38 swag for his efforts.
Here it is again if you missed it. And yes, all the sailors survived physically, although their egos undoubtedly took a hellacious bruising.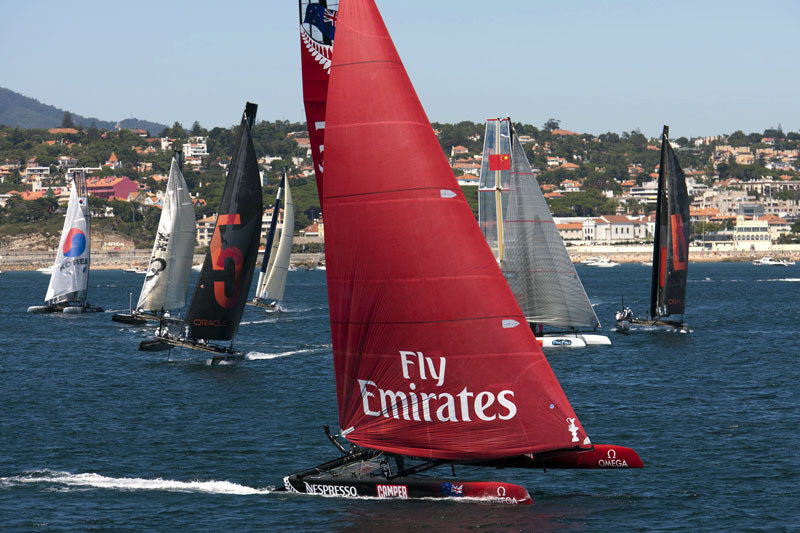 The America's Cup World Series got going in Cascais, Portugal, over the weekend with eight teams and nine boats. In what has been hyped as a watershed week for the polarizing new format for the Cup, the venue has unfortunately largely produced "it's never like this here" conditions. Rather than the Bay-like conditions it normally gets, the first day of racing got light air in the 3- to 5-knot range, and even rain! Thankfully Day 2 produced the goods and Emirates Team New Zealand carried the weekend with a win in both the "Preliminaries" fleet racing and the 500 meter time trial, over which they averaged 23 knots.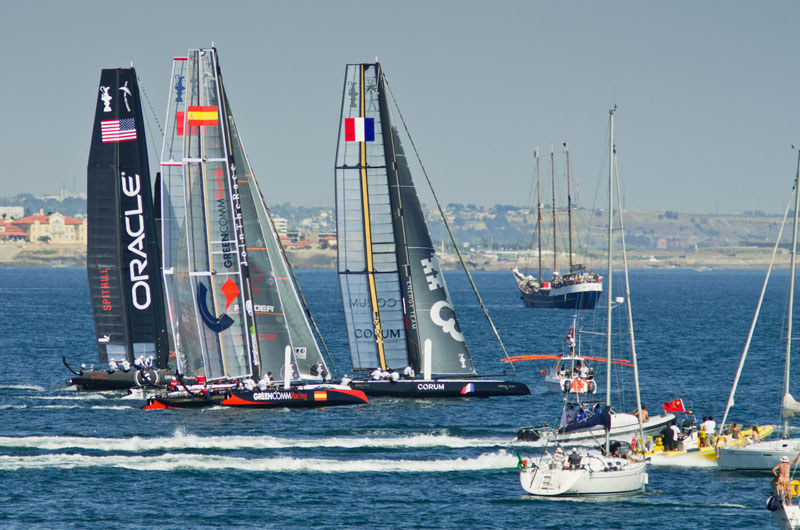 ETNZ picked up right where they left off in today's match racing-seeding series which was once again postponed due to light air. After three races, they lead Oracle Racing's Jimmy Spithill in second, with Team Korea's Chris Draper in third and Loïck Peyron's Energy Team in fourth. There have been video highlights at the end of each day, and the racing is live-streamed at www.americascup.com every day starting at 8 a.m.
It was more than 50 years ago that a young British immigrant to Canada named John Guzzwell made history by completing an unprecedented circumnavigation aboard Trekka, a 21-ft wooden yawl he'd built with his own hands. The book he published about his adventures, Trekka Round the World, became a cult classic among would-be voyagers, and is credited for sparking the dreams of many who have circumnavigated since — a must-read, in our opinion, for both offshore sailors and armchair adventurers.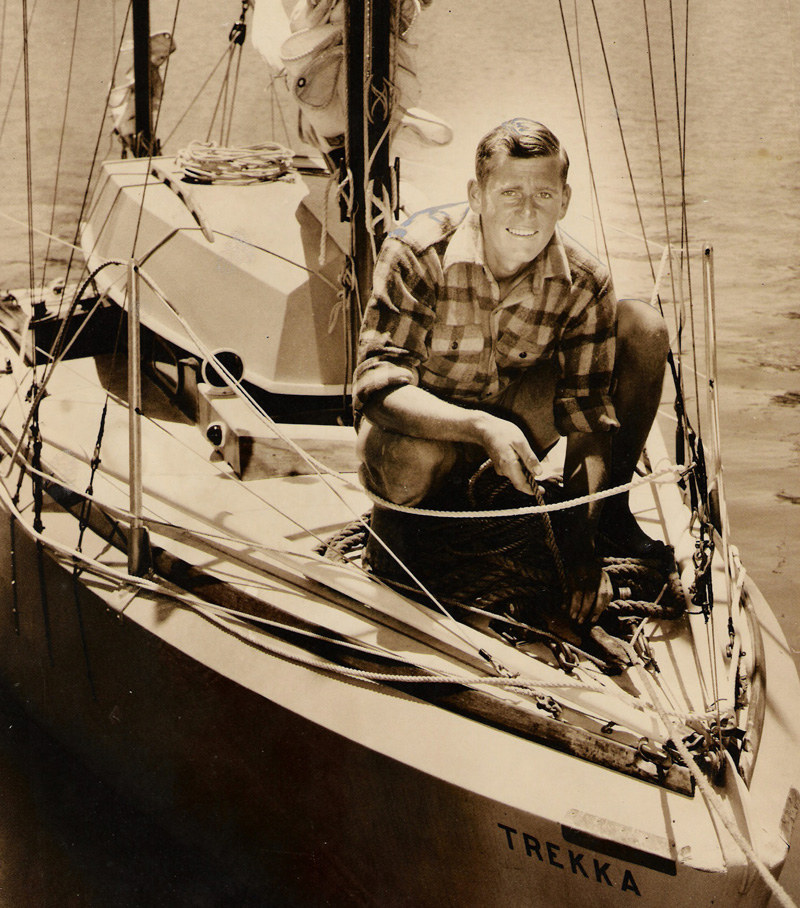 We're happy to report that Guzzwell, who is not only a living legend, but is a true hero to many circumnavigators, is still going strong. And he's still lending his boat-building expertise to a variety of projects. One of his latest efforts was helping his longtime friend Bob Cadranell rebuild his R boat Ace in the Seattle area. "The original boat was in very poor condition," Guzzwell explains, "so we rebuilt the hull and used the original lead keel and many of the fittings and hardware. Ace is cold-molded of five 1/8" skins of Douglas fir with a final 5/16" layer of Sapele mahogany."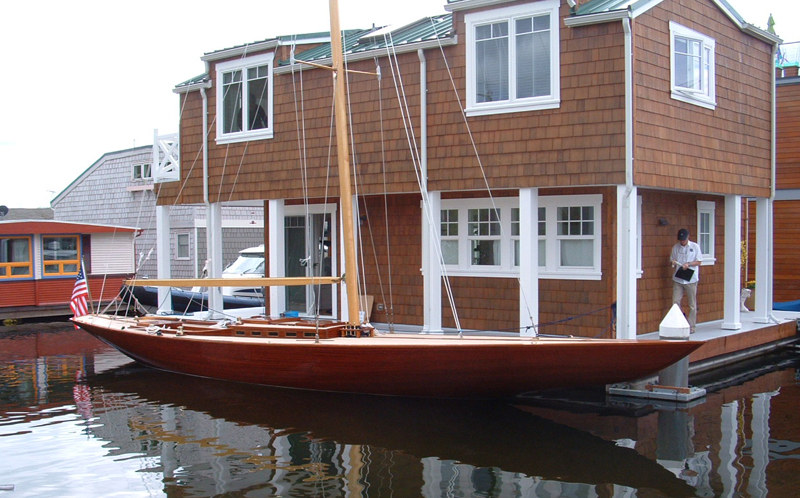 In October Cadranell will challenge the Royal Vancouver YC for the Alexandra Cup, which is now held by Lady Van. Guzzwell adds, "The original Ace was a San Francisco boat with a fine racing record. Designed by Charles Mower in the mid 1920's, she represented the city very well and it is hoped that her re-birth will generate interest in this class." Like minature J class vessels, they are designed to the Universal rule and feature long overhangs, narrow beam and low freeboard. Ace's is 43.5′ OA, has a 7'4" beam, and draws 6'.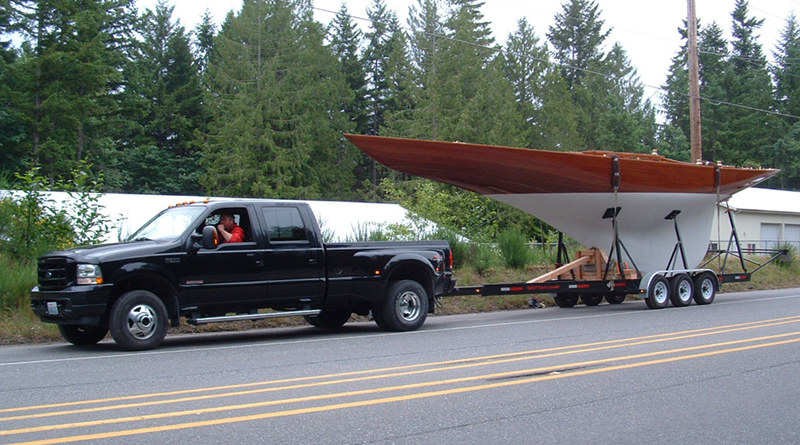 Receive emails when 'Lectronic Latitude is updated.
SUBSCRIBE