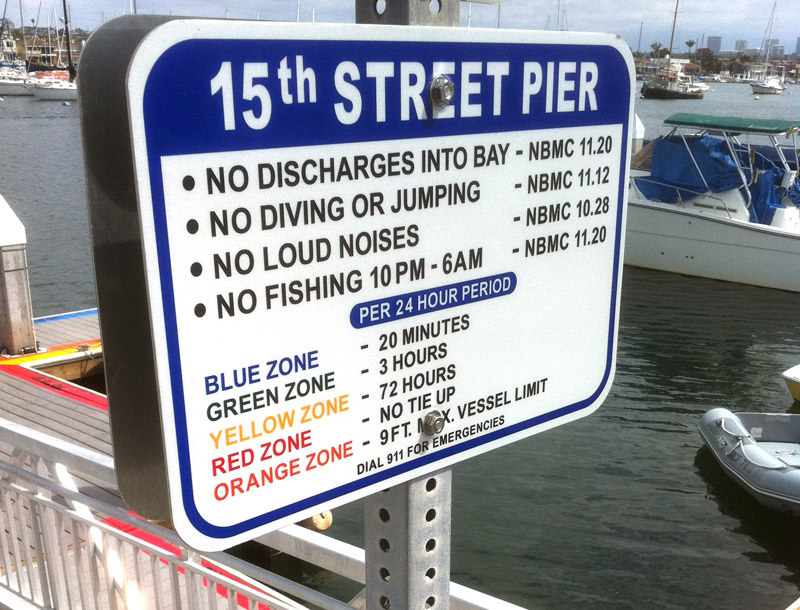 Reader Dwight Witherspoon of the Islander 36 Surfseaker sent us a photo of a sign posted at the dinghy/fishing dock at 15th St. in Newport Beach. We assume that there are similar signs at the other dinghy/fishing docks around Newport Harbor.
Dwight's comment is, "Newport Harbor docks required changes, but this is too much!"
That's an understandable immediate reaction. But with all due respect, in our opinion it's simply an example of local officials trying really hard to meet all the various and competing needs and interests of people in a region that has become grossly overpopulated for the amount of water access.
With respect to the 'zones', we understand the need for all of them. You need the red so people have a place to fish, you need yellow so liveboards who are going to be gone for a few days have a place to leave their dink, you need green for folks on boats who want to go out to dinner or shop and do laundry, and you need blue for folks who only need to dash to their car or pick people up. If there weren't different zones for different purposes, you'd have 72-hour people taking over the place to the exclusion of folks who only need to go to shore for 20 minutes or three hours — or vice versa. It's not going to work out perfectly, but there's no way to please everyone all of the time.
Two things strike us as odd. First, shouldn't there be a 13-ft limit on the maximum size dinghy to tie up at a such a dock? It's aggravating to us when somebody in a honking-big 20-ft inflatable with two big outboards takes up an entire zone. Second, how can folks tie up for 72 hours in a 24-hour period? But yeah, we're just picking nits.
We were lucky enough to spend three months of the winter in Punta Mita and other parts of coastal Mexico, and almost as much time in St. Barth, so we've gone a winter without crowd issues and without the need for a billion rules about every little thing. As we said, we understand the need for many of the rules in overcrowded places such as California, but the sense of personal freedom is so much greater in less-crowded coastal Mexico and the islands of the Caribbean.
You want to jump or dive off a dock in either place? Nobody's going to stop you. You want to yell and scream. Within reason, nobody is going to care. And you can fish all through the night.
Further, U.S. officials would be horrified at what passes for 'boating safety' in places like the Caribbean. Hardly anybody except infants wears lifejackets, and it's commonplace to see things life six pre-teen girls on the bow of a small powerboat sitting outside the pulpit, legs over the side. It's not a hard and fast rule, but in the United States, the government tries to protect people from themselves, while in most of Mexico and the Caribbean, you'd better take care of yourself because nobody else will. We're not saying one system is better than the other, but we do know whose kids grow up more adventurous and self-sufficient. And we know that at this stage in our life, fewer people and more freedom is our personal preference.
Receive emails when 'Lectronic Latitude is updated.
SUBSCRIBE