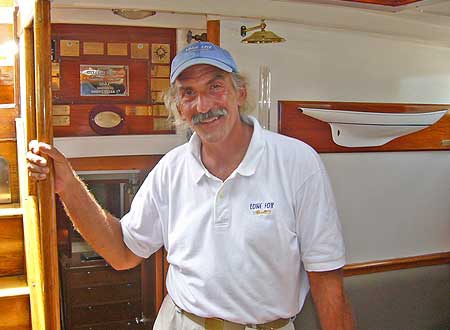 Sincere congratulations on three levels are due Ira Epstein of Bolinas, the owner of the 1962 Robert Clark-designed classic 65-ft wood ketch Lone Fox.
On the most basic level, Ira, who is in his early '60s, is to be congratulated for maintaining a large wooden yacht, something that has entailed both a lot of expense and a never-ending amount of physical labor on his part.
Ira, who is one of the really good guys in sailing, is also to be congratulated for a winter of incredible perseverance. We're not completely clear on the details, but during a charter in the Northeast last summer, the charterer apparently sailed the yacht onto a reef, got her off, and then motored her into the reef at such a speed that Lone Fox's keel had to be removed and recast. So instead of spending the winter in Lone Fox's traditional base of St. Barth, Ira was stuck at a yard in Camden, Maine, whose winter weather is not that different from the North Pole.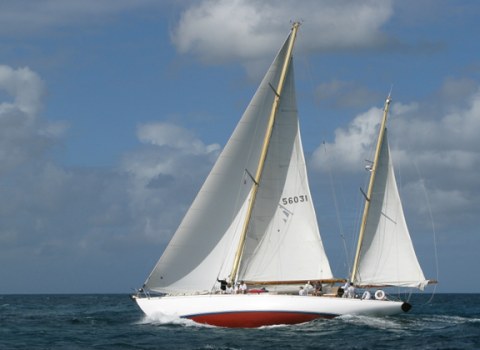 After normal yard issues, insurance settlement issues, and getting the boat ready again issues, Ira was determined to get down to the Caribbean for the end of the season — even though it would mean sailing from Maine to the Caribbean in February. That's as bad a month as you can pick for the trip, and many of his Caribbean friends hoped he wouldn't try it. The first attempt went badly as, after a day or two at sea, there was a problem with the fuel system and they had to turn back. After more money and work, Ira and Lone Fox took off again. If we're not mistaken, he had to stop in Bermuda to replace his crew. He found two new crew and, battered and beaten, they limped into Ira's home base of St. Barth, having missed the St. Barth Bucket by two weeks and the Voiles de St. Barth by just a couple of days. In other words, after the season had all but ended.
We saw Ira on the dock, and he looked a little weary — but happy to be back in the tropics, where he expects to spend the summer and at least next winter. But he admitted that Lone Fox's off-season and shorthanded attempts to make it to the tropics had taken a toll, particularly on the yacht's cosmetics. He was going to take about a day's rest, then would have to rush 85 more miles upwind to Antigua for the famous Antigua Classic Regatta.
And here is where the story really brightens. The beaten and battered Ira and Lone Fox not only won their class in the Antigua Classic Regatta, they bloody won the Panerai Trophy for having the fastest cumulative elapsed time in the fleet of 65 classic yachts! And we want to make it clear, this was a fleet sprinkled with some of the greatest yachts in history, most of which are maintained with a 'damn the expense' attitude. Among them are the J Class yachts Ranger and Velsheda, the impeccable 180-ft Herreshoff schooner Elena, the Soros family's 65-ft Nat Benjamin schooner Juno, both the Boleros — meaning the S&S 73 version from '48 and the much more modern 105-ft Frers sloop from South Africa — Alert, the Rhodes '63 that we believe was built at the Stone Yard and spent much of her time on the Bay, and not the least, the magnificent and monstrous dark-hulled Hoek 190 Marie.
Ira, you are the iron man with a wooden ship! We can't wait to see you flashing your prize, the Panerai Radiomir Black Seal watch — although we know we'll have to make you do it. We can't recall a time when we were so happy to see somebody win such a prestigious event, and to be so deserving. By the way, if anybody is interested in chartering a great classic yacht for next year's Antigua Classic Regatta, may we suggest checking out www.lonefoxcharters.com.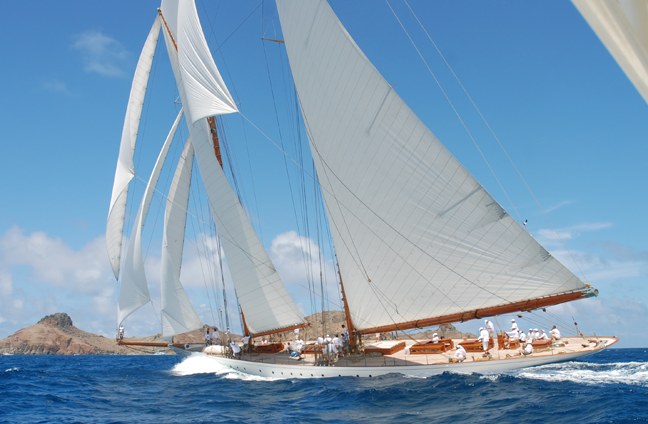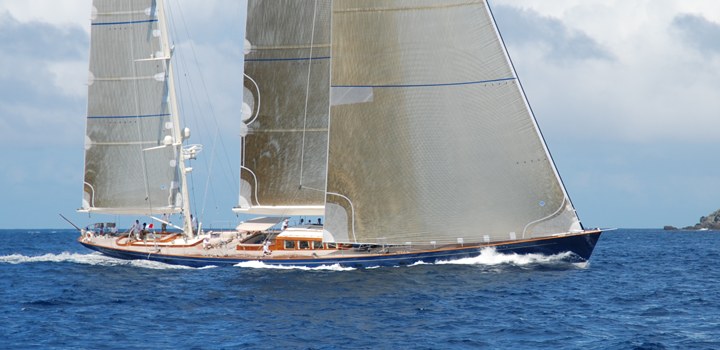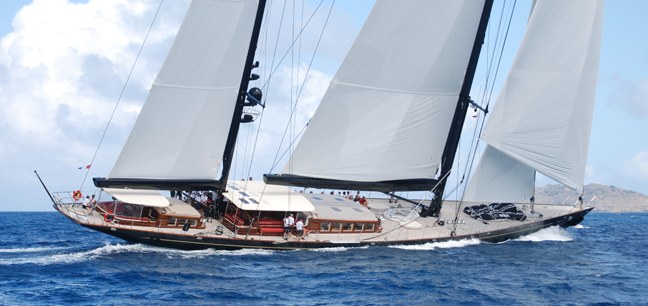 PHOTO
Receive emails when 'Lectronic Latitude is updated.
SUBSCRIBE