There's a new "largest privately-owned yacht in the world." She's the 533-ft motoryacht Eclipse, which is owned by Russian billionaire Roman Abramovich. The title was formerly held by a boat owned by a fellow from Dubai, whose boat is now about two feet too short.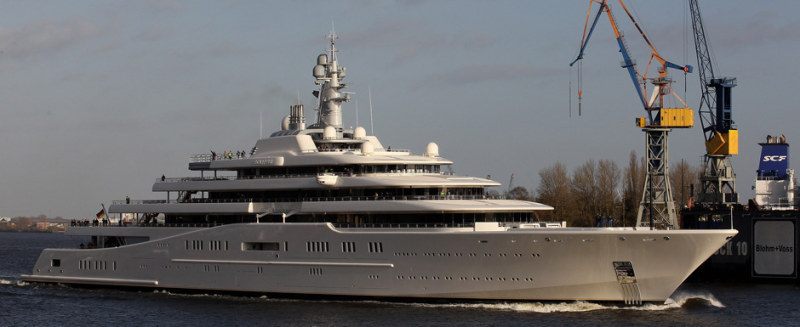 The 44-year-old Abramovich, who started his fortune by selling rubber ducks out of his apartment in Moscow, and is now said to be worth something like $11 billion, has long been a connoisseur of mega motoryachts. Up until he gave one to an ex-wife and sold another, he owned five. While Roman is single, he has a long-time girlfriend in 29-year-old Daria Zhukova, who graduated from our old school, UC Santa Barbara, and to whom he gives things like $50 million paintings.
Eclipse, which was built by Germany's Blohm + Voss at a cost rumored to be in the $500 million range, has every luxury and safety feature — bomb-proof master cabin, for example — known to man. She was launched in early December, a year behind schedule, but just in time for Roman to rush her across the Atlantic to the tiny island of St. Barth in the French West Indies — where last year he paid $95 million for an estate just behind Goveneur's Beach. Abramovich offered to build senior housing for everyone on the island if local officials would only deny public access to the beach. "Non!" was the emphatic response. This even after Roman had tried to soften up resistance by building a state-of-the-art soccer field and track for the residents of the island.
St. Barth has always been a really big deal for rich New Yorkers, Hollywood big wigs, movie stars, super models, and that kind of celebrity riff-raff. That's why about half the editorial space in the January issue of Vanity Fair was devoted to a land-squabble in St. Barth between the locals and the despised 'metropoles' from France.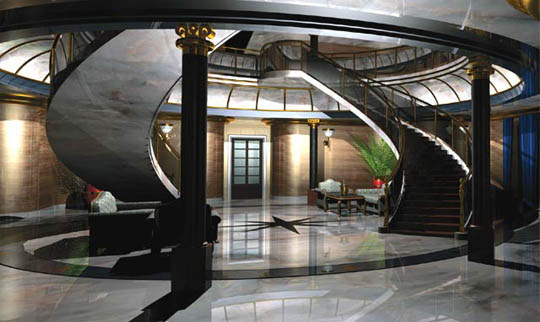 This year's New Year in St. Barth was a bigger deal than ever because, not only was Roman going to be there with his giant yacht, he was going to spend a rumored $5 million for a New Year's Eve bash at his new digs for 250 of his very best friends, with music provided by the Black Eyed Peas. Among the guests were singer Alicia Keys and her rap hubby, Salma Hayek and luxury goods business-owning hubby, Ellen DeGeneres and her wife Portia de Rossi, Demi Moore and boytoy hubby Ashton, P. Diddy, George Lucas, Stephanie Seymour and about 200 very rich and extremely famous people we've never heard of.
For 20 years, we spent just about every New Year's at St. Barth, either on the Ocean 71 Big O we used to charter out, or ashore waiting for 'ti Profligate, our Leopard 45 in a yacht management program, to come off her lucrative holiday charter. Last year we decided on a change of pace because it seemed like it blew like stink every time we went out sailing at St. Barth in December and January. The Christmas Trades, you know. So we spent this New Year's Eve on Profligate, anchored in the lagoon at humble Barra de Navidad, Mexico. Having declined the invitations of Doña de Mallorca and many cruising friends to go ashore and party while watching the fireworks, we got to ring in the new year by communing with our beloved catamaran. We're sure everyone at the ritzy parties in St. Barth had a fantastic New Year's Eve. Ironically, so did we. Contentment is a wonderful thing.
Receive emails when 'Lectronic Latitude is updated.
SUBSCRIBE