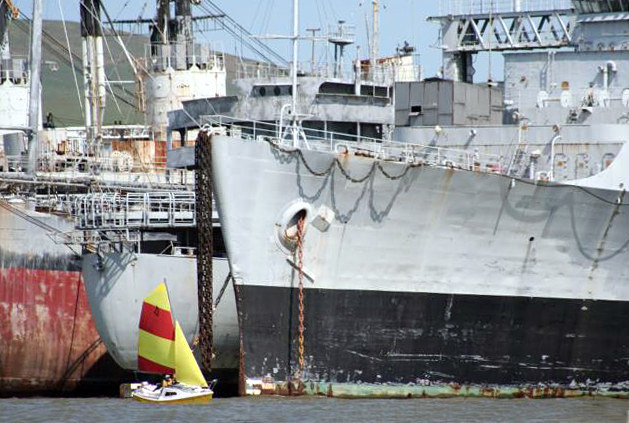 "A mere two weeks after our caper in the mud in Redwood City (see April's Sightings for the full story), our intrepid fleet of micro-cruisers sailed out of Benicia the last weekend of March to visit the Mothball Fleet," writes Dave Kautz, who sails a O'Day 192. "Great weather, great sailing, interesting 'scenery'. By my quick count, there were 15 boats — all under 20 feet." And it appears that, this time, they all managed to stay out of the mud!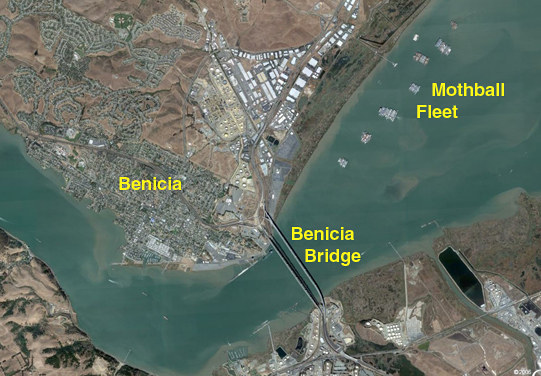 The Mothball Fleet — also known as the 'Ghost Fleet' — is a large flotilla of retired ships moored in Suisun Bay, just east of the Benicia Bridge. Officially dubbed the 'National Defense Reserve Fleet', these ships can ostensibly be ready to provide shipping within 20 to 120 days in the event of a crisis, but their appearance — scaly, rusty, apparently crumbling — makes one wonder.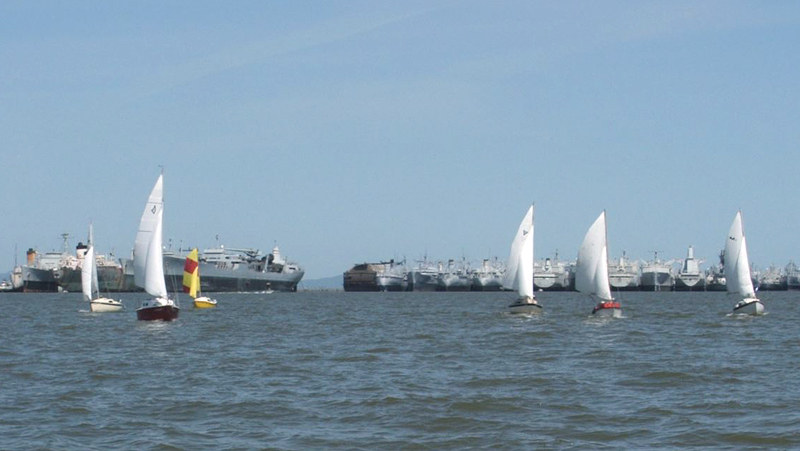 According to Wikipedia, "external painting and other cosmetic-appearance work is generally deferred since it is not detrimental to the ability to activate and operate the vessel," while corrosion and mildew are kept at bay to keep the vessels usable and inhabitable. But a February U.S. Department of Transportation Maritime Administration inventory of the fleet shows that 38 of the 89 boats moored in Suisun Bay are slated for disposal. The fleet's superstar — the WWII-era battleship USS Iowa — isn't one of them. Instead, 'The Big Stick' is in the process of being donated to not-for-profit group so it can be turned into a museum.
Around 5:45 a.m. on Thursday, April 1, a crewmember aboard the Pacific Puddle Jump boat Wind Child was injured during an accidental jibe. Michael Kalahar, 57, was reportedly sitting at the forward end of the cockpit when the Beneteau First 36s7's preventer failed, sending the boom sweeping across the cockpit. Instead of being hit in the head — a common injury during accidental jibes — Kalahar's throat was snagged by the mainsheet, slamming his head into a winch and pinning him against the bulkhead. According to boat owner Rudy Heessels's blog, crewmember Kevin Hendricks, a former paramedic, restarted Kalahar's breathing and tended to his deeply lacerated head.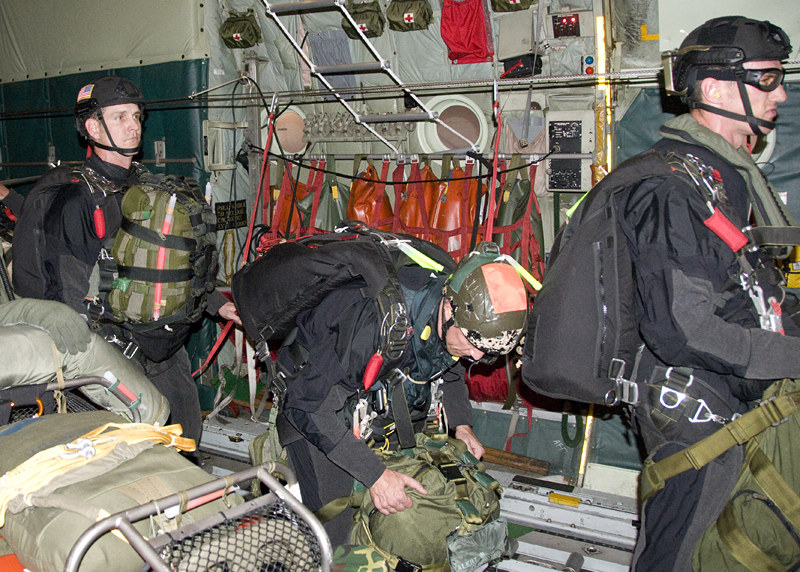 Coast Guard Duty Marine Investigator Al Daniel told us that a Coast Guard C-130 flew four Air National Guard pararescuers to Wind Child's location, 1,400 miles southwest of San Diego. Once in the water, the rescuers inflated a small boat and made their way to the sailboat, where they stabilized Kalahar. Wind Child then rendezvoused with the AMVER vessel Cap Palmserston, and Kalahar was transferred to their infirmary for the trip to San Diego.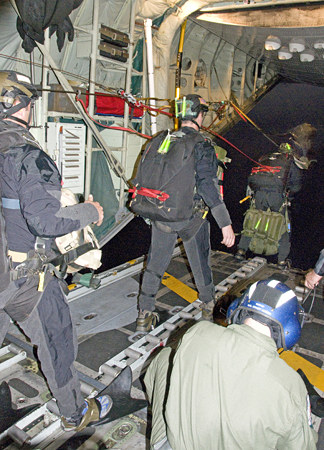 Last night, a few hundred miles out, Kalahar and the pararescuers were medevac'd to the hospital, where he is in stable condition. Scans show small areas of trauma to the brain that reportedly shouldn't be a problem, but he was still unable to swallow at this writing. His esophagus and larynx will be examined today.
As for the Sequim, WA-based Wind Child, a vet of last fall's Baja Ha-Ha, her four remaining crew — Rudy Heesels, Dave Taylor, Kevin Hendricks and Lawrence Hettick — are continuing on to French Polynesia . . . no doubt with dampened enthusiasm. Our thoughts are with the crew and Kalahar.
Receive emails when 'Lectronic Latitude is updated.
SUBSCRIBE