Gorgeous spring weather decended on the Bay this weekend, which turned out to be a good thing for some sailors involved in the Great Corkscrew Slough Race hosted by the Potter Yachters and South Bay's Peninsula YC.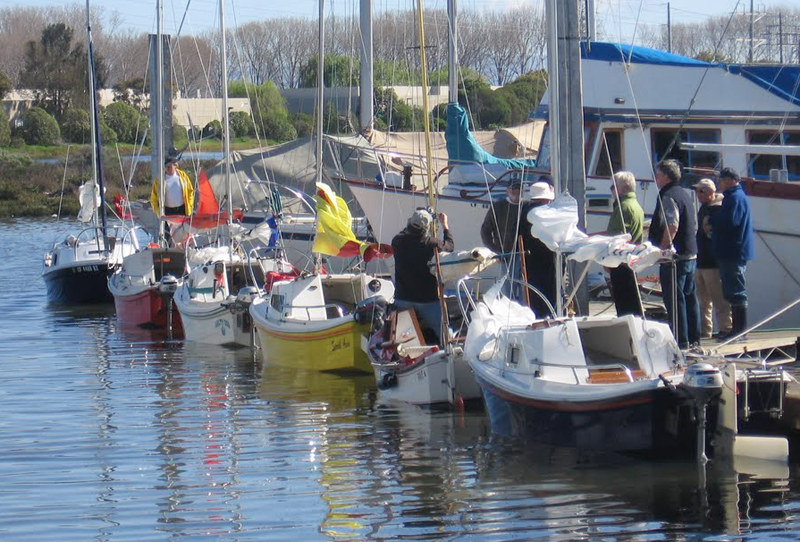 "This was the fourth year PYC hosted the rendezvous, and things looked promising," said PYC's Lee Callister. "The rain had stopped, there was breeze and everything seemed perfect." After the 10 a.m. skippers meeting at the clubhouse, the race officially started 'Le Mans-style'. "All the drivers ran — well, ok, walked briskly — to their waiting boats and set off down the creek. It was high tide. What could go wrong?"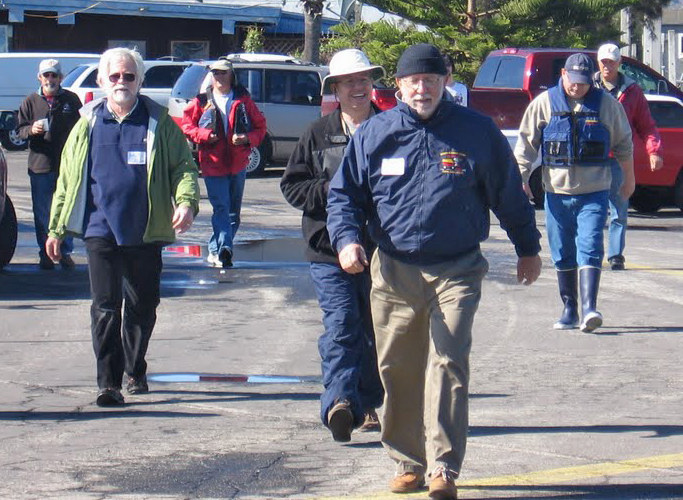 Light breeze is what went wrong. "It took them longer than anticipated to tack their way up to the turning basin where the creek widens," Callister said. "And longer to work their way to the mouth of Corkscrew Slough. And longer to tack their way up the shallow slough."
As the saying goes, time and tide wait for no Potter Yachter . . . or something to that effect. "First one boat ran aground, and then another," reports Callister. "Others who stopped to help then fell victim to the dropping tide. A few managed to power their way out but six were left immobilized. Fortunately, most were prepared, and all took it good naturedly by enjoying the sun and chatting on the radio as they waiting for the tide."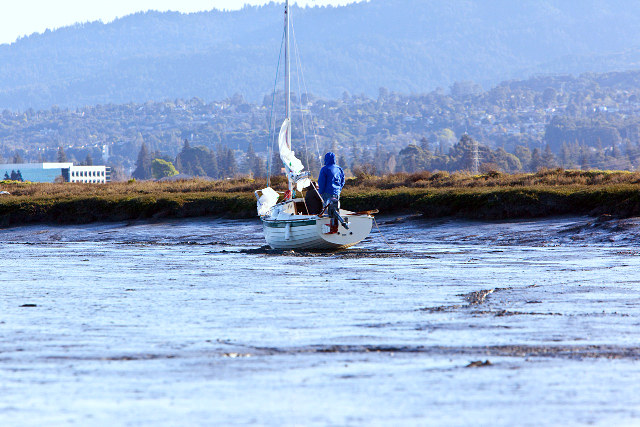 "At 2.5 feet, my Bull's Eye Lia was the deepest draft (yet shortest) vessel in the flotilla," said racer Jerry Higgins. "Since I was leading the race, Lia was the first to go aground. A couple boats tried to pull me free, but they dashed when it became obvious I was going to be there a while. As luck would have it, they also grounded a couple thousand yards farther down the slough."
"To be fair to the organizers, the faster boats that kept moving did beat the tide and made it all the way around without incident," said Dave Kautz, who raced on his O'Day 192. "The rest of us? Well, the pictures tell a good story."
As the tide finally started coming back in, a flotilla set out to rescue the stragglers. "They managed to herd all the boats back to the starting point, where the sailors were pleased to find hot corned beef and cabbage, liquor and a roaring fire waiting for them," recalled Callister.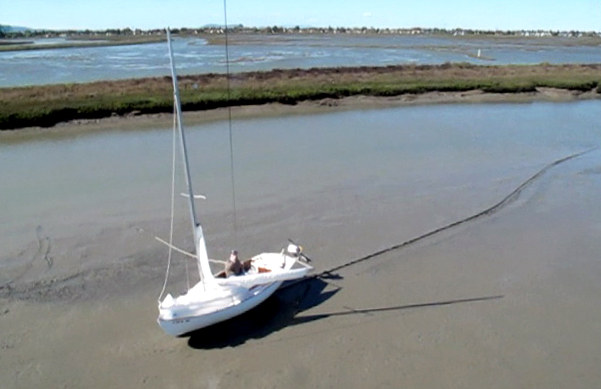 Indeed, Higgins said, "The only bad part about sitting in the mud all afternoon and evening was thinking about the feast we were missing. But they kept it warm for the crews of the six mud-bound vessels. You can only imagine how good it tasted as we flushed it down with beer after we arrived around midnight! The PYC people are the warmest group of yachties I've ever encountered. I was so taken by them, in fact, I've applied for membership!"
Receive emails when 'Lectronic Latitude is updated.
SUBSCRIBE