While Hurricane Jimena is not dead yet, so far the news has been all good for mariners when it comes this former Category 4 hurricane that paralleled the coast of mainland Mexico a good distance offshore and then finally made landfall at Bahia Santa Maria, about 175 miles north of Cabo San Lucas. Until 24 hours ago, mariners and others in Cabo San Lucas and La Paz — as well as the rest of southern Baja — had reason to be shaking in their sea boots. But the threat has passed for them.
According to our good friend Norma Flores at Marina Cabo San Lucas, "the winds weren't bad at all, and we only had a little rain." More specifically, the winds topped out at about 40 knots and there was only minor flooding. In further good news, while the huge waves pounded the beaches, they did not come directly into the marina, so there was no damage there. "Today is sunny and beautiful in Cabo," Flores said.
In La Paz, Neil Shroyer of Marina de La Paz reports that all boating interests and the rest of that big city did even better than Cabo. "We only had gusts to 30 or 35 knots, so the wind wasn't that strong. In addition, winds came from the southwest and then the southeast, so they were always offshore. We had no rain."
The danger hasn't passed for boats farther up in the Sea of Cortez at places such as Puerto Escondido, Bahia Concepcion, Bahia de Los Angeles and even over at San Carlos on the mainland side. However, there are two reasons for optimism. First, the storm is rapidly losing strength as it moves into colder water and faces the obstacle of Sierra de la Giganta mountains of Baja. Secondly, the most recent forecasts have changed, suggesting that it's likely that the eye of the hurricane will not make it over the mountains, but will rather make a 90 degree turn to the west about halfway up Baja at about Turtle Bay.
While things are looking better than anyone could have hoped just 18 hours ago, let's still keep our fingers crossed for everyone who is or still has a boat in the storm's path.
By the way, anyone who flew to the mainland coast of Mexico for great surf apparently got skunked. Our eyewitnesses say mighty Jimena didn't produce any surf of note along the Vallarta coastline.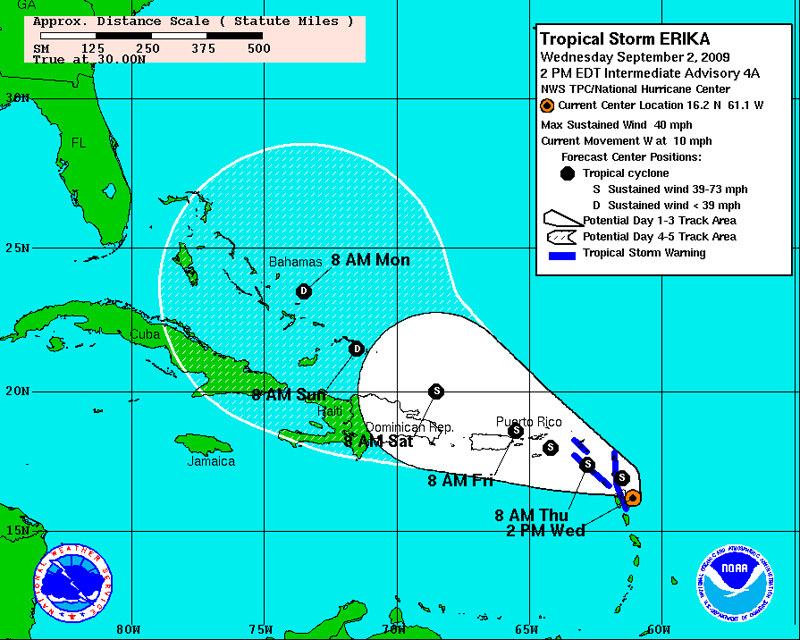 In the Caribbean, however, mariners in places such as Antigua, St. Barth, St. Martin, the U.S. and British Virgins, and Puerto Rico are being warned about the approach of Tropical Storm Erika. While only sporting winds of 35 to 50 knots because the storm is so poorly organized, current forecasts call for her to hit just about all of those islands. Time to take down all the roller furling sails and double the docklines.
Receive emails when 'Lectronic Latitude is updated.
SUBSCRIBE