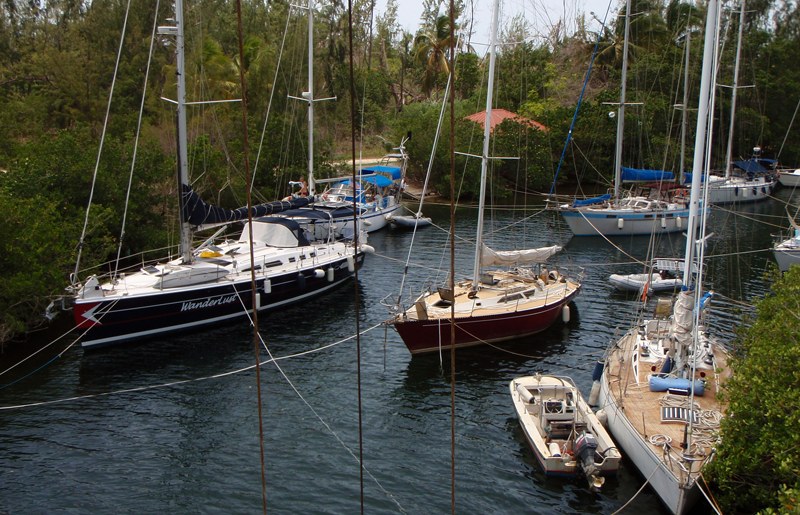 It looks as though Category 4 Hurricane Bill is turning northwest and therefore will miss St. Martin and the rest of the Leeward Islands. Nonetheless, most boating interests in St. Martin — including singlehanded circumnavigator Mike Harker aboard his Manhattan Beach-based Hunter 49 Wanderlust 3 — took precautions. And who could blame them as this is the same lagoon in which some 500 boats were lost at the hands of Hurricane Luis.
"I took the accompanying photo from the top of a mast from one of the other boats moored in 'The Pond'," writes Harker. "There is a mixed group of 12 of us tied up here in the mangroves, and all — except one — are very nice and congenial. Among the group is a couple from Washington State, another couple from Brazil, and two local boats with masts on deck owned by very friendly Dutch couples. There is also my German buddy Steffen, a Kiwi, a French guy, and Pips from England. The only people here who don't socialize are a young couple with a little boy and a dog on their powerboat. As for the rest of us, there is a BYO grill almost every night. I go and listen. Some of the stories are funny and interesting, but a lot of them are boring. I haven't said a word yet, and nobody has asked me, so they all think I'm a novice. It's better that way.
"These folks tell me that St. Martin gets hit by at least one hurricane a year. The two Dutch boats in our little pond have been through six hurricanes each, twice having come through Category 5 hurricanes with no damage.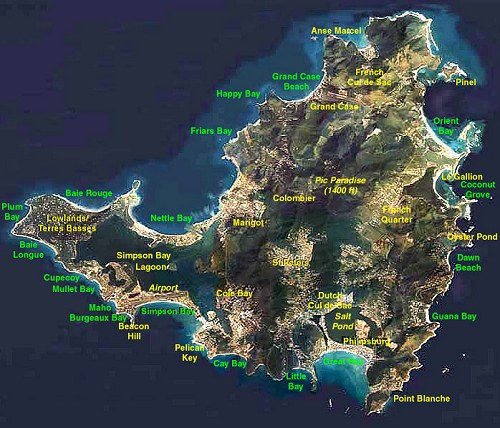 "I've also met some great locals who I sometimes hang out with," Harker continues. "Sinbad, for example, who is the racing motorcycle specialist around here, and who tunes all the best drag bikes. They race every Sunday morning on the highway that crosses the Dutch/French border. The cops just watch. I sometimes also hang out with a sweet Dutch girl whose boyfriend just dumped her for a French girl. The summer here has been hot and very calm. Most of the boats and tourists are gone, but the ones who are here are more adventuresome than normal.
"If I don't get out of the Caribbean to the Pacific this summer, I'll hang out here until November when I'll go to St. Barth for the 60th anniversary celebration of Le Select Bar. After doing other Caribbean Islands during the winter, I might head back to the Med in May. I have so many friends there, I could see staying for a few years."
Receive emails when 'Lectronic Latitude is updated.
SUBSCRIBE