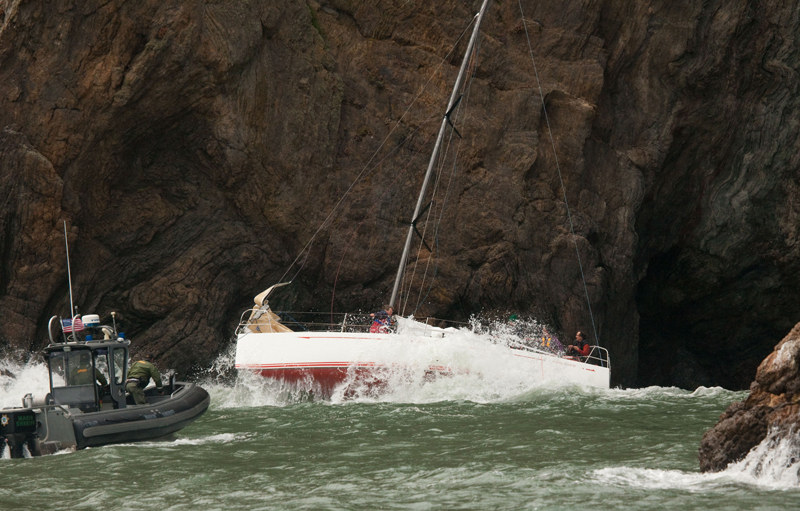 One moment, John Lymberg's Flying Tiger 10 Meter Savage Beauty was short-tacking up the Marin Headlands, successfully evading a flood that was pushing against the fleet at over four knots on the Saturday afternoon race to Pt. Bonita in last weekend's YRA Second-Half Opener. The next moment, Lymberg and his crew — Jesse Repp, Jeff Bruton, Matt Nguyen, and Xenon Herrmann — were stuck, their 7.5-ft deep keel bulb firmly wedged into a submerged rock pile just past the second of two promontories west of Kirby Cove. Buffeted by the surge resulting from the south swell that's produced epic surfing conditions up and down the coast, the crew set to work trying to free the boat.
"We were constantly keeping an eye on the boats in front of us, to see how far inside they were going," said Lymberg, a Singlehanded Sailing Society (SSS) member who, in his 15 years of racing, has "four or five" SHF races under his belt — including this year's aboard Savage Beauty. "From past experience I've always known the area to be pretty deep. None of us felt like we were going extremely close or that any of the other boats were either."
Lymberg said Savage Beauty found the rock while in the process of tacking out from the shoreline in breeze that ranged from 9 to 14 knots.
"We immediately tried to save our boat and get out of there," he said. "Hitting the rock swung us back hard in the other direction. Our sails were eased because we had been in the process of tacking. Just as we started trying to free the boat, a wave set came through and started rocking the boat back and forth, which made it impossible to get any wind in our sails. So we quickly said, 'Forget the sails — let's turn the motor on and get out of here.'"
The rocks had a different idea. Lymberg said the boat is equipped with an inboard well for the outboard motor that can be sealed by a sliding 'door' that fits flush with the hull. The door, which he said functions perfectly when the boat floats, had no interest in cooperating.
"One of our experienced crew was trying to get the door open, but it was jammed," he said. "I was finally able to get the motor down and we tried motoring off in reverse — it felt like we were getting somewhere. Then we realized the bulb was scraping up against a rock shelf. All of a sudden, we heard a shrieking sound, the motor stopped and we realized the prop was wrapped up."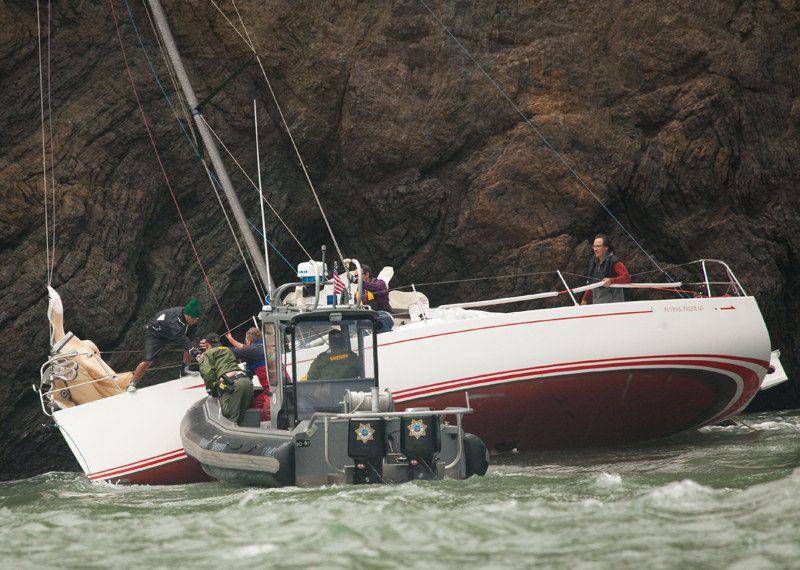 A passing small fishing boat with an off-duty Marin County Sheriff's deputy noticed Savage Beauty on the rocks and immediately called his colleagues at the department's Marine Patrol. Photographer Peter Lyons was next on the scene. He took a line from the stricken vessel and tried to tow it off the rocks with his RIB. Lymberg said that just as Lyons took up tension on the tow line, a set came through and rocked Savage Beauty, snapping the line. Richmond YC member Chris Longaker aboard his Express 34 Two Scoops, stopped racing and called the Coast Guard. He says he had to dodge boats to reach the scene after watching "at least a dozen boats sail past."
Meanwhile, Lymberg turned on his handheld VHF to monitor the radio traffic. In what Lymberg estimates was 15-20 minutes, the Marin County Sheriff's Department RIB was on the scene. And before long, they were removing the crew — in multiple attempts — from the boat.
"They had to wait for the right moments," Lymberg said. "They'd come in and pick up one or two of us, and then they'd have to go back out and wait for a set to pass before coming back in."
With all five sailors safely aboard the MCSD's RIB, the attention turned to the boat — which was still stuck on the rocks but otherwise intact, sitting proud and largely upright on its keel.
"We were very impressed," Lymberg said. "We'd been monitoring the situation down below while trying to save the boat, and there hadn't been any water coming in anywhere. The Sheriff's deputies asked us if we wanted to contact a salvage company."
Lymnerg called Vessel Assist, and as he wasn't a member, he was required to post a credit card number up front. "I was taken aback by the cost," he said. "They told me it would be $5,000. But at that point the boat wasn't getting pounded on the shore, and looked as if it could be salvaged. I just felt like, 'We've got to try this.'"
Lymberg said he hadn't realized that Vessel Assist would be coming from Alameda. After what he estimates to have been more than an hour had passed, the salvage boat hadn't shown up yet. In the meantime, the San Francisco Police Department had shown up, as well as one of the Coast Guard's 47-ft motor lifeboats — neither could safely get close enough to pull the boat off the rocks. But the rising tide and another set of waves came through, lifting the boat off its impromptu stand and washing it into the rocky shoreline.
"The boat started bobbing free, and I thought maybe we could get it," he said. "But then it crashed into the cliffs — the rig was scraping on them — and I knew it was over."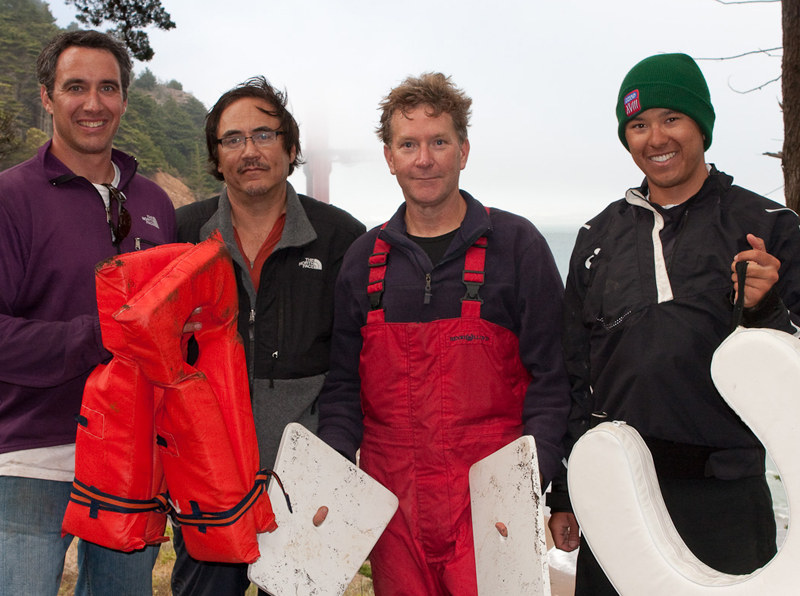 In addition to the boat, Lymberg said he was upset about the crew losing personal effects. He said that Nguyen had in his bag a set of keys for which he had no copies and no way to get an alternate set quickly. So after being dropped off at South Beach Marina, sailor Lance Berc drove the crew over to Kirby Cove to comb the wreckage, where they found only a few PFDs, the boat's horseshoe life ring and sympathetic campers who treated the wet and weary sailors — still in their sailing gear — to a cold beer and ride up to the campground entrance. But as luck would have it, the following day fishermen combing through the debris field found Nguyen's bag and called the Coast Guard, who returned it to him. "He was ecstatic," Lymberg said.
The following Monday, Lymberg's credit card was charged $3,000 by Vessel Assist. After a quick phone call to a company respresentative that Lymberg described as "very helpful," the charge was reduced to the company's hourly rate for the two hours they spent responding, and Lymberg said he only ended up paying $500.
Reflecting on the incident, he said the fact that no one was hurt is attributable to those who came to the rescue.
"The Marin Sheriffs did an outstanding job," he said. "They deserve a lot of credit, as well as the SFPD and Coast Guard. We really appreciate the heroic effort by Peter Lyons, and Two Scoops for standing by."
Two Scoops owner Longaker said he definitely felt he'd learned a lesson. "The boat was no longer a safe or stable platform," Longaker said. "There's no way [the crew] could have gone in the water and then been safely rescued without getting seriously hurt. We all need to be reminded that time is — and should always be assumed to be — of the essence. This could have been a real human tragedy."
Next up, Lymberg is faced with working with his insurance company to recoup the loss of the boat. "I've never been in this situation before," he said. But while he may be new to these circumstances, his enthusiasm to go sailing doesn't seem to be diminished. We told him we'd be contacting him in the future to see how things are going and do a story on how the insurance claim process had gone. "Hopefully it will say, 'John has purchased another Flying Tiger and is out sailing it right now.'"
The Singlehanded Sailing Society's LongPac Race, which began this morning, is arguably the most unusual contest on San Francisco Bay's annual sailing calendar.
Not only do competitors in its single- and doublehanded divisions have to race 400 miles — a remarkable distance compared to other Bay Area races — but the course takes them 200 miles offshore to. . . nowhere in particular, and back again. For singlehanders, of course, the LongPac (Great Pacific Longitude Race) serves as a qualifier for next year's Singlehanded TransPac race to Hawaii. Rules dictate that all entrants must cross longitude 126°40′ W — anywhere along it — before returning to the Bay.
The starts began this morning at 11:00 a.m. off the Golden Gate YC, with 17 solo sailors and 9 doublehanded teams. They'll finish at the same spot. A new twist this year is that each boat will carry a transponder for the first time and, with any luck, position reports should be available on the SSS site. However, because use of this technology is a first attempt in this context, committee members caution casual observers not to become overly alarmed if a particular boat's position is not appropriately updated. Quirks have occurred in previous races using similar technology. Look for further details on the LongPac in the September edition of Latitude 38. The August edition, by the way, will hit the streets Friday.
The trial of Bismarck Dinius, who many believe to be a scapegoat in the 2006 death-by-speedboat of Lynn Thornton, opened yesterday in Lake County. By all accounts, the prosecutor ended up helping the defense's case in a number of ways, supporting our conviction that Dinius in no way contributed to Thornton's death.
ABC 7 I-Team reporter Dan Noyes, acting as the fly on this courtroom's wall, has been posting updates throughout each day on his Twitter page, and of course following up on his I-Team blog. In his tweets during District Attorney Jon E. Hopkins' opening statement, he noted that Hopkins admits that Mark Weber's Beats Workin' II left the dock that night with its nav lights on! So far he's not given any explanation as to why he thinks someone would turn off the nav lights while leaving the cabin lights on.
It's truly baffling why Hopkins appears to be in such deep denial as to the real cause of Lynn Thornton's death: Lake County Sheriff's Chief Russell Perdock's extreme speed when he slammed into the nearly motionless sailboat in the pitch black. Perhaps Hopkins needs an additional reminder of the dangers of a speeding boat.
PHOTO
Receive emails when 'Lectronic Latitude is updated.
SUBSCRIBE