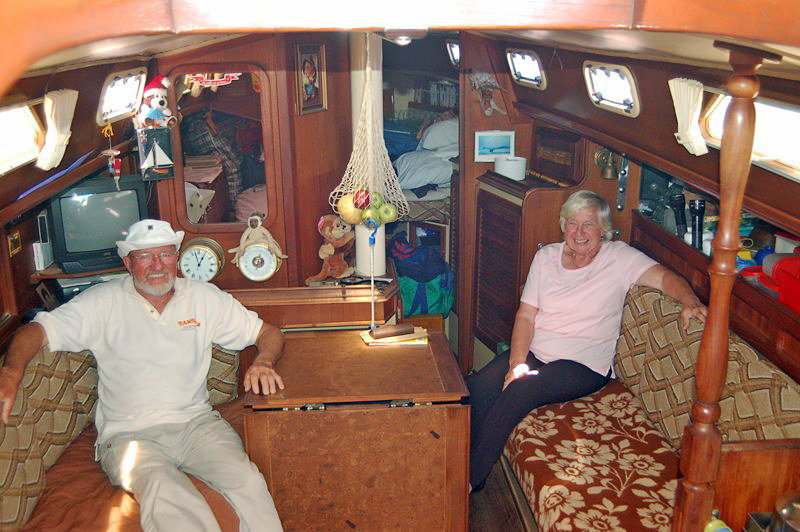 In the August issue we're going to have a detailed report on the just-concluded 11-year cruise of Paul and Annalise Pedersen aboard their 28-year-old Islander 36 Sea Lise. The Vancouver couple did a 'six month on, six month off' voyage from Vancouver to their native Denmark and back.
Interestingly enough, they did the trip — with all expenses included — on less than $1,250 a month. "And we often spent much less than that," adds Annalise. It helped that Paul is a retired car mechanic and shipwright.
During their trip, the Pedersens visited a lot of countries that some people in the States might think of as being crime ridden. Places such as Mexico, Panama, Colombia and the Bahamas. But they never had any problems with theft in any of those countries. In fact, the only place they were ripped off was — Santa Barbara, one of the most affluent cities in California and home to the likes of Oprah and Dr. Laura. It's oddly funny that it happened in a yacht harbor with one of the highest armed harbor patrol presences on the coast.
"The theft occured about a week ago," says Paul, who at 73 remains so active he's been raising the anchor manually since the electric windlass gave out two years ago. "We put the hatchboards in place, then walked up to the Santa Barbara YC for dinner. When we returned two hours later, we found that someone had come inside our boat and taken the camera we'd purchased just two days before."
The Pedersens were more amused by the irony than upset about the loss of their point 'n shoot camera. But what kind of lowlife would steal from a well-used cruising boat owned by a couple in their 70s? It's obvious whoever took the camera had watched them leave for the yacht club. Pathetic!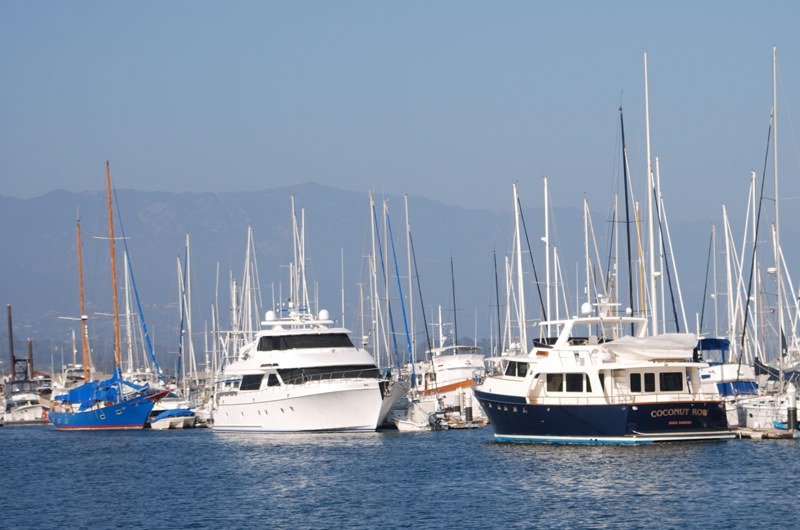 A few days ago we got a permit to drop Profligate's hook at the A-9 anchorage in San Diego, which is located just off the east end of Harbor Island about one-third of the way to the densely populated Laurel Street mooring area. "You better watch out 'cause there are lots of pirates around here," said the first guy we met. We figured he was just one of those guys who objected to anyone sharing an anchorage with him. But then we noticed he had a brown pit bull aboard. The dog was the strong but silent type. He looked as though he might enjoy one of our legs for dinner.
When we asked the volunteer who checks the anchored boats for permits if there was a theft problem in the area, he said, "No more than at any other marina area." It's great to be back in California. We've had our boat in Mexico for at least part of 24 winters. In all that time, we haven't had a single thing stolen.
We think the moral of the story is that if you're halfway careful, some of the poorer countries aren't as risky as most people think, and by the same token, even marinas in the upscale cities in California aren't as safe as one would expect.
Have you ever had anything ripped off in an upscale marina or harbor in California? If so, we'd like to hear about it.
Receive emails when 'Lectronic Latitude is updated.
SUBSCRIBE