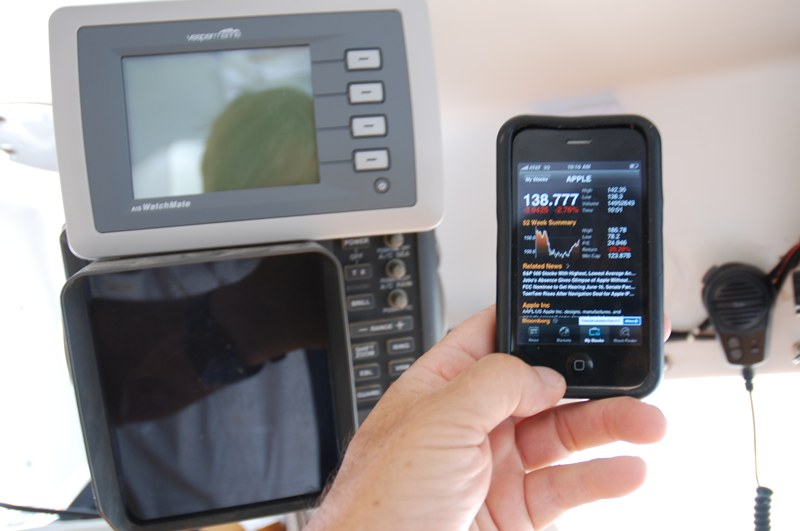 Given the improvements in technology, more sailors than ever are working from their boats, either while at the dock or while cruising far and wide. Naturally, you can't do this if you're an airline pilot, restaurant manager or run a day care center. But in some cases it's possible for headhunters, tech consultants, writers, active investors and others. As we're in the process of preparing a piece on the topic, we'd love to hear from you. What equipment do you use, and what limitations — financial, geographic and systemic — are you finding?
Currently, the Grand Poobah is doing much of his work aboard the 63-ft catamaran Profligate, now back in California from Mexico. Our tools are an iPhone, an AT&T data card, and an Amazon Kindle.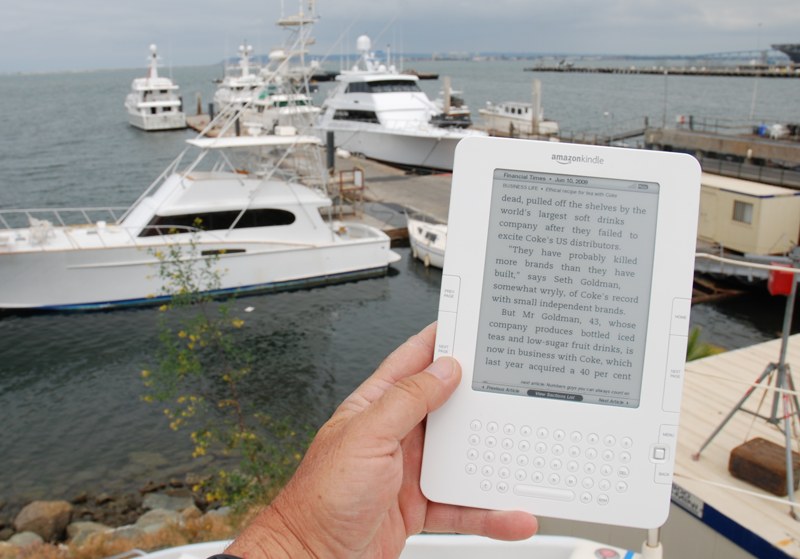 The iPhone gives us phone capability, somewhat useful access to the internet, and countless other features that range from being a waste of time to being very helpful. The AT&T data card gives us surprisingly high-speed internet access on the boat, by which we mean it's often as fast or faster than the internet connection we have at our office in Mill Valley. To have this capability on the hook, as opposed to having to go ashore or sign up with some wi-fi access system, is wonderful.
The Kindle is a bit of an overlap of both the iPhone and the AT&T data card, but despite being tech gadget skeptics, recommendations from cruisers encouraged us to buy one. We're glad they did. Thanks to the Kindle, before we roll out of the bunk each morning, we've scanned the New York Times and the Los Angeles Times for the left-of-center perspective, and the Wall Street Journal and the Financial Times for the right-of-center perspective. The only downside is that we know these publications automatically download into our Kindle at about 3 a.m., so we'll often pick the gizmo up in the wee hours and overdose on news before the sun has even come up.
The major limitation to such a system is the range of cell phone coverage. It's pretty good along the coast of California, but the only places that have coverage in the Channel Islands are Avalon and Two Harbors at Catalina. It's our understanding that there are cell phone boosters that increase cell phone range up to 25 miles, but we've heard conflicting reports about how effective they are and whether they would also work with data cards. We'd love to get some first-hand input. We'd also like to get some input from folks who have used data cards in Mexico. We know that cell phone range is often much greater down there. While doing the Baja Bash a few weeks ago, we sometimes had cell phone coverage 40 miles offshore.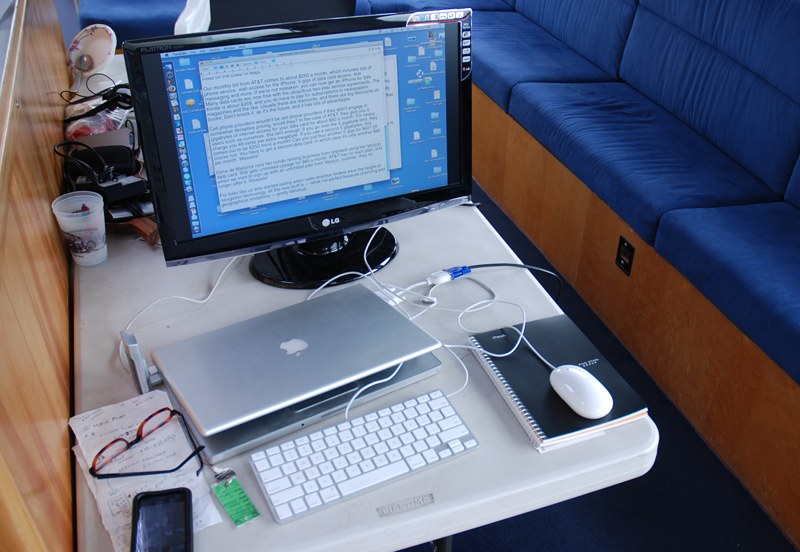 Our monthly bill from AT&T comes to about $250 a month, which includes lots of phone service, web access for the iPhone, five gigs of data card access, text messaging and more. iPhones are now available for as little as $99. Many data cards are now free with the ubiquitous two-year service agreements. The Kindle is about $359, and you do have to pay for subscriptions to newspapers, magazines and the like. Usually there are discounts, and there are major discounts on all books. Don't knock the Kindle until you've tried one. It's the road to the future and there are more advantages than you think. For example, you can have all your newspapers, books and magazines read to you, in male or female voice, and at whatever speed you'd like.
Cell phone providers wouldn't be cell phone providers if they didn't engage in somewhat deceptive pricing, would they? In the case of AT&T, they give you five gigabytes of internet access for your data card for about $60 a month. For heavier users such as ourselves, this isn't enough. If you go over the five gigabyte limit, they charge you 49 cents per extra megabyte. If you were to use a second 5 gigabytes worth, it would come to $250 more a month! Can you just buy another 5 gigs for $60? Of course not. You have to get a second data card, in which case it's only another $60 per month. Weasels!
Doña de Mallorca runs her condo rental business from Profligate using her Verizon data card. She gets unlimited useage for $60 a month. AT&T has no such plan, and when we tried to sign up with an unlimited plan from Verizon — surprise, they no longer offer it. Weasels! For what it's worth, de Mallorca's Verizon data card is always slower than the AT&T data card, and sometimes cuts out or doesn't work at all.
For folks like us who started sailing when radio direction finders were the height of onboard technology, all the new stuff — while not perfect because of pricing and geographical limitations — is pretty fabulous.
Receive emails when 'Lectronic Latitude is updated.
SUBSCRIBE