The H1N1 flu — politically incorrectly referred to as the 'swine flu' — doesn't seem to be a problem for cruisers in Mexico yet. Lou Freeman, the retired doctor who owns the San Diego-based Swan 51 Seabird, collected reports from cruisers along the coast of Mexico and in the Sea of Cortez, and there was no bad news. Curiously, we're not aware of there having been a case of H1N1 anywhere along the coast of Mexico — including Cabo San Lucas, normally a hotbed of transmitted diseases, albeit of the sexual nature.
As of yesterday, many epidemic experts said that while it was still a little early to know for sure, they were beginning to hope that H1N1 might be a relatively mild flu and more difficult to transmit than most flus. In fact, the number of the deaths attributed to H1N1 in Mexico seems to be declining all the time, and in any event is a minute fraction of deaths each year as a result of the 'regular' flu. This, however, didn't stop Vice President Joe Biden, who has a reputation for reckless statements, from saying he wouldn't want his family travelling on subways, buses and airplanes. After all, why let science get in the way of an uninformed opinion? But in the blink of a bureaucratic eye, the White House clarifed Biden's statements, assuring everyone that the Vice President had really meant just the opposite of what he'd said. Getting the award for the extreme overreaction, however, was the government in Hong Kong. When one case of H1N1 was discovered in a hotel, they shut the hotel down for a week, with nobody, least of all the guests, allowed to leave. Having suffered from SARS, they aren't taking any chances.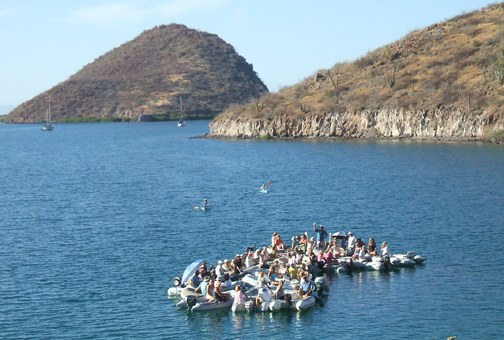 While the government of Mexico has closed schools and bars and cancelled many public events, the cruisers' Loreto Fest at Puerto Escondido, Baja, opened on schedule. The accompanying photograph — showing a raft-up of dinghies from some 35 boats in Cocktail Cove — proves it. According to photographer and participant Steve Albert of the Grants Pass-based Oceanis 390 Far Fetched, "after snacks and drinks, the proper frame of mind was achieved, and one person from each boat was asked to introduce their boat, crew, and future plans. In addition they were asked to identify their favorite piece of cruising gear. While items such as solar panels and electric windlasses were mentioned, most cruising couples said their favorite bit of cruising gear was their mate! Harmony is important on a small boat!"
For those of you up here in the States who are in good health but looking forward to a weekend of rain, the following might make you sick, although not with H1N1: today's high in Puerto Escondido is expected to be 87º and the exchange rate is 13.85 pesos to the dollar.
Receive emails when 'Lectronic Latitude is updated.
SUBSCRIBE