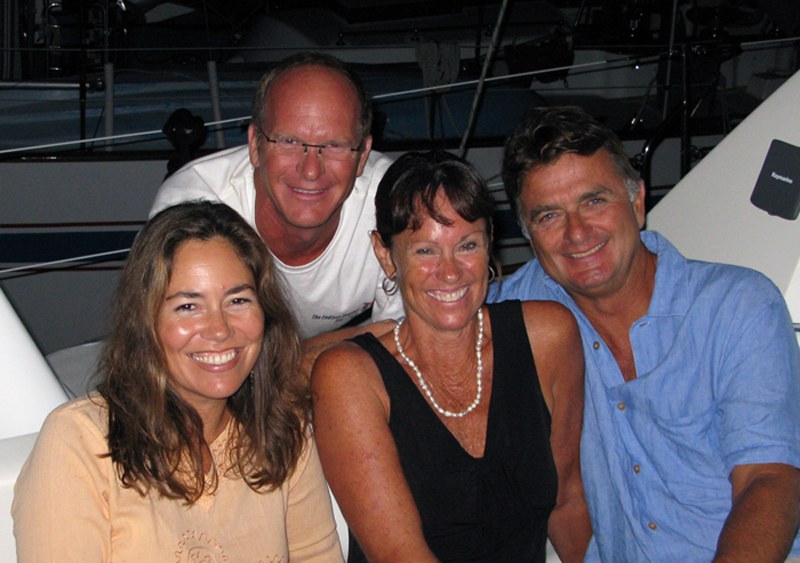 For Manjula Dean, a veteran of the recent Ha-Ha, it was a swift change from a relaxing cruise in Mexico to fighting for her life in a terrorist battleground on the other side of the world.
A week ago Saturday, we were having sundowners aboard Greg Dorland and Debbie Macrorie's Lake Tahoe-based Cantana 52 Escapade at the Nayarit Riviera Marina in La Cruz. The other guests were Steve May and his ladyfriend Manjula of the Emery Cove-based Farrier 41 cat Endless Summer. All of us had done the Ha-Ha, and were talking about upcoming plans.
Manjula, who had spent time in an ashram in India many years before, told us she was leaving for India a day later to lead a meditation class and do some business. She would return to Endless Summer shortly after Christmas.
Four days later, we saw the news about the terrorist attack on the train station, the Oberoi and Taj Hotels, and other business interests in Mumbai, India. Not really putting anything together, we, along with Steve, who hadn't heard the news, went for a wonderful sail on Banderas Bay with a bunch of new friends. For us, it was a time of good cheer and much laughter.
But unknown to Steve and the rest of us, during that same time Manjula was living an unspeakable nightmare. She'd had a lousy 36 hours of flying to get to Mumbai, then checked in to the Oberoi Hotel. After six hours of fitful, jet-lagged sleep, she was awakened by the sound of a huge bomb going off in the hotel. Running out into the hallway in her bathrobe, she bumped into a Northwest Airlines pilot from the room across the way. They, along with a few others, turned on the television and learned, as they suspected, that the hotel they were in had come under what would be a days-long attack by terrorists.
After grabbing some running shoes, Manjula, along with the pilot and several others, made their way down the now pitch black hallway. The main elevators were out, which was good thing, because innocent people were being slaughtered down in the main lobby. Indeed, an American man and his daughter who had just taught a meditation class where Manjula was going to teach hers, were murdered in one of the hotel's restaurants.
One of the many brave members of the hotel staff lead Manjula and the others to a service elevator that, unknown to them, was already splattered with blood. Once on the ground floor, they waited, then braved gunfire racing across a street to a parking garage. Terrified and uncertain what was going on or would happen next, they waited helplessly for nearly six hours until daylight. Help finally arrived, and they were whisked away, unhurt but in a state of shock.
After his afternoon sail with us, May returned to his anchored boat to find a note in his salon about the attack in India. When he checked his phone, he saw that both his and Manjula's parents had been relentlessly trying to contact him. Unlike Steve, the parents had suffered for hours, having watched the terror unfold on television, but not knowing if Manjula was one of the nearly 200 innocent victims. Fortunately for Steve, the good news came quickly. Less than half an hour after he heard about the attack he received a text message from Manjula saying that she'd managed to escape, and though badly shaken, was still alive.
The next day was Thanksgiving, a particularly memorable one for Manjula, Steve, their families, and their friends. Several times during a gathering of nearly 20 cruisers, Steve was able to break away and speak to Manjula by phone.
Life can be terribly short. Be grateful for each day by living it well and being nice to others.
Now that you've recovered from an overdose of tryptophan, family togetherness and migraine-inducing traffic, it's time to settle down to a little vicarious sailing fun. The December issue of Latitude 38, which is being delivered all over the Bay Area today, is chock full of nuts . . . salty nuts, at that. Whisk yourself away to sunny Mexico by following the antics of the Fabulous Fifteen Baja Ha-Ha. Chill out with a non-stop cruise to the Arctic with Jerry 'The Iceman' Borucki. Get your blood pumping with some fine racing tales from this year's one design season champions. Then review all the major (and not so major) news that happened in the sailing world this year with the 2008 Year in Review. Of course there's so much more, but we wouldn't want to spoil it for you. Grab that last slice of pumpkin pie and start reading.
There's no telling who might show up for this week's Banderas Bay Blast for Charity, three days of tropical sailing fun and games that will see the fleet visit Nayarit Riviera Marina, Punta Mita and Paradise Marina. That's because the Punta Mita Yacht & Surf Club, which is putting on the event along with the Vallarta YC, is too casual for a sign up sheet.
Nonetheless, the following are just some of the boats and folks who have promised to be there: Chuck Naslund's Catalina 30 Saber Vivir; Greg Dorland and Debbie Macorie's Catana 52 Escapade; Lou Kruk's Beneteau 42s7 Cirque; Wayne Hendryx and Carol Baggerly's custom 45 Capricorn Cat; Tom and Diane Miller's Catalina 42 Imagine; Glenn Twitchell's Lagoon 380 Beach Access; Steve May's Corsair 41 Endless Summer; Dennis and Lynn Cannon's Catalina 400 Pura Vida; John and Gilly Foy's Catalina 42 Destiny; Bill Finkelstein's Valiant 50 Raptor Dance; and a couple of the J/World boats. A host of other boats have expressed interest or said they'll participate if they can find at least one crew.
If anyone still wants to let us know they plan on participating, now is the time. If you wait too long, you may be shirtless.
The fun and games start on December 2 at 4:30 p.m. with a potluck aboard Profligate, which is anchored off Punta Mita. But there is a weather contigency for all those who would want to come out to Profligate by dinghy. Surf reports indicate there will be a rather large swell on Tuesday, so it may be tough getting out to the boat, as it will involve making your way through the Mexican Malibu surf spot. If it's too dangerous, don't attempt it, as we'll have fun later on at La Cruz, a day later at Punta Mita, and at Paradise Marina.
Receive emails when 'Lectronic Latitude is updated.
SUBSCRIBE