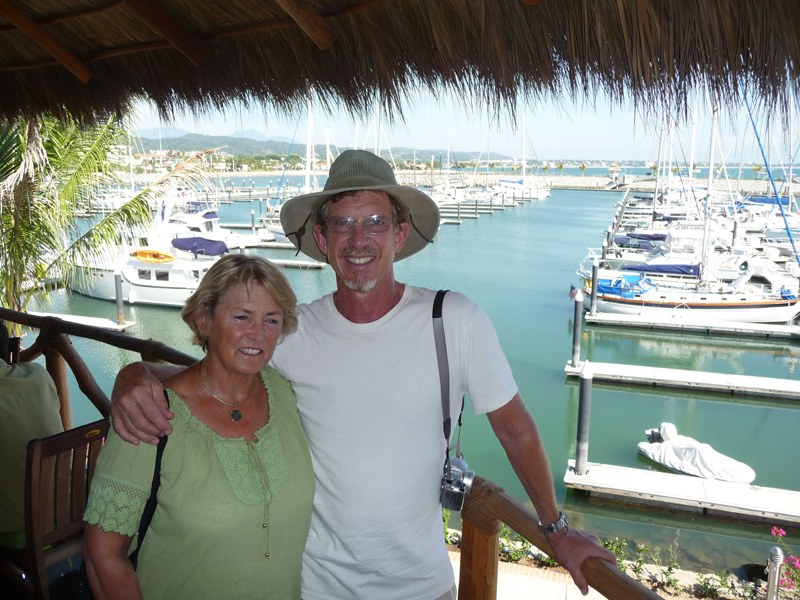 With three of the four marinas on Banderas Bay — Marina Vallarta, Paradise Marina, and Nuevo Vallarta Marina — either packed to the gills or, in the case of Nuevo Vallarta Marina, in the process of being completely remodeled, we're happy to report that the Nayarit Riviera Marina in La Cruz has plenty of available slips.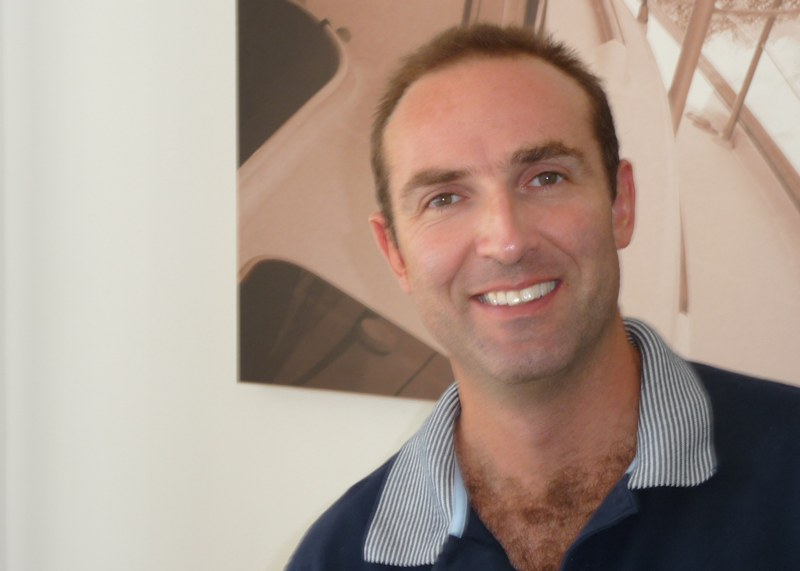 The 400-slip Nayarit Riviera Marina opened last season to decidely mixed reviews. While the facility and location were outstanding, the marina's policies were perceived — and rightly so — as being not very friendly. Given the fact that the marina had hundreds of open slips, nobody understood how they could ask the highest prices in the bay. And then there was the matter of the dinghy dock. Lots of anchored out cruisers like to eat in the marina's restaurant, which affords a beautiful view of Banderas Bay and the surrounding mountains, and a nice breeze. All was well until the marina decided to charge $10 to tie up a dinghy. Then they decided to charge $10 each time to tie up a dinghy, even if it was the third time in the same day! Relations between sailors and the marina soured.
Facing a nearly empty marina over the summer, Marina Nayarit management quickly got religion about the the importance of treating customers — and even potential customers — well. As a result, Marina Nayarit's slip fees are now in line with Paradise Marina's, and they're working to offer a competitive package for boats intending to spend the summer. As for landing dinghies, the marina now offers two places to tie them up: at a dock on the land side near town, and at a dock by the restaurant and office. There is no charge, even if you have no intention of eating in their restaurant. But get this: If you want to eat in their restaurant, you can bring your whole darn boat into the marina and tie up while you eat and take a walk around. Call to make arrangements first, of course.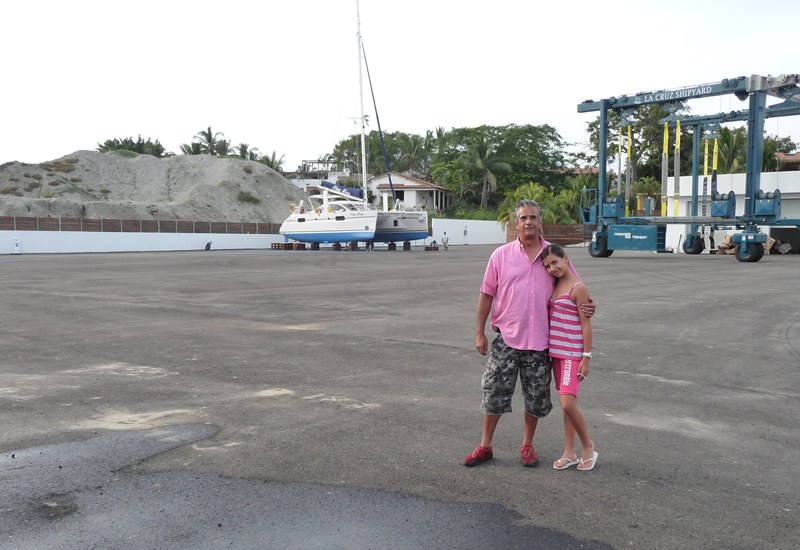 Speaking of the restaurant — which is under a huge palapa roof and has a beautiful view — we've eaten there three times, and have been most impressed by the food and the prices. Yesterday Doña had a delicious tortilla soup, and we had a club sandwich. The environment, presentation and service were all first class. The bill came to 130 pesos — or $10 U.S. You can certainly eat less expensively in Mexico, but you're going to have to look hard to find a better value. Our only caveat is there is a $20 corkage fee during dinner. That's a little steep.
All three of the fully operational marinas in Banderas Bay are very different, and they all have strong points and weak points.
Marina Vallarta is the urban marina of the three. It's less than half a mile from the airport, surrounded by restaurants, and the closest one to downtown and all the stores and shops. Some people love that. The negatives on Marina Vallarta is that it's been in receivership for years, so the facility has fallen into disrepair and the bathrooms seem like they are never cleaned. Surrounded by tall buildings, it can also get very still and humid.
Marina Paradise, guided by the firm hand of Dick Markie, is located about 15 minutes from the P.V. airport, which is at the edge of town. Part of Graziano's huge and hugely successful Paradise Resort for families, the marina has all the resort positives and negatives. The whole place is sparkling clean and run to high American standards — and there are lots of pools, tennis courts and other facilities. It's also got an entire mall with numerous shops, restaurants and other services. The downsides some see is that the marina is in a tourist resort as opposed to real Mexico, it can get a little humid because the ocean breezes are often blocked and, because it's so full, it's no longer easy for an active cruiser community to develop.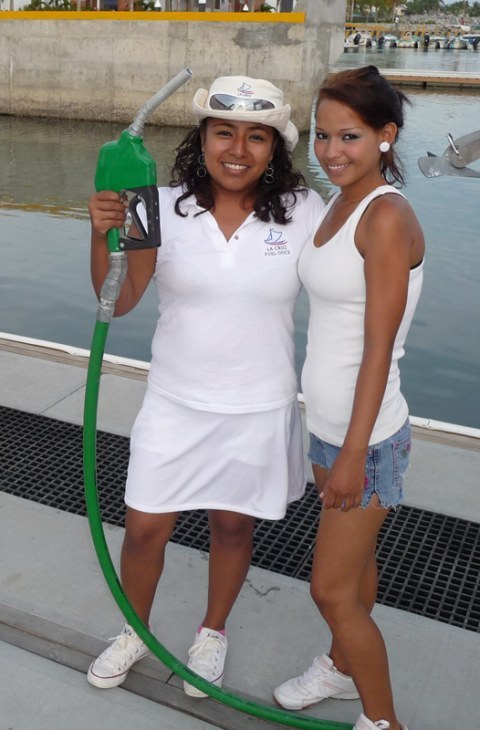 The Nayarit Riviera Marina is located at the edge of the charming village of La Cruz, which is real Mexico, about half an hour north of Puerto Vallarta on the booming north shore of Banderas Bay. Unlike Marina Vallarta and Paradise Marina, it's not part of a condo project or a resort, but exists for itself. It also has a boatyard that just opened, one that features the largest Travelift on the west coast of Mexico. It's got a fuel dock, too, with the cutest attendants you've ever seen.
By default, Nayarit Riviera Marina is becoming the active cruiser center, both because it has room for transients and because there is a free anchorage just outside the breakwater. La Cruz is also home to Philo's, some great and ridiculously inexpensive local restaurants, and is muy tranquilo. The downside at Marina Nayarit is that there is no pool and it's the furthest marina from Puerto Vallarta. The latter has never bothered us because it's only a $2 — and fun — bus ride, and frankly, we don't care to go to town that often. But to some folks, it's a big factor. Nayarit Riviera Marina is also blessed with a cooling afternoon breeze.
Three marinas on one bay, each for a different type of cruiser. Pretty cool!
It may be raining today, but this weekend's forecast is for sun, sun, sun! Go ahead, eat till you pop a button tomorrow, but don't waste that sun. We expect to see each and every one of you out there using your boat at some point this weekend — we sure will be! As such, 'Lectronic will be on mini-break until Monday, when we waddle back into the office.
Per request, we received several nice remembrances of George Olson, who passed away on November 12. We'd intended to run some of them in the December issue, which went out the door this morning. However, there was so much other good stuff stuffed in there, that we didn't have room. So we thought it would be nice, on the day before Thanksgiving, to bring a few of them to you here.
"I did my first distance ocean race with George in 1973, on a Cal 25 from Santa Cruz to Santa Barbara. A couple of years later he was working at Bill Lee's and told me they needed a carpenter for templating and producing interiors for the soon-to-be Santa Cruz 27. I told him I was a house carpenter and had never done boat carpentry. He said, 'Don't worry, I'll teach you what you don't know.' He did and after we sent the first boat out, Bill had no more orders, so George and I told Bill we would like to use the molds and build ourselves each a boat. 'Sure, why not?' was Bill's reply. We did that over the course of several months and became good friends.
"Always humble, always helpful, always fun — George will always be remembered by his many friends."
— John Humphrey
"I grew up sailing in Santa Cruz and look back fondly on the sailing scene there exactly because of people like George Olson. He represented the quintessential pioneer and everything that was good about Santa Cruz. Coupled with his extraordinary talent was the ability to connect with just about everyone.
"I purchased Olson 40 hull #1. This presented me with the opportunity to participate from the early stage in this wonderful boat. All my visits to the shop were greeted with patient enthusiasm. I remember going on the first test sail where George determined the keel needed 500 additional pounds. He just knew not to overdo it on the first pass and guessed correctly on the increase.
"I always felt that Pacific Yachts and George didn't receive all the recognition they should have. We campaigned my 40, Notorious, for seven years and well over 30,000 ocean miles. To say the least, we put this boat through every kind of test imaginable and never had a structural or mechanical failure. We had many exciting sails, including one time when we briefly hit 22 knots and buried the bow all the way back to the main hatch. The final vindication came with our first overall finish in the '89 TransPac. I give a lot of the credit to George!"
— Scott Pine
"We were fortunate to own one of the last boats George built himself, the Olson 34 we named Ozone. We sold her a few months ago after 21 years of hard sailing and she was a jewel — one of kind.
"When we went to Santa Cruz to meet with Buzz Ballenger to discuss the rig, Pacific Boats had just closed their doors. We went over to the shop across the parking lot from Ballenger and met George. He was laying up a fender for his old Dodge pickup with a sad look about him, since he would be out of the boatbuilding business.
"George was one of kind. His boats were the best and he revolutionized the industry and light displacement boats. It was a pleasure to have been associated with him in some way. He will be missed by all sailors.
— Carl & Jini Bauer
Receive emails when 'Lectronic Latitude is updated.
SUBSCRIBE