In our last report on Hurricane Omar, which ripped up through the Caribbean, narrowly missing the huge bareboat charter fleet in the Virgin Islands, we said there had been very little damage to marine interests. That was based on the fact that nobody had gotten the word out about what happened in St. Croix. Here's a report from charter skipper Peter Whitney, a former resident of Northern California:
"We were in St. Croix the day before Omar hit. Learning that Omar had turned into a hurricane, we left early in the morning from the anchorage off the St. Croix YC for our base at Tortola in the British Virgins. That meant four hours at sea. As we left, everyone was very busy 'hurricanizing' their boats for the impending storm.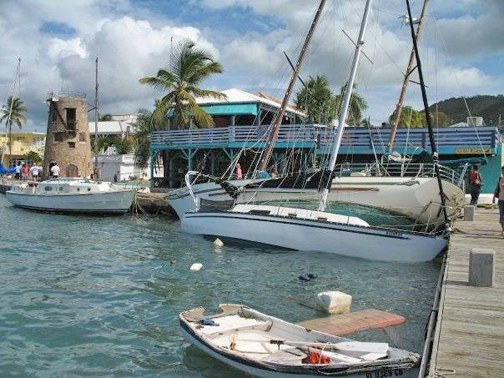 "We spent that night hunkered down, expecting the worst. But as you reported, Tortola and the British Virgins were spared, suffering minimal damage. It was a different story in St. Croix. We have a home there and returned the day after Omar.
"Because Omar deflected to the east, it left the east and north coasts of St. Croix vulnerable to the most fierce winds. So upon our return to the yacht club, we found many sunken, dismasted, and beached boats — many still attached to the moorings they'd dragged. After securing our home, we went to Christiansted Harbor, only to find many crushed and sunk vessels on the boardwalk as well as at the marinas. In all, I'm guessing that 30 to 40 boats met their end from Omar.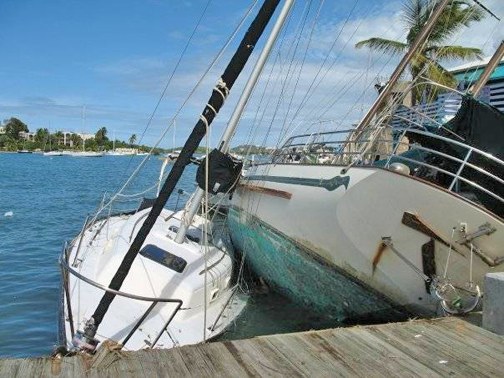 "I also found it disturbing that a radio station reported that as many as 80 people were reveling at one of the boardwalk bars the night before, anticipating the hurricane's arrival — which was supposed to be out of the south. We were not there when the full force hit, so I can only imagine the intensity with which it struck. I was in Cabo for the famous storm of '82, but based on the damage to our property, the downed power poles, and other destruction, I'd have to say that Omar hit with over 100 knots of wind.
"The good news is that no lives were lost."
Receive emails when 'Lectronic Latitude is updated.
SUBSCRIBE