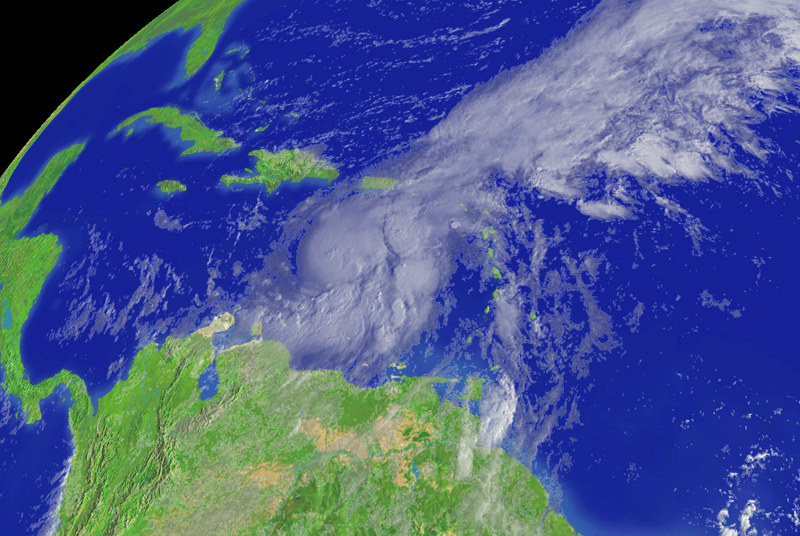 On two occasions — one of them being the October issue of Latitude — we've written articles about having a catamaran in a yacht management program in the British Virgin Islands. In both articles, we expressed the opinion that the biggest risk in such an investment was the outside possibility that our cat might be partially or completely damaged by a hurricane. Sure, we have insurance, but in the Caribbean you can never really be sure if, when or how well such policies would be paid off. And if our cat was damaged and repaired, it's likely she would be out of action for the two months we planned to use her and the rest of the high season when she's most likely to be chartered.
Well, we're facing the ultimate downside risk with that investment right now, for Hurricane Omar is headed directly toward 'ti Profligate and the British Virgins with winds up to 75 knots. She's expected to arrive at the BVIs in less than 24 hours with winds at anywhere between 75 and 90 knots, although there is also a chance of sudden intensification. 'ti Profligate has already been secured as well as possible in a hurricane hole by the yacht management company, but there is no telling what might happen. She might break loose, she might get hit by other boats that break free, the hurricane surge may effectively eliminate the protective barrier of the hurricane hole . . . you just don't know what can happen with hurricanes. In fact, there's still time, although it's getting short, for Omar veer off and leave our cat unscathed.
The British Virgins, the bareboat charter center of the universe, hasn't been hit by a hurricane in 10 years. When we first learned of the position of Omar we weren't concerned because it was already to the southwest of the British Virgins. But he's turns out to be an unusual Caribbean/Atlantic hurricane in that he's heading northeast rather than west/northwest.
Omar is expected to continue to head to the U.S. and British Virgins. But there is some reason for hope. Even at 90 knots Omar wouldn't be the strongest hurricane ever. Last week Norbert came through Baja with 90-knot winds and was a non-event in La Paz, which was just 40 miles from the eye. In addition, Omar will be coming through the Northern Leewards at close to a perpendicular angle, which means he will pass through about as small an area as possible and as swiftly as possible..
If you have a boat anywhere in the Northern Leewards from Puerto Rico to Antigua, she's in an area that's under a hurricane watch or hurricane warning. We wish your boat the best. We all knew there was a possibility of this happening, so we can have no complaints; let's just hope the many boatowners in the area are as lucky as possible. But even more than that, we hope all the people in the Northern Leewards the best of luck.
Receive emails when 'Lectronic Latitude is updated.
SUBSCRIBE