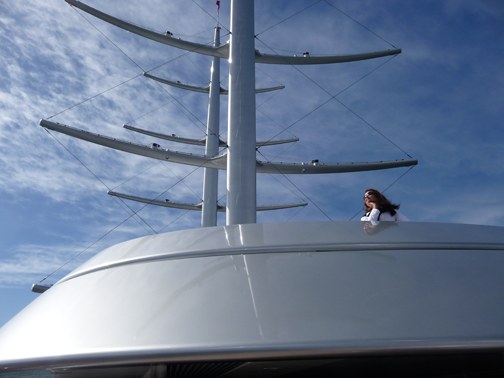 "It was one of the greatest days of my life," said Lourdes Livingston, wife of Sail Magazine editor Kimball Livingston, after her sail aboard Tom Perkins' 289-ft Dyna-Rigged Maltese Falcon on Sunday. In support of the Leukemia Cup, Belvedere resident Perkins graciously played host on his magnificent yacht to a number of contributors and others during the course of the weekend.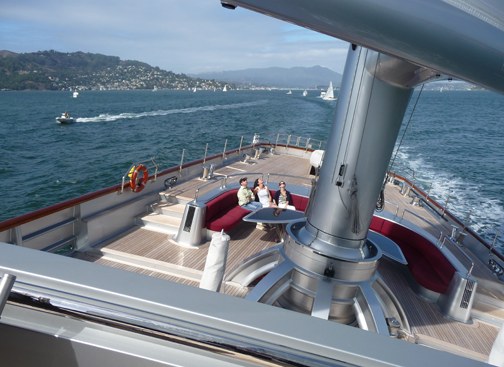 Sunday was our second time aboard Falcon, the first being at her launch in Italy. The more we see of her, the more we're impressed. If you've only seen the yacht from a distance, the main thing you can't see is the quality of craftsmanship throughout. Obviously this is a huge yacht, but every last detail — most of it done by Turks — is absolutely superb. All the guests marvelled at the quality.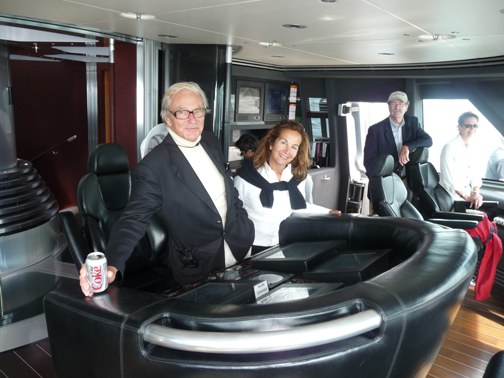 The other thing you can't see is how brilliantly the unique Dyna-Rig sail plan, perfected on Perkins' nickel, works. We were underway for about four hours, with Perkins driving and controlling the sail plan almost the entire time. The yacht is steered with a small knob, and the freestanding masts and 15 sails are controlled with the push of a few buttons. Indeed, Perkins looked as though he was playing a nautical version of a mighty Wurlitzer.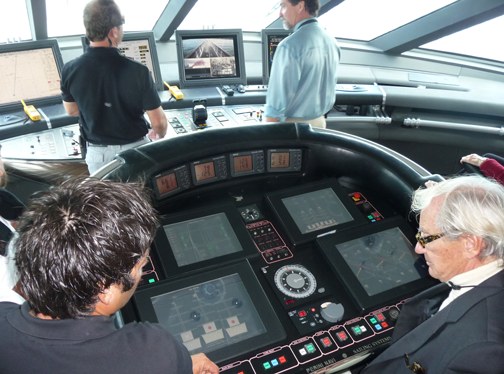 The most thrilling moment was when Perkins jibed the boat. By pushing several buttons, all three of the nearly 200-ft tall masts, with their very wide fixed yards spreading out the sails, rotated very rapidly. Indeed, if you stepped back about 10 feet from the helm position, you could watch and touch as the six-ft or so diameter middle mast turned. By the way, Perkins reports that none of the masts can ever be removed from the boat without destroying the boat.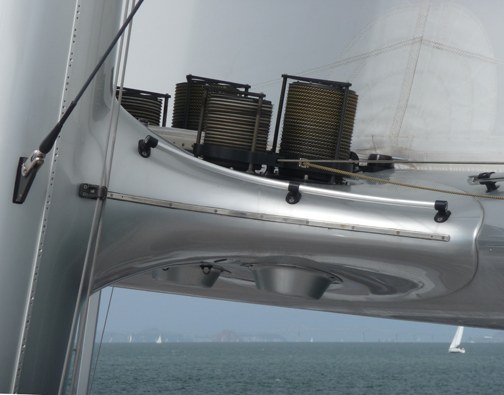 At close to 1,200 tons, Falcon is naturally slow to accelerate, but once underway she moves right along. In 15 knots of true wind, she was sitting on 12 knots. On a not particularly breezy day, she topped out at 17 knots, heeling about 15 degrees at the time.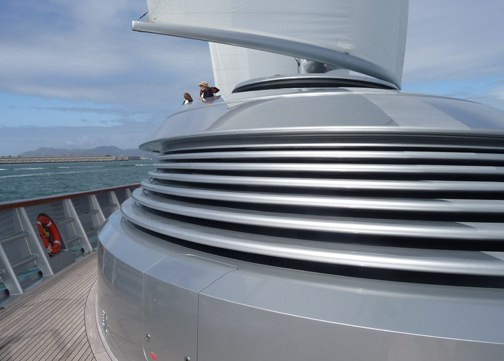 If you've seen Falcon sailing the Bay, from time to time you might have seen her 15 sails luffing, and thought she was being poorly sailed. On the contrary. Initially, Perkins and crew sailed Falcon like a normal yacht, increasing or decreasing the amount of sail area in reponse to the amount of wind. They still do that, of course, but within certain wind ranges they sail the yacht "like a dinghy," meaning they do things like luff the sails when appropriate. They've found that the yacht sails faster that way.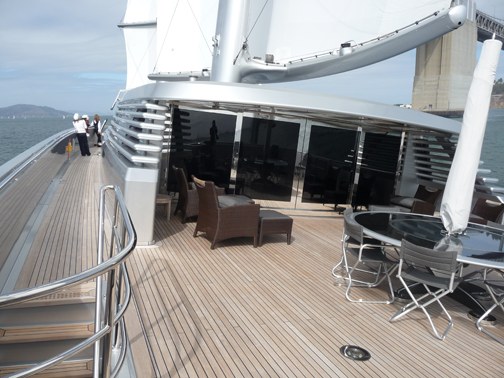 Maltese Falcon has sailed 50,000 miles since she was launched 2.5 years ago. Perkins is proud to report that 65% of that has been under sail alone, while 20% has been motorsailing, and just 15% under power alone. She really does sail that well. Perkins loves the ocean crossings, and has done most of them. One of his favorites was across the Atlantic from the Canaries to St. Barth in the Caribbean last winter. Not only was it a swift passage, it was done without using the engine at all.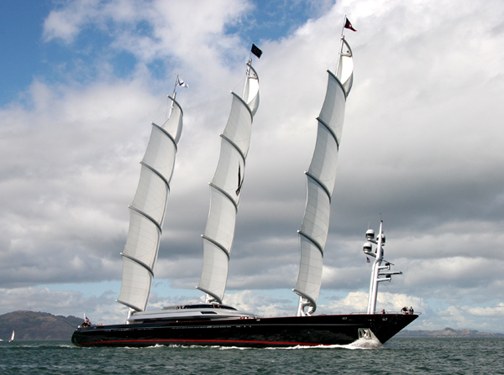 Toward the end of the month, Falcon will be headed down the coast of Mexico and up into the Sea of Cortez. So look out Ha-Ha boats! Perkins will be armed with a new submarine designed by Marin resident and sailor Graham Hawkes. The sub has been tested off Richmond, and next week will be tested in the deep waters off Monterey. Assuming the tests go well, Perkins plans to follow the whales when they dive deep to the depths in the Sea of Cortez.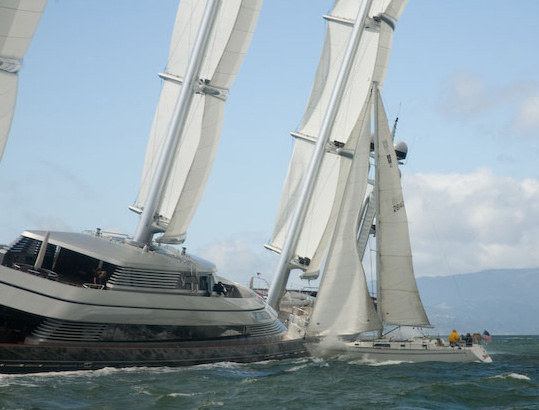 Perkins was thrilled with the glorious reception Falcon received from Bay sailors and all those along the shore. But if you're on a boat, please give her plenty of room to operate. Because she displaces more than 300 tons, she can't move around the Bay without a pilot aboard. And so far the pilots have had to sound five blasts on far too many occasions. On Saturday, there was even a collision — the first ever involving Falcon — between what appears to have been a Nordic 40 and the big yacht. Falcon's rail and hull were slightly damaged, and the mast of the other boat punched a whole in one of her sails. Falcon's crew was up until 1 a.m. patching it in place so the yacht would be ready to sail on Sunday. So look all you want, but please don't touch.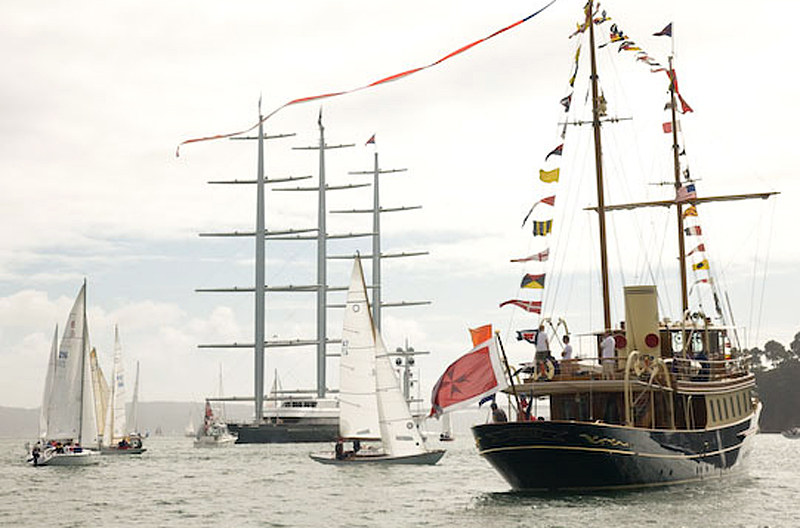 Despite very challenging economic times — you don't want to even check the markets this morning — local sailors and supporters stepped up to help battle leukemia. Last year the San Francisco YC-hosted Leukemia Cup raised $312,000, the largest amount of any Leukemia Cup in the United States. And this last weekend, San Francisco YC bested themselves — helped to a large extent by the support of Tom Perkin's 289-ft Maltese Falcon and a Saturday evening talk by Rupert Murdoch of News Corp and the Wall Street Journal — by raising more than double that. Although the exact numbers won't be known until later this week, it's certain to be the highest of any of the other 28 Leukemia Cups around the country, including the one put on by the New York YC.
To give an example of how folks stepped up, after Murdoch's talk on Saturday evening, two couples bid $15,000 each for cigars and a nightcap aboard Falcon with Perkins and Murdoch. No matter how little or how much you gave, congratulations to all, and all the many volunteers who worked so hard in the battle against this and related dreaded diseases.
Oh yeah, there was also a race! Here are the division winners:
Division 9 Non-spin: Cordonazo, Carter Ott
Division 9 Knarr: Narcissus, John Jenkins
Division 8 Colgate 26: Ke Kumu, Club Nautique
Division 7 Non-spin: Eastern Breeze, Chris Kostanecki
Division 7 IOD: Feather, Rich Pearce
Division 6 Spin: Topgallant, Phillip Fleishman
DIvision 5 Spin: Good and Plenty, C. Froeb/W. Baylis
Division 4 Non-spin: Perseverance, Daniel Chador
Division 3 Spin: Yucca, Hank Easom
Division 3 Melges 24: Trezentos, Andre Peixoto
Division 2 J/105: Indefatigable, Ian Charles
Division 1 Spin: Taboo, Steven Pugh
Full results will likely be up shortly at www.sfyc.org.
The disappearance of Southern California powerboaters Henry Sanchez and Penny Avila late Wednesday night still remains a mystery, despite several days of searching by Coast Guard rescue divers and other resources.
Sanchez, 51 — who is the brother of California Congresswomen Loretta and Linda Sanchez — and Avila, 48, left Alamitos Bay, near Long Beach, aboard their 26-ft Bayliner either late Wednesday night or very early Thursday morning, bound for Catalina Island, and have not been heard from since.
About 7:30 Thursday morning, a recreational boater came across a debris field roughly five miles south of the L.A. Harbor entrance. Some of the personal items and boat fragments found are believed to have been from Sanchez' boat, including toy swords. The couple was making the 20-mile channel crossing to participate in the island's annual Buccaneer Days celebration.
The twin ports of Los Angeles and Long Beach comprise the nation's largest port complex. Conjecture among rescue personnel is that the Bayliner probably collided with a barge or other commercial shipping traffic within the 'precautionary area', where the northbound and southbound shipping lanes meet.
Receive emails when 'Lectronic Latitude is updated.
SUBSCRIBE