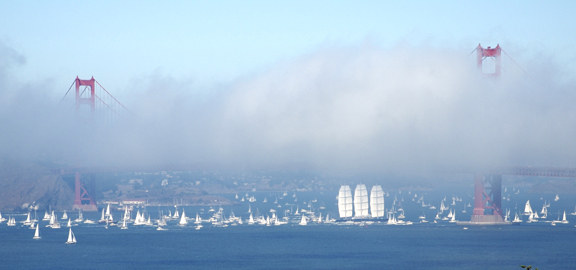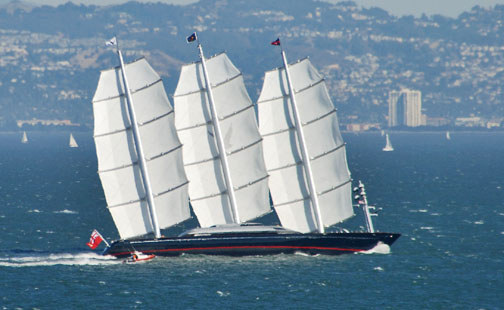 It turned out to be every bit the spectacle that we expected. Shortly after 2 p.m. on Saturday, Tom Perkins sailed his magnificent 289-ft Dyna-Rig Maltese Falcon — by most standards the largest privately-owned yacht in the world — beneath the Golden Gate Bridge and into a San Francisco Bay that was packed with more sailboats than we've ever seen before.
For Perkins, 75, who resides in Belvedere, it had to be a moment of triumph, because when he first arrived in the Bay Area many years ago, he had no real money, and did his sailing on a 17-ft Teak Lady. Thanks to his skills in science and business, he moved up. Way up.
For everyone lining the shores of San Francisco Bay, and particularly sailors, she was simply a jaw-dropping sight. As many commented, photos of the dark blue and silver yacht in magazines just don't do justice to the football-field-length yacht.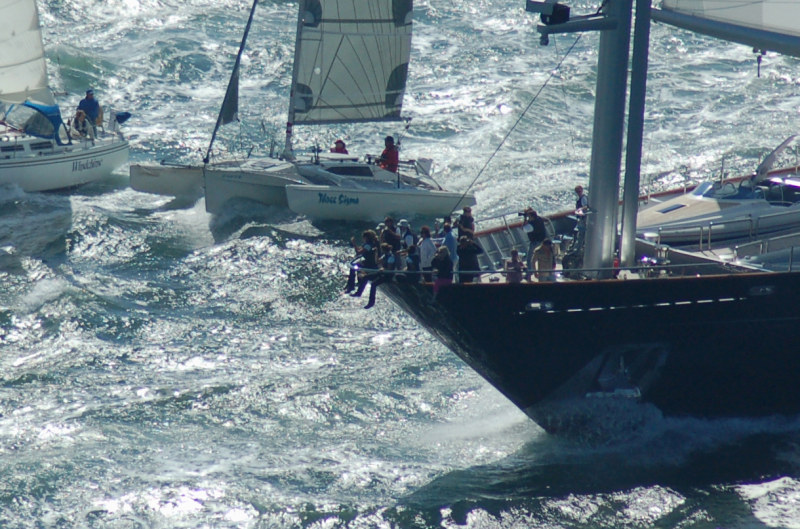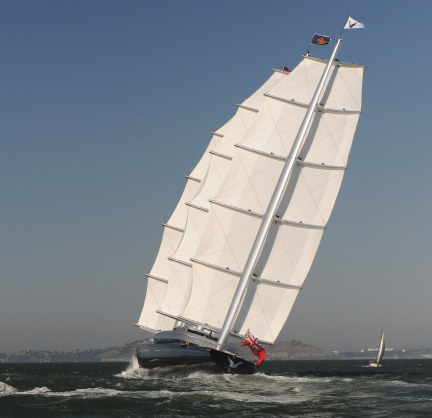 Falcon passed beneath the Golden Gate, which was skirted by a few wisps of fog, sailing dead downwind, and continued along the San Francisco Cityfront to about Pier 39. Along her route she was accompanied by hoards of boats, most of them sail. In the vicinity of Blossom Rock, she demonstrated how you jibe a Dyna-Rig yacht, by going onto a tight reach that would take her to the lee of Alcatraz, across the breezy center of the Bay, and behind Angel Island. We have no idea how fast she was going — certainly close to 20 knots — but she was putting all of her waterline to work. Even from the far distant deck of the Golden Gate Bridge, she was a breath-taking sight as she streaked across the Bay.
After rounding the lee of Angel Island, Falcon sailed up through Racoon Strait in very light air, giving the many thousands of people on boats and ashore both a long eyeful and a demonstration of how her unstayed masts rotate so she can sail to windward. It was mostly slow going in the light air, giving everyone a chance to evaluate her somewhat Darth Vader-like appearance.
Picking up the breeze again, Falcon headed back out into the Central Bay, leaving all her pursuers in the dust. It must have been blowing about 20 knots, and on a close reach once again, she flew. By this time we were at Yellow Bluff on the Sausalito shore, where hundreds of people continue to stand silently marveling at the yacht. Most didn't know exactly what they were looking at, but there was no doubt in their minds they were seeing something really special. About halfway to the center of the Bay, Falcon jibed again, sailed back in the direction of Raccoon Strait, then rolled up her 15 sails in the unique Dyna-Rig fashion.
With the sails put away, she motored back out toward Yellow Bluff, then slowly cruised the shore back toward Sausalito. Thanks to her very wide and curved yards, she's almost as impressive a sight when she's not carrying sail as when she is.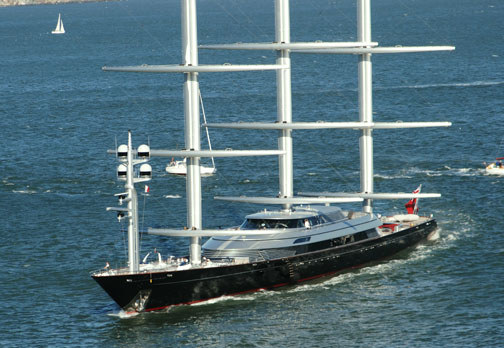 Thanks to the great yacht and perfect weather, it was as memorable a sailing day as we can recall on the Bay. Falcon is currently anchored in Marin, and it's our understanding she's to sail again next Sunday in support of the Leukemia Cup being hosted by the San Francisco Yacht Club in Belvedere.
If you saw Falcon doing her stuff on the Bay, we'd love to hear your reaction and thoughts. Please email them to us.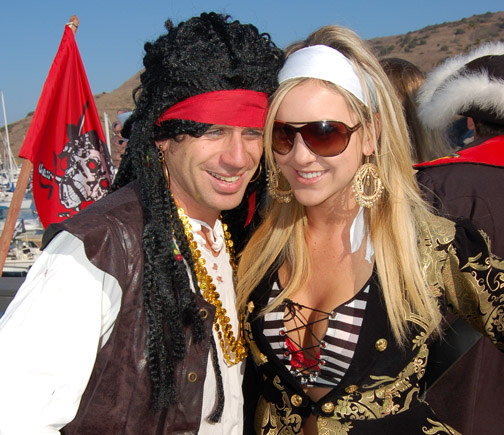 A fleet of swashbuckling rogues and wenchs decked out in their saltiest pirate garb will descend on Two Harbors, Catalina, this weekend for the annual Buccanneer's Day celebration.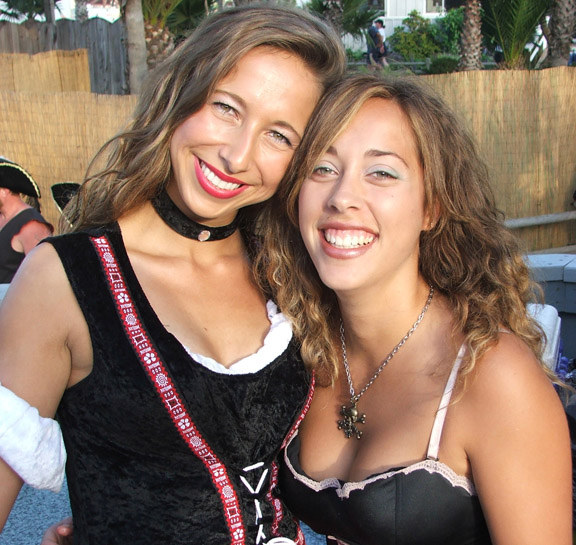 This often risque, sometimes rowdy affair is one of the most popular functions of the year at the island, so plan to come several days early if you hope to get a mooring. And take note that lobster season has just begun in Southern California, so watch out for divers and hoop net floats. And remember, Buccaneer's Day is just for fun, so don't get too carried away with plundering and pillaging!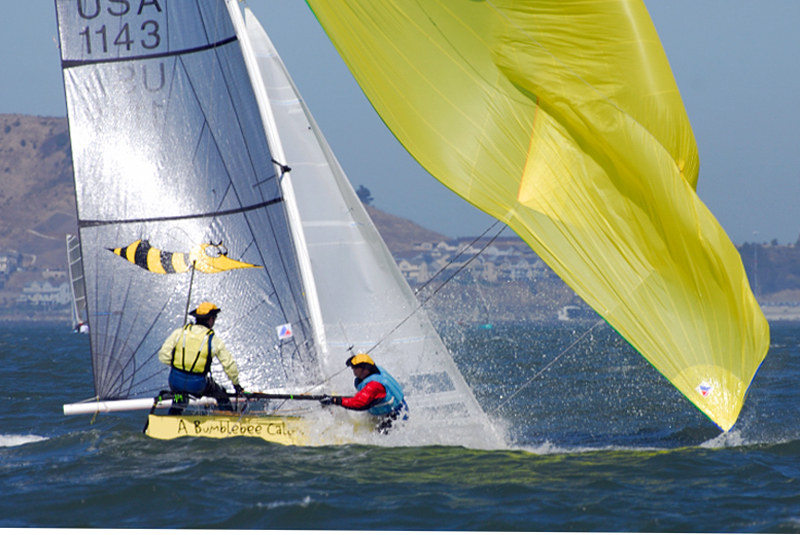 With a win in Sunday's distance race and a little help from the second-place boat, Seattle's Kris Bundy and Jamie Hanseler won their fourth International 14 Nationals hosted by Richmond YC. The 25-boat fleet got solid breeze into the mid-20s over the weekend's six races, which proved a worthy adversary for much of the fleet — every boat below seventh place had at least one letter score.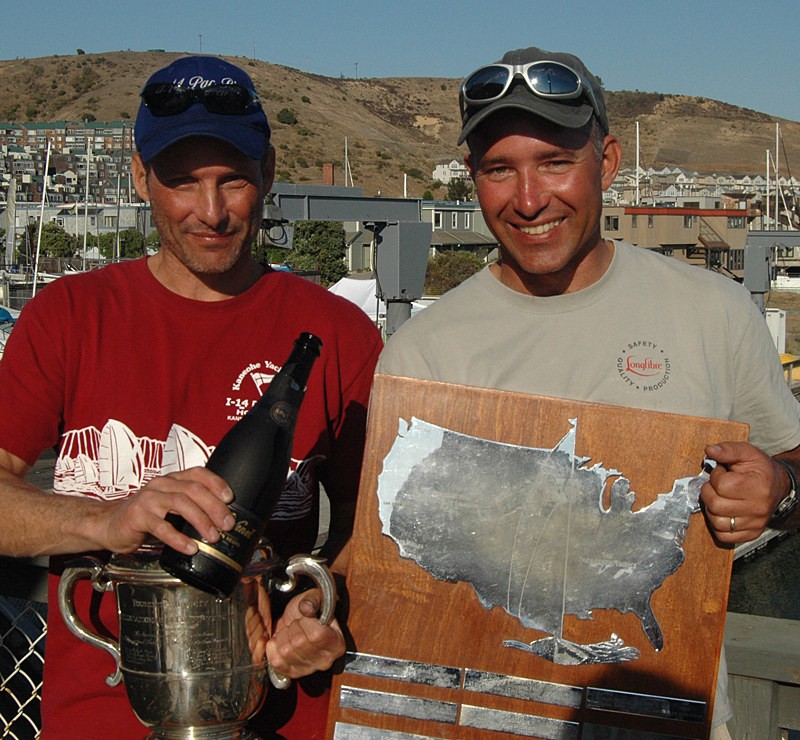 Going into the distance race — wisely moved to the last of the regatta after the R/C realized the course and timing of the planned Saturday afternoon start would have pitted 25 International 14s against the 289-foot Maltese Falcon and her sizeable spectator fleet — the team of Brad Ruetnik and Matt Noble were leading the regatta, this despite having only a day of practice together before the regatta. Although amped to sail the race — which is an institution at the International 14 Nationals and even comes with its own perpetual trophy — the two decided that rather than risk a DSQ, collision or damage, they'd cash in their throwout and call it a regatta. The only problem was, they'd counted Bundy and Hanseler's finishes incorrectly, which put them in a tie, which they lost on a countback.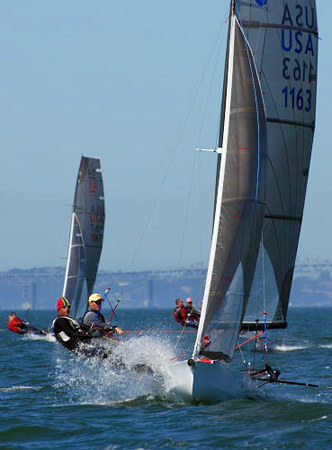 "It doesn't feel right," Bundy joked while picking up the trophy he's probably already sent to the engraver three times. "But. . . I guess it does."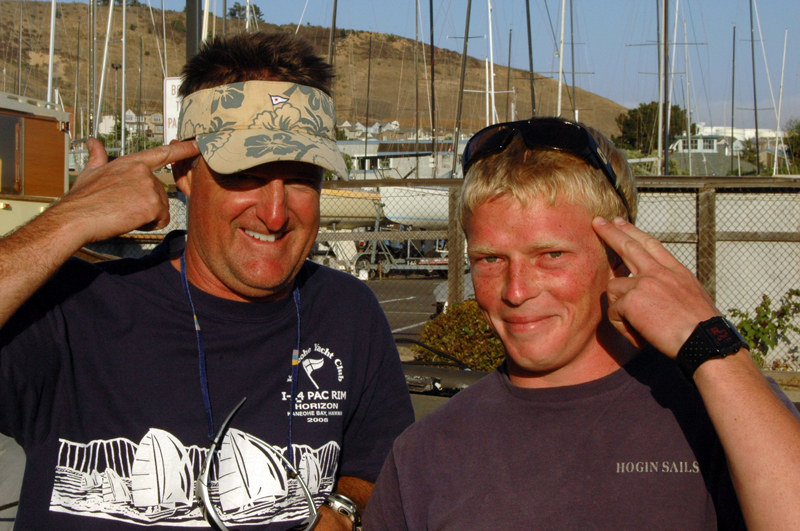 San Diego's Ruetnik and Richmond YC's Noble — the latter is the reigning world champion in the class — took plenty of ribbing about their error; it was suggested they take a math class for example. But they were good humored about it and the regatta as a whole.
"There was plenty of carnage, good race management and good sailing," Noble said. "Richmond YC always puts on a great event."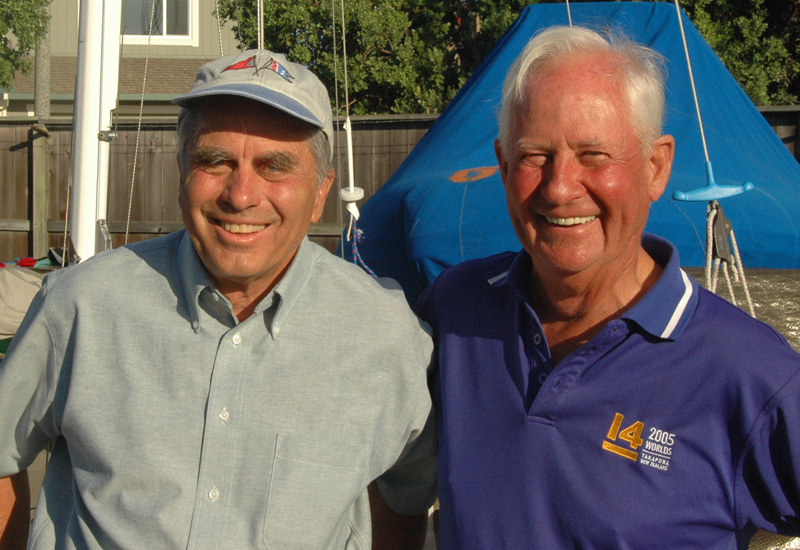 Receive emails when 'Lectronic Latitude is updated.
SUBSCRIBE