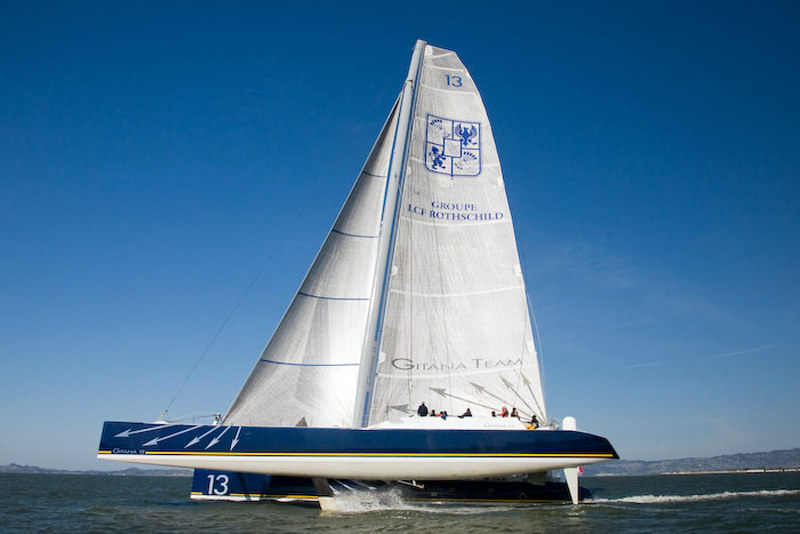 Remember Gitana XIII, the 110-ft maxi-catamaran that visited the Bay back in late February and early March? We sure do! We're not sure it's possible to forget what it feels like to hit 30 knots in a bear-away, or cruise up and down the Cityfront with a 110-ft hull flying well clear of board-flat water with nearly 50 knots of apparent wind in your face.
The boat has finally finished the records tour she began in January by breaking the Tea Route record from Hong Kong to London with a time of 41d 21h 26m 34s — over a day less than it took her to get from New York to the Bay on the successful Gold Route record attempt that brought her here. Skipper Lionel Lemonchois explained the crux of the boat's records trip upon reaching London:
"The seven records are clearly a great satisfaction, but I am particularly proud of the human success story that has come about as a result of this long record campaign," he said. "We relished the idea of bringing some maritime routes, which have a real historic value, back into the limelight. I hope that the times set throughout the year will inspire others to revive these routes which are positively brimming with history."
And they probably will, given the fact that just about every record, despite being very fast, is beatable. On the Gold Route passage for example, Lemonchois was forced to wait five days for a weather window before rounding Cape Horn.
Also, consider the reality that breaking records with a second-hand, giant multihull is actually cheaper these days than running a top-level IMOCA 60 campaign — where 20 other teams are competing for a slice of the press coverage.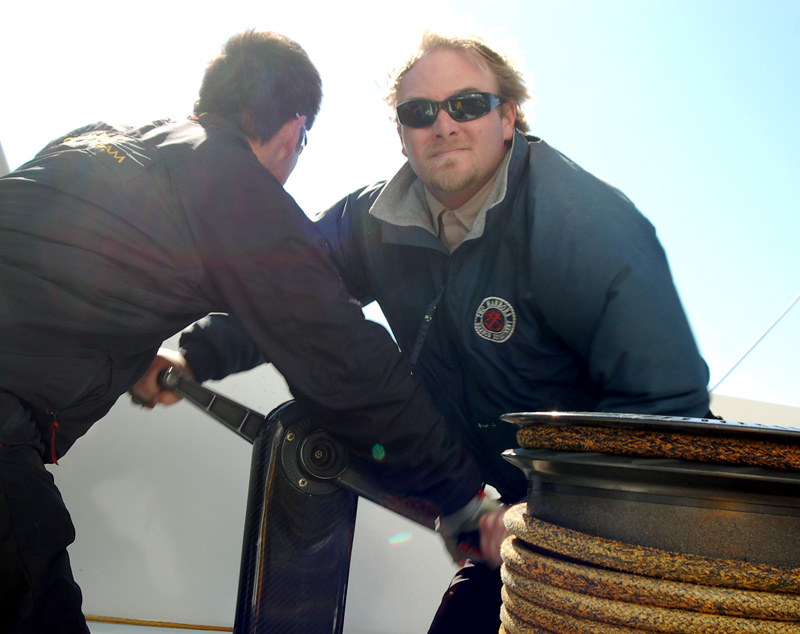 Combine these two factors — along with potential sponsors' desire to reach burgeoning Asian markets — and you get exactly the circumstances needed for what Lemonchois envisions. We'd like to go on record as being strongly in favor of such a scenario, as long as it means that more giant multihulls visit the Bay . . . and take us sailing.
The records of Gitana XIII's 2008 records tour:
Route de l'Or — NY to SF, via Cape Horn: 43d 3m 1s
North Pacific Crossing — SF to Yokohama: 11d 12m 55s
Tea Route — Hong Kong to London: 41d 21h 26m 34s
Yokohama to Dalian: 3d 20h 19m 11s
Dalian to Qingdao: 23h 50m and 20s
Qingdao to Taiwan: 3d 52m 15s
Taipei to Hong Kong: 1d 58m 27s

Receive emails when 'Lectronic Latitude is updated.
SUBSCRIBE