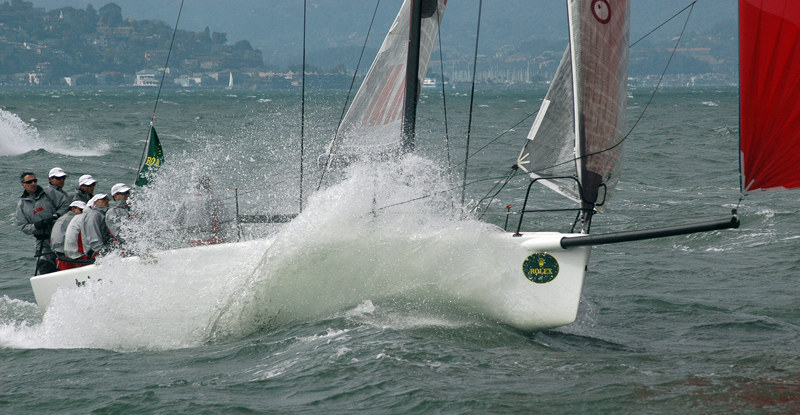 The Bay didn't disappoint for the opening day of the St. Francis YC's Rolex Big Boat Series, and neither did the names who've been dominant on it. With breeze that started light and built to the low 20s yesterday over the series' first two races for each of the six one design and four handicap divisions, it was back to business as usual for the Bay after last year's unusually balmy flood tide series.
The four IRC divisions were joined by the Melges 32s on the southern edge of the Circle for race one, while the J/105s, J/120s, 1D35s, Express 37s and Beneteau 36.7s had their opening rodeo on the Cityfront course. For race two, the two groupings swapped courses before all the classes converged on the Cityfront to finish in front of the club with kites up, hugging the shore to escape the light ebb.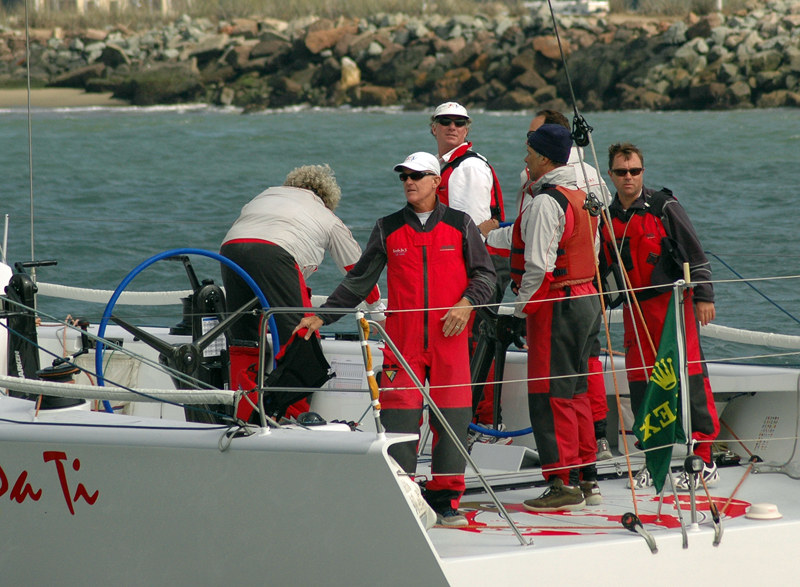 Stone Cup and Pacific Cup division-winning Criminal Mischief was back to its customarily productive malfeasance. Chip Megeath's Tiburon-based R/P 45 got off to a solid start in the nine-boat IRC A division with a 1-2 and carries a two-point lead over John Kilroy's TP 52 Samba Pa Ti, which won the second race.
Pt. Richmond's Brad Copper put IRC B on notice that he intends to reprise his division win at August's Aldo Alessio Regatta and West Coast IRC Championship after sailing his Tripp 43 TNT to a 1-2 yesterday. TNT carries a two-point lead over Michael Diepenbrock's Swan 45 Rancho Deluxe in the nine-boat division where the two boats rank as the second and third slowest-rated boats.
Prior to last year, John Siegel's Wylie 42 Scorpio had dominated her division in the previous four Big Boat Series, and yesterday Siegel sailed the boat to a 2-1 to make a push to reclaim that top spot. Scorpio now carries a one-point lead in IRC C over the boat that unseated her last year, Dave Kirby's J/122 TKO. Scorpio and TKO are the two slowest-rated boats in the eight-boat division.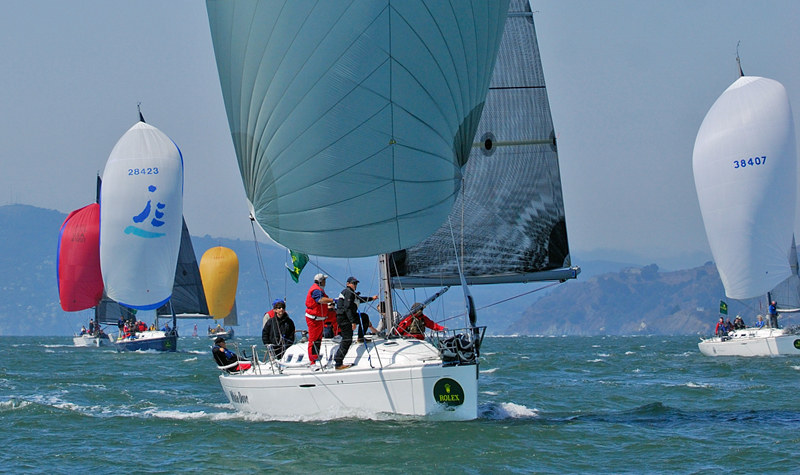 White Dove, Mike Garl's Peninsula-based Beneteau 40.7 and reigning West Coast IRC Champion, leads Gerry Sheridan's Elan 40 Tupelo Honey in an extremely tight 13-boat IRC D. White Dove, Scorpio, TNT and Tupelo Honey will all be pushing hard this weekend as not only are their division trophies on the line, the inaugural Northern California IRC series is up for grabs between these four.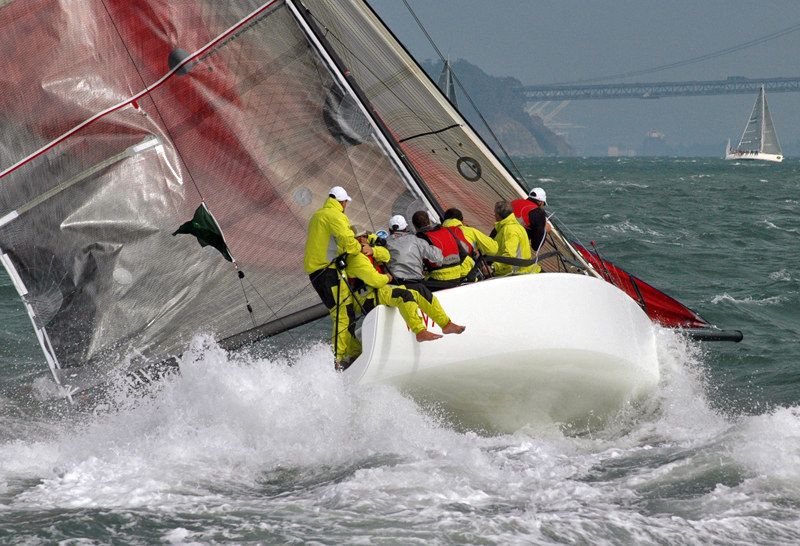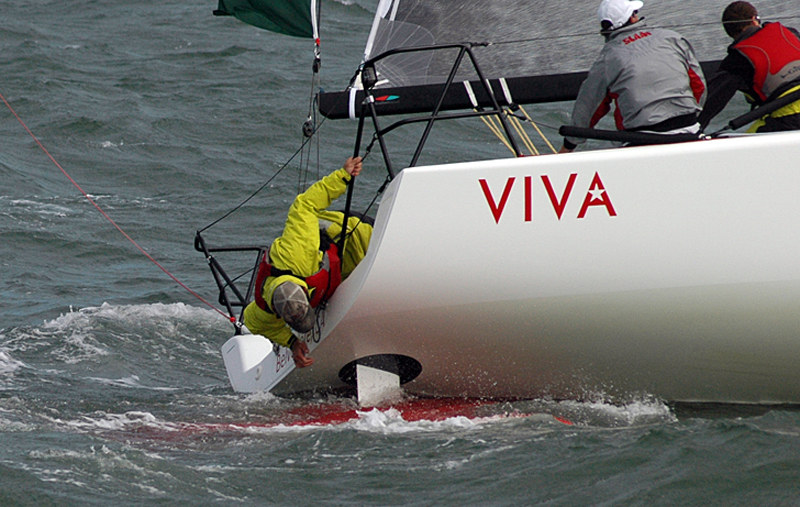 In the Melges 32s, Midwest scow and Melges 24 ace John Porter and his chartered Full Throttle lead after the first two races on a countback with Pieter Taselaar's Bliksem — tied with four points apiece.
Masakazu Toyama's Japanese Ebb Tide crew chartered Andy Costello's 1D35 Double Trouble and made the most of the day, finishing with a 4-1 to take the top spot on the leaderboard in that class after a countback with Gary Boell's Richmond-based Diabalita.
Coming as little surprise, the Bay Area's Steve Madeira and his omnipresent green-hulled Mr. Magoo lead the eight-boat J/120 division over two other Bay Area boats frequently found on the leaderboard, Barry Lewis' Chance and Don Payan's Dayenu.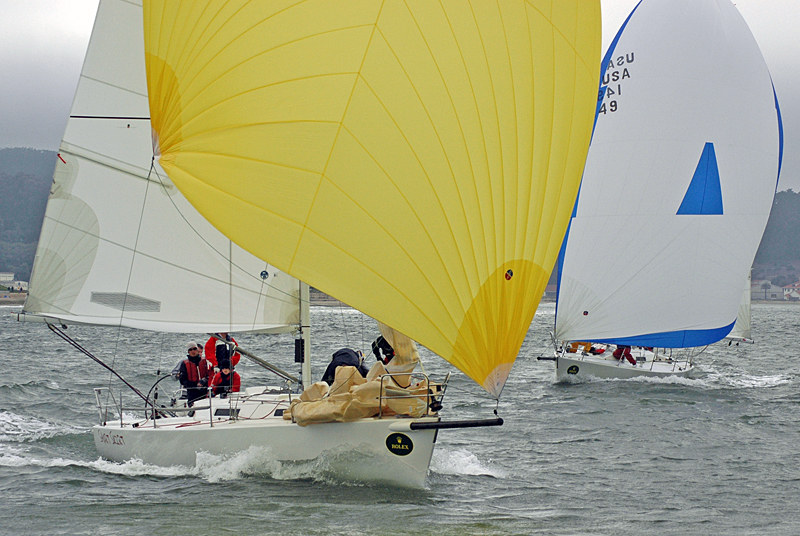 With a 1-3, Chris Perkins and Dave Wilson's Good Timin' sits in first in the Bay Area-dominated 31-boat J/105 fleet, followed closely by Scott Sellers, Rolf Kaiser and Eric Ryan's Donkey Jack in a transposition of the boats' finishing order at August's J/105 North Americans.
Mistral, Ed Durbin's Richmond YC-based all-conquering Beneteau 36.7 is tied with fellow club member Stuart Scott's Bufflehead in the first-ever six-boat Beneteau 36.7 division.
San Francisco's Bartz Schneider sailed Expeditious into the lead in the 10-boat Express 37 division over Mark Dowdy's Eclipse. Schneider's team sailed to a 1-2 for a three-point lead in the second largest of the one-design divisions.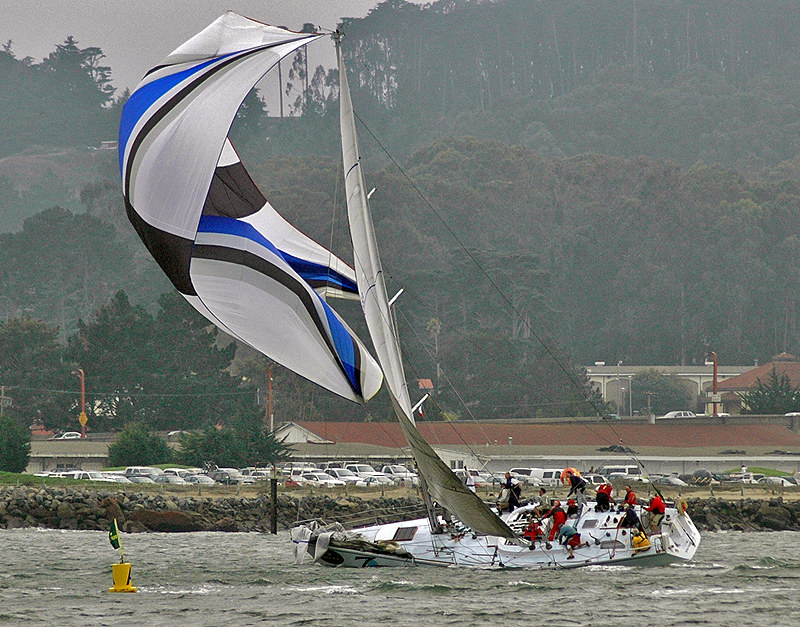 One thing all these division leaders know — not to mention the boats that are coming for them — is that there's still a long way to go. We wouldn't be surprised to see some of these divisions get shaken up over the weekend and we'll be there to see it. You can follow the action by visiting the St. Francis YC's website and heading down to Crissy Field for some awesome spectating.
Receive emails when 'Lectronic Latitude is updated.
SUBSCRIBE