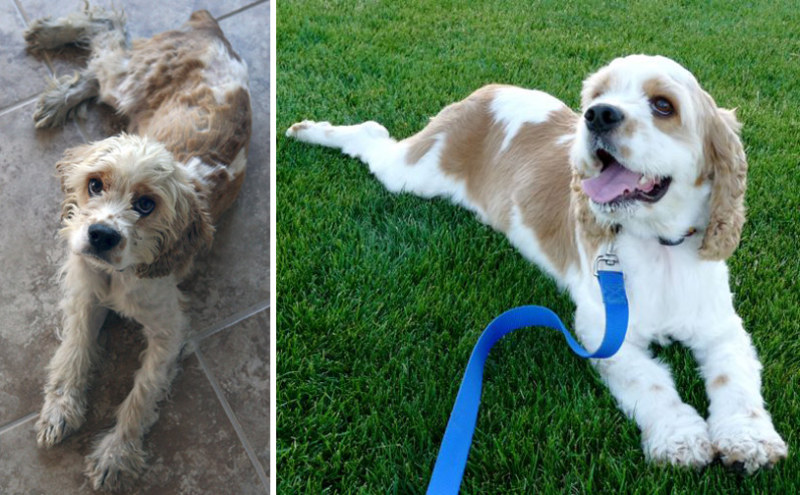 We received the following update on Snickers the pup yesterday from Jack Joslin, who spent countless hours working to rescue Snickers and his crewmate Gulliver the parrot after they were shipwrecked and abandoned on Fanning Island last December:
"The Wild Beast of Fanning that arrived at my home in April has gone dormant! I'm pleased to report that Snickers is, in almost all ways, just a happy, playful, very smart, normal cocker spaniel. Right away, he seemed to understand and accept that I was the alpha dog in this pack, and he bonded with me quickly. That was good for me and him, but not so much for my other dog, Missy. He, of course, only knew that aggressive assertion of his desires resulted in satisfaction. Time and attention were necessary to repair his aggressive tendencies.
"After the first week, I was able to walk them together. Then I began to notice that he would occasionally look at her to try to figure out, for example, how alarmed to be if we walked by a barking dog. Once he saw that she ignored the distraction, he began to do likewise. I'd say it was maybe three weeks ago that she actually played with him. He'd been trying for quite awhile to engage her, but she'd ignore him. Once she 'agreed' to play, though, I knew it would all be OK. He really is the sweetest little guy."
But Joslin isn't the only one with good news to share. Sybil Erden of The Oasis Sanctuary in Arizona reports that Gulliver's repatriation to the U.S. is entering the final stages.
"The U.S. paperwork being issued by both USDA and USFWS/OMA has been approved, and should be at the Sanctuary early next week. The paperwork from Kiribati should be in Switzerland by the end of this week, then CITES (Convention on International Trade of Endangered Species), which is located in Geneva, contacts USFWS, who will clear my way through the ports with the USFWS Inspectors. Then the USDA will take Gulliver into Quarantine for 30 days. After that, I'll pick him up and take him back to Arizona.
"Between airfare, quarantine costs, filing fees, hotels and food while out of the country, international phone bills, shipping costs and everything else, this rescue is costing over $10,000. If any of your readers would like to help, they can contribute on our website."
We're thrilled that these once-doomed animals have been given a second chance at long and happy lives through the hard work of so many people.
Receive emails when 'Lectronic Latitude is updated.
SUBSCRIBE