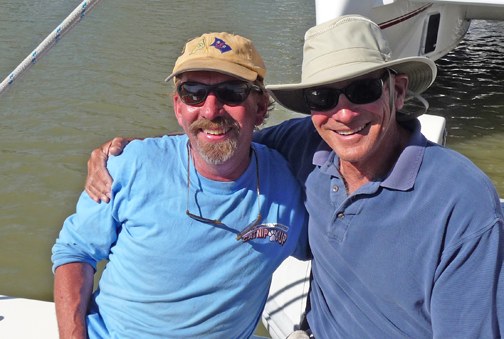 The two men in the photo above — Arjan Bok of San Francisco and Jim Milski of Colorado and the Bay Area — are crazy. We know they are crazy because both not only built their own boats, but the boats are both rather large catamarans.
Bok built RotKat, a Lidgard 43, from scratch in San Francisco after selling his much-loved Newport 33 Tiger Beetle. Milski completed his Schionning 48 Sea Level from kit form in Vallejo. Both claim that having been on or sailed on Profligate was a partial reason for their going a little nuts — but we refuse to accept any responsibility.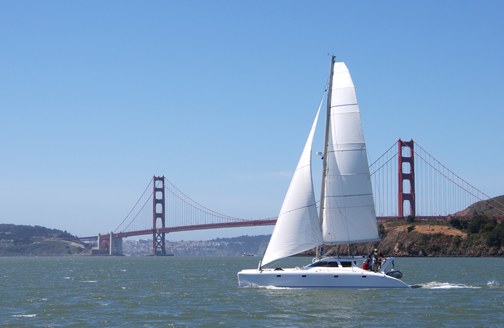 We had our first chance to see the two cats last weekend during the Catnip Cup to Vallejo, a light air event that attracted about a dozen multihulls. The thing that struck us is that both RotKat and Sea Level look as professionally done as many production cats. 'Good enough' just wasn't good enough for either Bok or Milski. But that also meant about a year of just sanding was required for each boat!
Both builders eschewed typical gingerbread, so their cats are light and therefore will go like bats out of hell when there's a breeze. As reported recently, Bok's RotKat hit 19.5 knots off Alcatraz. It didn't hurt that she's equipped with a rotating carbon mast that he built for 1/10th the cost of a commercially built one. Well, 1/10th of the cost not counting the labor. Alas, Bok reports there was a tremendous amount of labor involved in that project.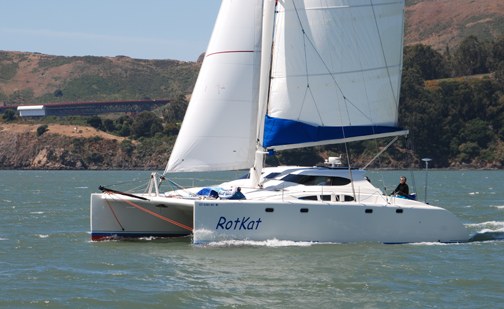 When you build your own cat, you develop a certain confidence in your instincts. So when Bok needed to remove his saildrive, he decided to try something that sounded insane, but if it worked, would be much less expensive than what's commonly considered to be a mandatory — and expensive — haulout. First, he dove on the saildrive and removed the prop. Second, he disconnected the engine from the saildrive. Third, he raised the engine as high as it would go in the engine compartment. Fourth — and this is what sounds really nutty, even for a guy who would build his own cat — he unbolted the saildrive and lifted it up through the hull. Yes, the water came pouring in. But because a cat floats so high, and because the engine compartment is so small, the water only came to 16 inches high in the engine room. After replacing the bad saildrive seals, Bok reversed the removal process, being careful to pump out all the water before reconnecting the engine to the saildrive. He says it only took him an hour to take the saildrive out, and another hour to put it back in.
Warning! Don't even think of trying this on a monohull, because you'll sink your boat.
With the late arrival of Kevin Millet's family — which includes wife Marcie and mischievous 15-year-old daughter Ayla — aboard their Hawaii-based self-designed 54-ft Kalewa, it meant the Catnip Cup had three homebuilt cats. Kevin built the boat as a 48-footer in Hawaii a few years ago, and spent much of the last winter adding six feet at the Napa Valley boatyard.
Receive emails when 'Lectronic Latitude is updated.
SUBSCRIBE