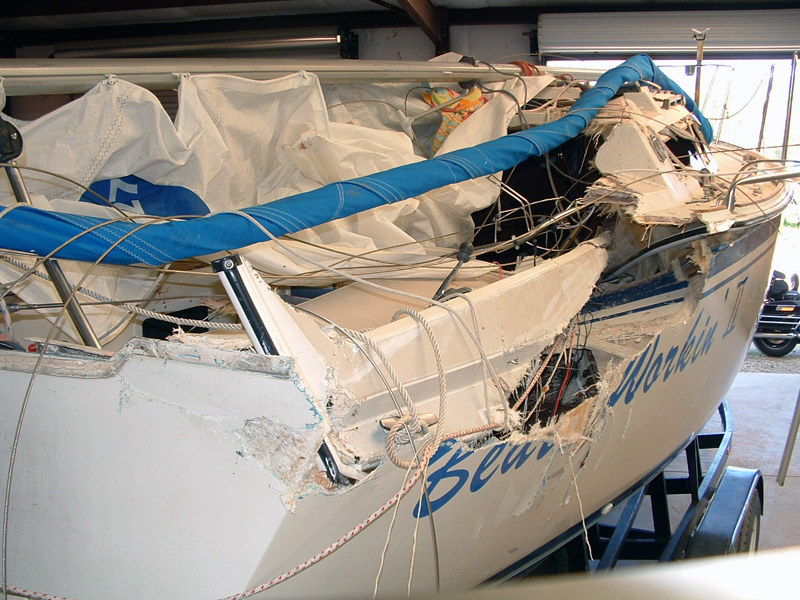 The preliminary hearing on vehicular manslaughter charges against Bismarck Dinius, 39, of Carmichael, was held yesterday and will continue today in Lakeport in Lake County. The charges were filed as a result of the death of Lynn Thornton, 51, who was killed on the O'Day 28 Beats Workin' II on the windless night of April 29, 2006, on Clear Lake. Dinius happened to be sitting at the helmsman's position of the sailboat at the time Thornton suffered the injuries that would kill her.
We think that Dinius to defend himself on these charges is a travesty of justice, as what really caused Thornton's death is Russell Perdock of Lake County slamming his appropriately named Baja Outlaw 24-ft powerboat into Beats Workin' II at 40 mph or more. Why hasn't Perdock been charged? There can only be one explanation in our mind — he's the number two man at the Lake County Sheriff's Department, and law enforcement up there, based on this case, appears to be corrupt as hell.
As ridiculous as it might sound, the prosecutors, colleagues of Perdock's, are claiming that Thornton's death was Dinius' fault because, although he was not the skipper of the boat, he was at the helmsman's position, he was under the influence of alcohol, and that the boat's running lights were not on.
It is true that Dinius was over the current alcohol limit, although he was under the old limit for being intoxicated. In other words, he wasn't smashed. In any event, given the windless conditions, there was no way he — or any other sailor — could have avoided a powerboat coming at him out of the black at 40+ mph.
There are conflicting reports about whether or not Beats Workin' II had her running lights on. Several witnesses on shore, including a retired law enforcement officer, said the running lights were on. Tellingly, these witnesses had to be forced upon law enforcement officials, who had said they didn't need any more testimony. Furthermore, William Chilcott, a marine safety scientist, has testified that Beats Workin' II's running lights had been on and went off at the instant of impact.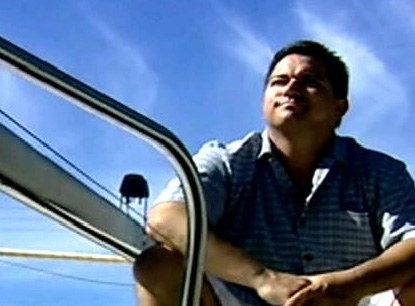 Even more interesting is the testimony of Wes Dodd who, during the course of his career, has investigated over 625 marine accidents while in law enforcement, and 27 more since he retired in '01. Get this — although Dodd taught Lake County law enforcement officials everything they know about boat accident investigations, he has concluded that Perdock, one of their own, was the primary cause of Thorton's death:
"My conclusion is that speed was the primary factor in this collision. In order to ramp the sailboat and cause the amount of damage done, Mr. Perdock would have had to be going 40+ miles per hour . . ." Indeed, Perdock admitted that he was travelling that fast. In fact, he's testified that he'd done it on a number of other times on pitch black nights, in violation of the most basic rule of the road. Perdock, Mr. Law Enforcement, has never taken a safe boating course.
Dodd went on to testify that "due to darkness and poor visibility, Mr. Perdock should have reduced his speed to avoid collision or damage."
In addition, Dodd absolves Dinius of responsibility. "Had Mr. Dinius not been intoxicated, he would have not been able to maneuver the sailboat in time to avoid the collision. Had Mr. Perdock been operating his vessel at a safe, prudent speed, this accident could have been avoided."
Our reaction is, "Well, duh!" But with the Lake County Sheriff's Department working so hard to convict Dinius in an apparent attempt to divert attention from Perdock, the real culprit, there is no way to avoid having to go through the obvious.
We want to compliment Dan Noyes and the Channel 7 I-Team news for having jumped on and stayed with this story at a time when only Latitude had been covering it in detail and calling attention to the outrage. As if things weren't so disgusting in Lake County already, Noyes has uncovered more: "Late on Tuesday afternoon, the I-Team learned that, just this past Sunday, a sergeant came forward to say he'd been instructed on shore the night of the accident not to give a breath test to Russell Perdock."
If justice is done, we'll soon be able to tell you: 1) That the manslaughter charges against Dinius have been dropped; 2) Lake County has agreed to pay all his legal fees; 3) That Perdock has been indicted for the death of Lynn Thornton, and 4) That the Lake County District Attorney has resigned.
Vincent Riou's PRB is the third race leader forced to abandon in the IMOCA 60 division of The Artemis Transat. Riou said that PRB was reaching at speeds in the high teens when the boat's keel collided with a large animal, cutting the beast clean in two. Not hearing any carbon fiber cracking, Riou made a quick check and didn't notice any significant damage. Later in the afternoon, as the breeze dropped, he was able to make a more thorough inspection and found that one of the pins holding his fully canted keel in place was gone and that the load was primarily being carried by the hydraulic ram — which is not engineered for that. Facing the proposition of an impending gale with a keel that could drop away at any moment, Riou made a call to race headquarters, struck the sails and filled the boat's water ballast tanks to increase the boat's stability.
LoÏck Peyron's Gitana 80, following some 15 miles behind, was routed to Riou's position and successfully picked him up in wind under 10 knots and a moderate sea state. Gitana 80 is now sailing toward Boston, 60 miles ahead of Armel Le Cléach's Brit Air, now in second place in what's become a three-boat first group. Riou now must hope his boat makes it through the gale and can be recovered and repaired in time for November's Vendeé Globe Race.
In the Class 40 division, Giovanni Soldini's Telecom Italia is mired in a ridge of high pressure with little wind, but the 56-mile cushion he enjoys should see him get to the new breeze earlier than the rest of the fleet, which has made a north-south consolidation behind him as they approach the Ice Gate.
Receive emails when 'Lectronic Latitude is updated.
SUBSCRIBE