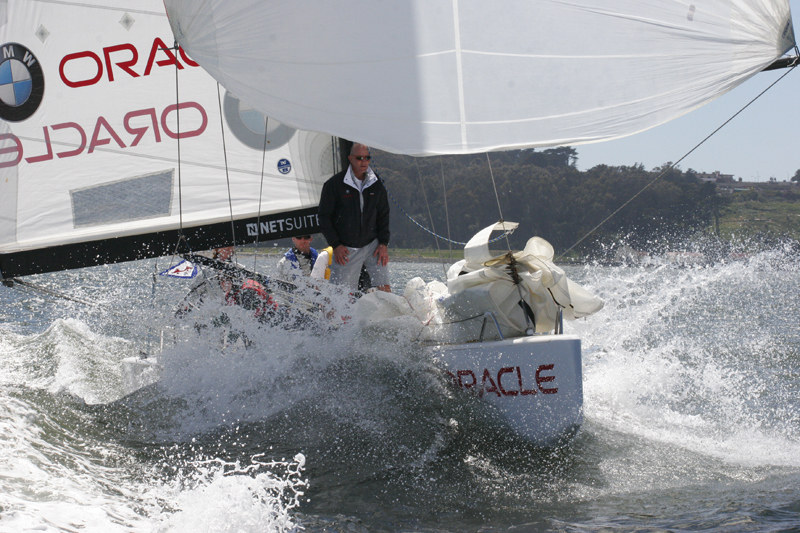 BMW Oracle Racing team members John Kostecki, Melinda Erkelens, Tom Ehman, Ian Burns, Jono MacBeth and Joe Spooner made an appearance on the Bay this weekend for some sailing and good old-fashioned public relations. At the Golden Gate YC on Friday the team treated local media, a few club members and high school sailors from the City to a well-rehearsed talk show moderated by the team's external affairs director Tom Ehman. So what did we learn? BMW Oracle Racing is building a 150-ft foiling trimaran a lá Yves Parlier's Mediatis with stepped hulls which at rest give it a LWL of only 90 feet. . . Just kidding. We learned very little about what they're up to. Our assurances that we could keep a secret weren't enough to get more than the official story line, "We're building a boat but we can't say what kind; we can't say how big other than it will be 90-ft on the waterline; we can't say when or where we'll launch it. . . ." Kostecki did tell us that the boat will likely have wheel-steering, for what it's worth, and that they will require a crane to get the mainsail aboard the boat.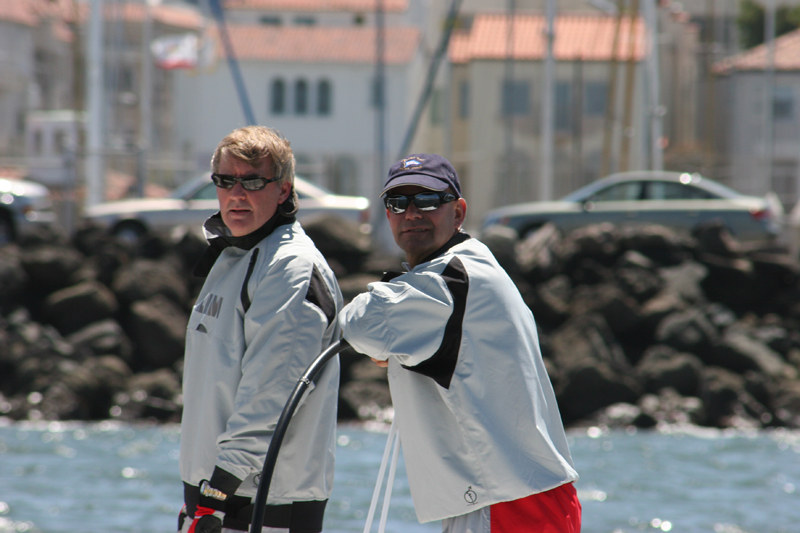 Perhaps the most interesting thing to come out of the presentation was hearing the sailors talk about the differences in the multihull sailing. For instance Spooner, a grinder used to the short-burst grinding involved with the V5 IACC boats, said he's already lost nearly 25-lbs as he's transitioned to the endurance-oriented requirements of the larger multihulls. An example — it takes nearly a minute and a half to raise the furled gennaker on an ORMA 60 like Groupama 2 on which they've been practicing. On a V5 IACC boat it takes only seven seconds to raise a downwind sail.
One thing was apparent from the presentation — these guys are amped about sailing multihulls. "It's new and exciting," Kostecki said. "The learning curve is steep and it's just more fun when you're learning something new." After the presentation, which also highlighted Oracle's $15,000 donation to the Golden Gate YC's high school sailing program, the Oracle sailors took the group of high school kids out for an afternoon of match-racing practice aboard the team's Swedish Match 40s — truancy notices be damned!
Receive emails when 'Lectronic Latitude is updated.
SUBSCRIBE