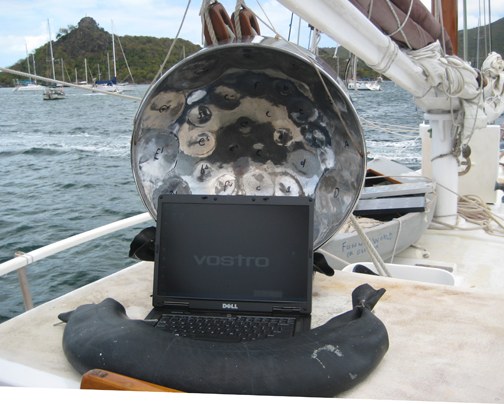 "In the fall of '06, my husband Bruce Smith and I were in San Diego waiting for the green light to go south into Mexico, down to the Canal, and across the Caribbean to the West Indies," writes Janet Hein of the Gig Harbor, Washington-based ketch Woodwind. "As we moved from anchorage to anchorage in San Diego Bay, we discovered the thrill of picking up wireless signals on our boat. But our knowledge of the subject couldn't fill a shot glass, so we combed through back issues of Latitude looking for anything on the subject — and even started bothering the neighbors.
"Among the neighbors was B'hajans, a 40-ft trimaran owned by a very helpful Frenchman named Bruno. I know Latitude is a stickler for complete names and boat types, but Bruno is like Oprah and Cher in that only one name is needed. As for his trimaran, there had been a lot of inbreeding going on, so she wasn't really one kind or another. Anyway, Bruno was busy for days buying new computer bits to hook up to his wireless receiving thing, an invention that consisted of a large metal cooking wok and a USB cable. The parabola collected the wireless signal, sent it through the cord to the computer, and Bruno swore that it worked.
"We finally made it across the Caribbean to St. Barth where my husband put on an art show at the Bank of Baghdad — and met the Wanderer, who was frantic because it was the last day of the Latitude deadline and the internet had gone out on the entire island. We continued on to Anguilla, where we could only sometimes get wireless signals on our boat. In an act of desperation, Bruce tied up his tenor pan — what steel drummers beat on — and aimed it toward the router onshore. He then put his laptop in front of it, and darned if it didn't seem to help! Well, sort of. We're still in the testing phase, so stay tuned. But if this works, West Marine will be selling steel pans at rock bottom prices, and we'll become bazillionaires!"
Receive emails when 'Lectronic Latitude is updated.
SUBSCRIBE