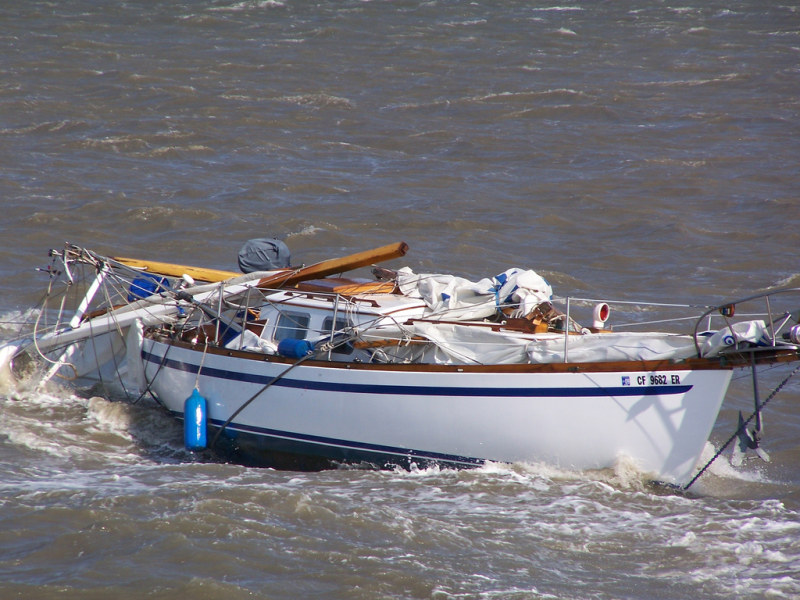 Anyone who was out sailing last Saturday knows that it was really windy in the afternoon. Up to 60-knot blasts were reported atop some of the mountain peaks, and we're pretty sure a few gusts in the high 40- or low 50-knot range made it down to water level. Except for the usual crazy racers, the conditions had lots of boats running for cover to protected anchorages or marinas. Among them was Bruce Allen's Mariner 31 Gitana Vela. Bruce and buddies Jay Virok, Jay Hickman and Doug Workmaster had planned to rendezvous with other boats at China Camp to celebrate the birthday of another friend. By early afternoon, they were almost there. Motorsailing north under jib and jigger (jib and mizzen only), Bruce says the boat was really handling the choppy conditions well — until the masts fell down.
"The first 'bang' was the windward (port) spreader breaking," says Allen. "The second bang was the mast." The box-section wooden spar broke right above the spreaders and toppled into sort of an A-frame configuration on deck. About two seconds after that, the mizzen teetered back and fell over the stern. (Amazingly, it hadn't broken, it just sort of hinged backwards off its deck step.) And about two seconds after that, a sheet wrapped in the prop, stopping the engine.
Miraculously, no one was hurt. They radioed the Coast Guard, who sent a helicopter which stood by until the San Rafael Police boat arrived and towed them into Paradise Cay, where Bruce's wife (and boat partner) Karen arrived to make doubly sure everyone had all their fingers and toes. Bruce and the guys never did make the party. But they still ended the day in something of a celebratory mood. "We broke out a nice bottle of wine, made a toast to cheating death and enjoyed one of the best steak dinners I've ever had," says Bruce.
Gitana Vela was insured. She'll be getting a new mast, new rigging of course, and a stern pulpit (which got mashed). Otherwise, except for a few divots out of the deck here and there, the boat really didn't suffer that much damage. The jib and mizzen sails just need a couple small patches, and the mizzen mast itself will be reused. (Both spars were the originals from when the boat was launched in Japan in 1971.) Bruce hopes to be out sailing again soon.
Receive emails when 'Lectronic Latitude is updated.
SUBSCRIBE