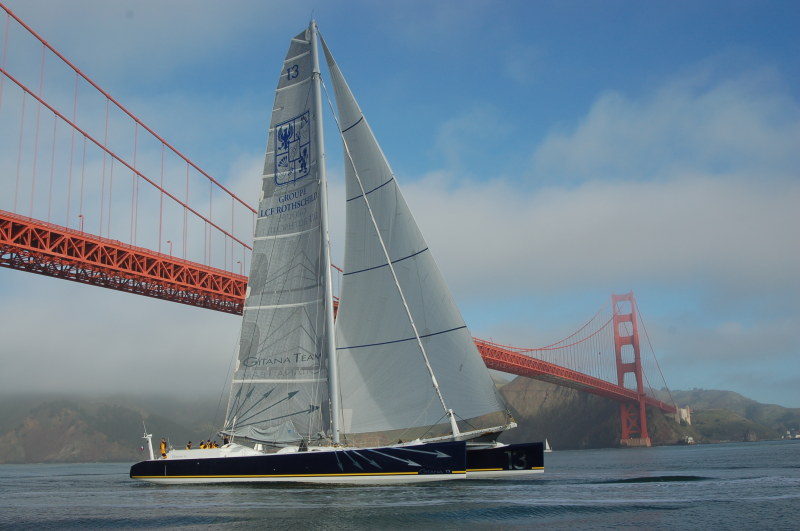 The 110-ft catamaran Gitana 13 slipped quietly under the Golden Gate this morning, the end of her record-setting 14,000-mile record sail from New York attended by only a handful of local boats. In light breeze, she passed under the Golden Gate at precisely 08:31:29 for an elapsed time of 43 days, 38 minutes (subject to ratification by the World Sailing Speed Record Council). That beats the old 1998 record of 57 days and change by more than two full weeks.
After also recording their time as they passed Alcatraz (just in case, as that 'finish line' has been used in past NY-SF record sails), the boat was towed to a buoy off Corinthian YC where the crew set foot ashore for the first time since leaving the Big Apple on January 16. Many hugged wives, girlfriends and children who had flown over from France. All were unshaven and obviously tired from what navigator Dominic Vittet said was the most difficult part of the trip — the last 24 hours before arrival, as the big boat pounded upwind, making sleep all but impossible.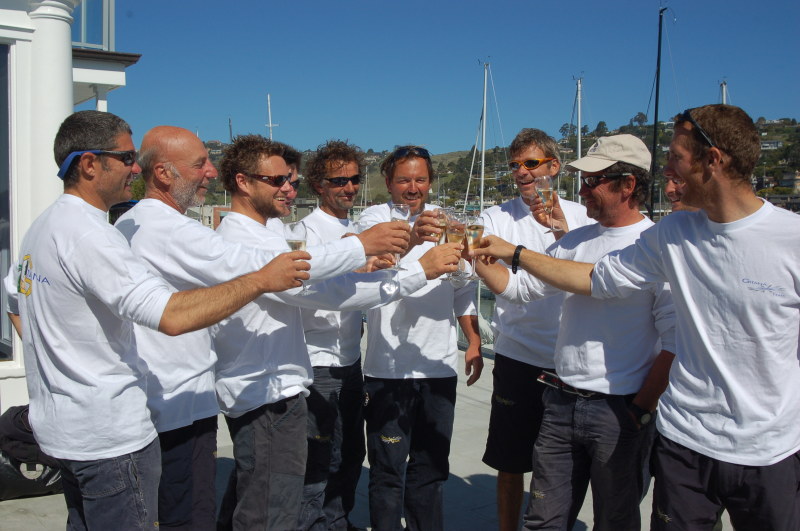 Highlights of Gitana's record run include a high day's run mark of 640 miles, a top speed burst of 40.3 knots and several sustained speeds in the 30s. All the good stuff took place in the first weeks as the boat raced down the Atlantic. After being hove-to for five days awaiting good weather to round Cape Horn, she set all the 'low' marks of the trip in the Pacific, including her two slowest days — 190 miles in one 24-hour period in the Pacific doldrums, and only 240 miles on her final day before arrival in San Francisco. "The Pacific," said Vittet, "was very challenging."
We will have more on the new record for the Route de L'Or in tomorrow's 'Lectronic Latitude. For now, congratulations to skipper Lionel Lemonchois and the nine crew of Gitana 13. C'est magnifique!
For more on the boat and New York to San Francisco record, go to www.gitana-team.com/en/.
Receive emails when 'Lectronic Latitude is updated.
SUBSCRIBE