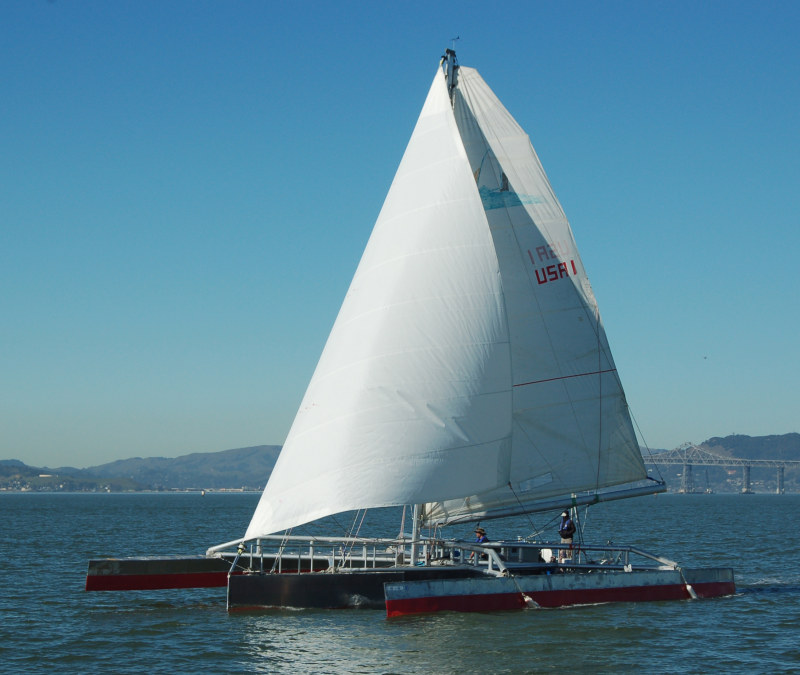 Adventurer David Vann was out test-sailing his 50-ft trimaran Tin Can yesterday, having been delayed several days from his planned Saturday outing. This was the maiden sail for the boat which, if you read last Friday's 'Lectronic Latitude, you will know was built of aluminum over a period of a few months for $25,000. You will also know that Vann was planning only one day of sea trialing the boat in the Bay before heading out for a non-stop circumnavigation. His goal: become the third American ever to sail solo around the world non-stop "and the first to do it from the West Coast, or on a homemade boat, or on such a small budget, or limited time for preparation, or without an engine or generator" — this according to an article he wrote in the December issue of Esquire magazine. Vann also believes he can do this circumnavigation in four months.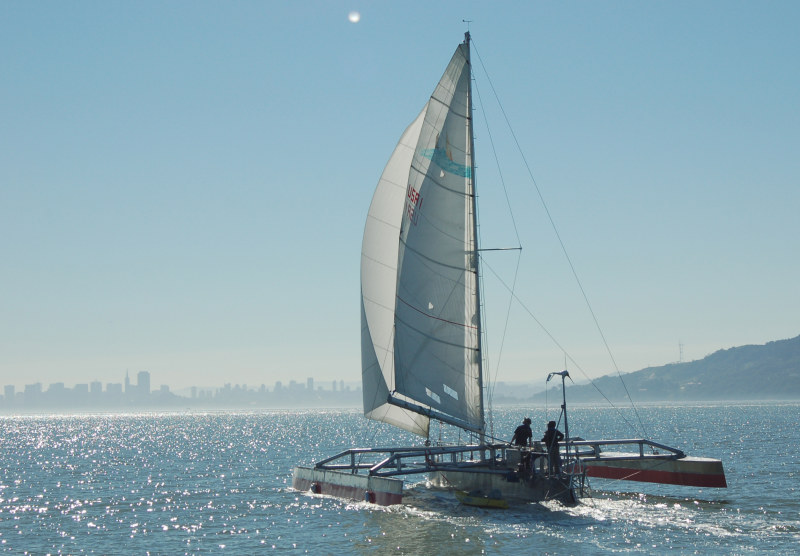 We speculated on Friday that even if the boat does hold together, Vann will never make it in four months. Having now seen Tin Can underway, we stand by that opinion — as well as the belief that, if he's confronted with a good winter storm, he'll might not make it past Pt. Conception. Although she seemed to get along fine in flat water and 8-10 knots of wind, the boat does not look up to handling any serious wind or wave conditions. Just our opinion.
We have been unable to speak to Vann directly because of an agreement he has with Esquire that prevents him from giving interviews until his writing commitment to them is over. (He is chronicling the building and voyage of Tin Can on their website at: www.esquire.com/the-side/blog/tincan). So we can't say for sure if he left the Bay today or not. In the few short emails we have exchanged, he did ask for one clarification of our Friday article: He did not compare himself to Sir Edmund Hillary, but merely noted the passing of the great Kiwi mountaineer and what an inspiration he was to so many adventurers.
We wish Vann luck and hope he lives to tell the tale, no matter how it turns out.
Receive emails when 'Lectronic Latitude is updated.
SUBSCRIBE