Here's an example of just how small the world of sailing can be:
While doing the Banderas Bay Blast in Mexico in early December, we became friends with new Profligate crew Tim Dick of the Hawaii-based Beneteau First 42s7 Eau de Vie, and his lady friend, Kim Le, of Sausalito. A week later Tim, who knew we'd be in St. Barth after the New Year, asked if we could welcome Makana, a very good Hawaiian friend of his who is recognized as one of the top Hawaiian slack key guitar players in the world. Makana has played around the world and opened for the likes of Sting and Santana. He'd been invited to play at the St. Barth Music Festival, despite the fact it was/is all classical. We guess that makes sense, because slack key is classic Hawaiian guitar.
Despite the fact that St. Barth is such a little Island, we didn't manage to cross paths with Makana until he'd already been here a few days. By then he was already having the time of his life, appreciating the beauty of the young French women, surfing at Lorient where it wasn't a war getting waves like it is in Hawaii, playing in a few restaurants . . . stuff like that. With St. Barth being such a small community, it wasn't long before the young and gregarious Makana was plugged in like a guitar into a speaker.
We caught Makana's music festival performance, which was held at night in the open air out by Saline Beach. He was not only absolutely brilliant, but he was a terrific representative for Hawaii and the slack key guitar tradition. Hawaii, Tim, Kim, and all his friends back home would have be proud.
Having such a good time, Makana decided to extended his stay for about a week, and quickly fell in with the sailing/surfing crowd. After a Sunday sail with about 30 people on Ira Epstein's Bolinas-based classic Robert Clark 65 Lone Fox, which had been built about 50 years ago for Colonel Whitbread of the Whitbread Brewery and Whitbread Round the World Race fame, it was decided that Makana should play a little gig on Lone Fox in the harbor last night. That's when the first photo in this piece was taken.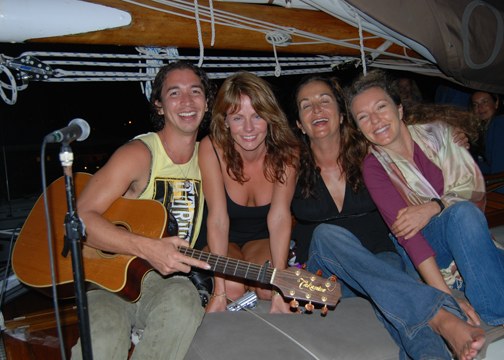 So who is in the photo? At the left, of course, is Makana, who doesn't even know what it's like to be 30 yet. To his right is Hilda, who was visiting from Ventura. Her connection is that she's the sister of Chris Van Trampe, who had previously owned Lone Fox and did a metriculous refit of the yacht in Ventura before bringing her back to the Caribbean. Having bowed out of the Two Swedes Boatyard in St. Barth, Chris now does the wood construction part of Balinese houses in Todos Santos, Mexico, and St. Barth.
The next woman on the right is Doña de Mallorca, who has always had a thing for music, and swears that in her next life she's coming back as a rock 'n roll star.
The last woman in the photo is Sylvie, who sailed into St. Barth 20 years ago on a three-masted schooner, and loved it so much that she said, "That's it, I'm not leaving!" She teaches yoga and actually does leave the island from time to time, visiting her and her husband's home in Santa Monica.
The people in the photo just scratch the surface of the folks with West Coast connections who were at Lone Fox last night. Also there was Chuck Wilson who, although he now lives on a boat in Florida, was the mate to Bruce Kendall, the skipper of Jim Kilroy's Los Angeles-based globe girdling S&S 79 Kialoa III in the '70s. Not only did he help supervise construction of her at Palmer-Johnson, but he helped her set the long-standing record in the Sydney to Hobart Race, raced her against Windward Passage in the St. Francis Big Boat Series when both were still ketches, and all those kinds of things 'back in the day'. Then there was Alf, who is one of the Swedes in the Two Swedes Boatyard in St. Barth. Longtime sailors will remember that James Arness, star of the Gunsmoke television series, built and raced a famous CSK catamaran Sea Smoke out of Marina del Rey. Alas, the composite construction went mushy and needed to be repaired. Alf tells us that, while living in Marina del Rey in the '80s, he removed the inner skin and core of the hull of the cat — while she was still in the water! After replacing the core and putting in a new interior skin, she was better than new.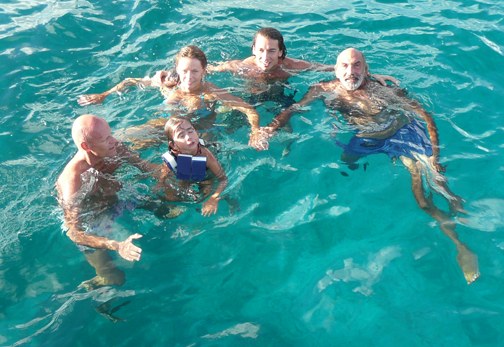 Do we show you all these photos and tell you all these stories to make you jealous? Au contraire. It's just to remind folks who are living the grind, who for one of many reasons can't take off now, that ultimately there are good and great reasons to go cruising. The people mentioned in this article? None of them came from wealth. They all worked hard — often very, very, very hard — to now be enjoying, at least part time, the fruits of their labors.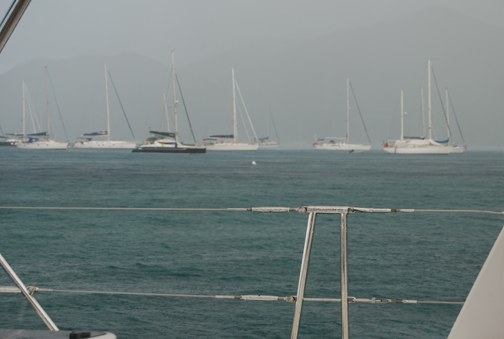 But make no mistake, into each life, even a cruising life, a little rain must fall. As you can see from the accompanying photo, this morning it fell heavily for about 20 minutes, as a series of squalls came through the anchorage, preventing us from getting into our dinghy for our five minute commute to our office ashore. However, if you're in the right place — and this is one of them — rain isn't necessarily a bad thing. With the air and water here in the low '80, the squalls gave us a perfect excuse to jump off the back of the boat and swim before work. That's not something we'd want to do in San Francisco Bay.
Receive emails when 'Lectronic Latitude is updated.
SUBSCRIBE