It's never good when your 'high water' alarm sounds. And especially not good when it sounds while you're singlehanding 500 miles south of Ascension Island in the South Atlantic Ocean. But that's the situation Mike Harker of Southern California found himself in aboard Wanderlust 3, his Hunter Mariner 49, just before the end of the year. You'll recall that Harker, who basically learned to sail during the '00 Ha-Ha, is doing a mostly singlehanded, one-year circumnavigation. Anyway, we'll let him tell the story:
"I hurried down the stairs to look in the bilge, and when I saw the water up to the floorboards, I shouted 'Oh my God, I'm sinking!' The first thing I did was shut off the engine, then I went around to close all the thru-hull seacocks. I went back to the manual bilge pump and started pumping out the sea water, but it was too slow. I then got out my hand pump and buckets, and pumped the bilge water into the buckets, then threw the water overboard. With most of the water overboard, I went around looking for leaks.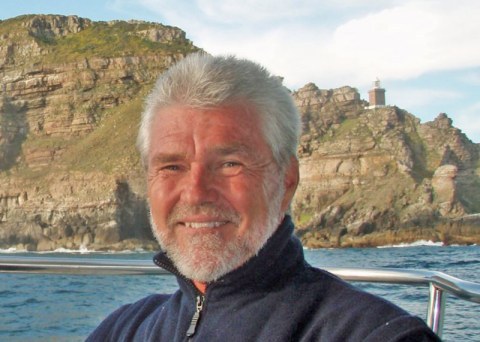 "When I lifted the engine cover, there was dried salt all around the alternator area, and a water stream coming up into the alternator from somewhere under it. I took down the stairs and laid them in the forward cabin, then took off the engine cover to get to the alternator. After removing the alternator, I found the leak. A steady stream about the force of a kid peeing was coming up out of the salt water impeller pump. Not from the two hose connections on the pump, but from the curve of the pump's metal casing itself.
"How was I to stop the leak? I got out the Yanmar book and found the page where it shows the impeller pump connection into the intercooler. I unscrewed the drain plug from the intercooler to drain all the water from above the pump. That stopped the water flowing from the leak. But how could I plug or fill the hole?"
Our Question of the Day is how would you have fixed the leak? Email us with your answer. Check out the February Latitude to learn how Harker tried to do it, and whether he was successful or his boat sunk.
Receive emails when 'Lectronic Latitude is updated.
SUBSCRIBE