YouTube Sailors Visit Bay Area (Last Summer)
My family and I have avidly followed YouTube channel Ran Sailing for several years since this Swedish couple, Johan and Malin, untied the lines and set sail from Sweden in winter 2016. On this voyage, they sailed tens of thousands of miles down Europe, across the Atlantic, through the Caribbean and Panama Canal, to Hawaii, and the northwest of North America, and arrived in San Francisco in the summer of 2019. (Johan has accomplished two prior round-trip ocean crossings on a cruising vessel, including an expedition to Patagonia, and logged numerous sea miles on government vessels.)
My son William Thomas and I had the opportunity to anchor next to them in Richardson Bay and paddle up to say "fare thee well" the day prior to their departure through the Golden Gate on their way to SoCal and Mexico.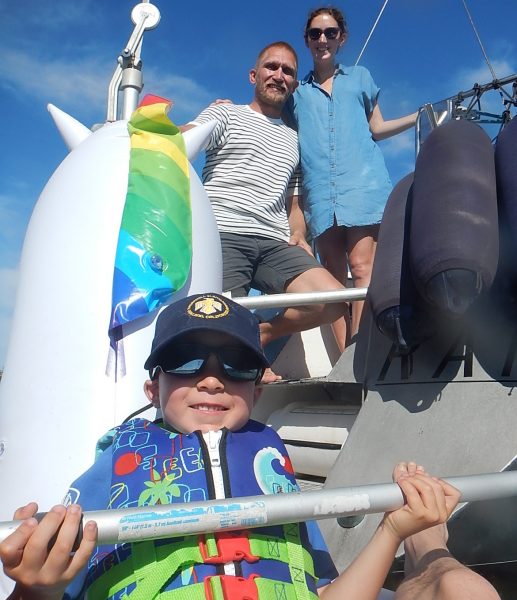 On a very warm and perfect Sausalito afternoon, Malin was comfortably reading a book in the cockpit under the shade of a boom tent. She spotted us approaching and warmly greeted us with a broad smile, calm wave, and inviting "Hello there."  (We knew Malin was approximately four months pregnant and had suffered from increased mal de mer on the passage — although she insisted on staying the course as number one crew, while Capt. Johan took on more watches and responsibilities.) Johan came up from below and told us tales of the following: their month-long anchoring around the Bay, a Napa Valley trip, and plans to "get south soon" before their US visas expired. We bade them farewell and fair winds and following seas that day, and watched early the next morning as they collected the ground tackle and motored out the Gate.
Since then, we have learned from their YouTube channel that they've: sold their 40-ft aluminum vessel in SoCal; relocated temporarily back home to Sweden; and welcomed their beautiful, healthy daughter and new crew, Vera, aboard a new-to-them, larger vessel.
We will continue to drop in on Johan, Malin, and Vera and hope to reconnect with them again in person somewhere out there.
Readers — We've asked this question before, but this seems like an appropriate time to put it out there again: Who are your favorite 'YouTube Sailors'? Have you ever gotten the chance to meet them, see them out on the water, or otherwise interact in the flesh with them? We'd like to know. Please comment below, or email us here.  
(For our past coverage on YouTube sailors, please click here. And for our two-part interview with SV Delos, please click here and here.) 
Receive emails when 'Lectronic Latitude is updated.
SUBSCRIBE