Wilson Finishes Vendée Globe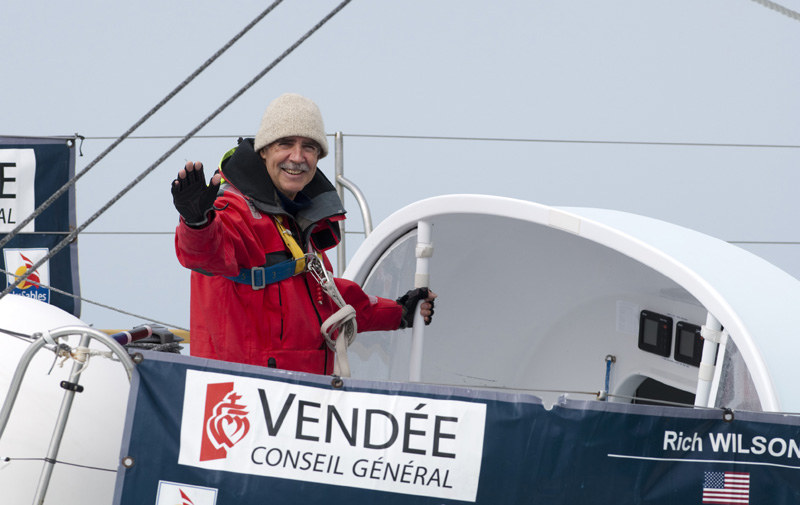 Rich Wilson became only the second American to finish the Vendée Globe when he sailed Great American III into Les Sables d'Olonne at 12:43 p.m. yesterday. At 58 years old, he was the oldest competitor in this year's race. One of the few true amateurs, his conservative approach nonetheless earned him a ninth — equalling that of the first American finisher in a Vendée, Alameda's Bruce Schwab — in a race so punishing that over 60% of the fleet didn't finish.
While Wilson may have sailed conservatively, no amount of conservatism can prevent mishaps in a test like the Vendée; the Marblehead native sailed the race with a cracked rib which he suffered on the first night out of Les Sables. Compounding that handicap was Wilson's severe asthma, which he's had since childhood and which forces him to take four medications daily. The race didn't seem to get any easier as the former math teacher rounded Cape Horn, just a few miles away from where he'd been rescued from his capsized 60-ft trimaran Great American in 1990 while attempting to set a Gold Route record. Every weather system he encountered in the Atlantic punished him with headwinds and nasty sea states. But the indomitable Wilson saw his race through to its only logical conclusion — finished — undoubtedly spurred on by knowing how many kids were being exposed to the world of sailing and the oceans through his adventure and the interactive non-profit sitesALIVE! he founded to share the experience.
Rich Wilson's run over the years:
2009 — 2nd American Finisher Vendée Globe — Great American III; 9th place
2004 — The Transat — Great American II; Class 2 Multihulls, 2nd place
2003 — Record: Hong Kong-New York; Great American II
2001 — Record: New York-Melbourne; Great American II
1993 — Record: San Francisco-Boston; Great American II
1990 — San Francisco-Boston (Gold Route); Great American capsizes off Cape Horn
1988 — C-STAR — Curtana; Class V Multihulls, 1st place
1980 — Newport-Bermuda — Holger Danske; Overall Winner, Skipper
Receive emails when 'Lectronic Latitude is updated.
SUBSCRIBE