Watch It! You Might Have Won
Caution: This is a curious story that involves classic yachts in the Caribbean, a Northern California owner, a mediocre finish in class, the top award presented by a rock 'n roll star, and squabbling in the crew over a watch.
For decades Ira Epstein lived in Bolinas and drove to San Francisco Financial District each weekday morning to work on the stock exchange. He left that life six years ago when he fulfilled a lifelong dream by buying the classic 50-year-old Robert Clark-designed 65-ft wood ketch Lone Fox to charter and race in the Caribbean. Ira is a much-liked and respected figure in his home base of St. Barth because owning a classic yacht is a difficult and expensive calling, and because unlike the owners of most wooden yachts, he's on a budget and has done countless thousands of maintenance and repair hours himself.
In the six years Ira has done the Antigua Classic Regatta, he has done well, but never as well as last year, when his cumulative record of top finishes in big fleet meant that his Lone Fox was the overall winner. The Classic Regatta is like youth soccer in the sense that just about every participant gets at least a couple of prizes. Lone Fox won so many that the one of the charterers produced a shopping bag in which to carry them all away. One of them reportedly away for good: the most valuable prize, an expensive Panerai watch from the event's sponsor.
Things didn't start out quite as well for Ira and Lone Fox in this year's 25th Antigua Classic Regatta. In the lighter airs of the first two races, he got a second and a third, although Lone Fox was only 38 and 40 seconds off the pace. But Lone Fox got bullets in the windier final two races, winning by margins of over three minutes and over five minutes. But thanks to an extremely rare dead heat between two other boats in class, Lone Fox finished third.
Knowing he had to get to a charter the next afternoon at 85-mile distant St. Barth, and knowing that Lone Fox had finished third in class, Ira decided to blow off the awards ceremony. He and the crew were raising the main outside English Harbor when Ira's cell phone rang. "You're not leaving before the awards presentation, are you?" a friend asked. When Ira responded that he was, the woman forcefully suggested that he be at the prize-giving.
All went as expected up until right before the grand prize. It was at that time that the Panerai folks introduced rock star Simon Le Bon and other members of the Brit rock band Duran Duran. You see, the classic yacht Eilean is the flagship of the niche watchmaker, and it was aboard that yacht that Duran Duran made their somewhat famous Rio music video. After playing the whole thing, Mr. Le Bon made the announcement that the winner of the grand prize in this year's event was . . . Lone Fox!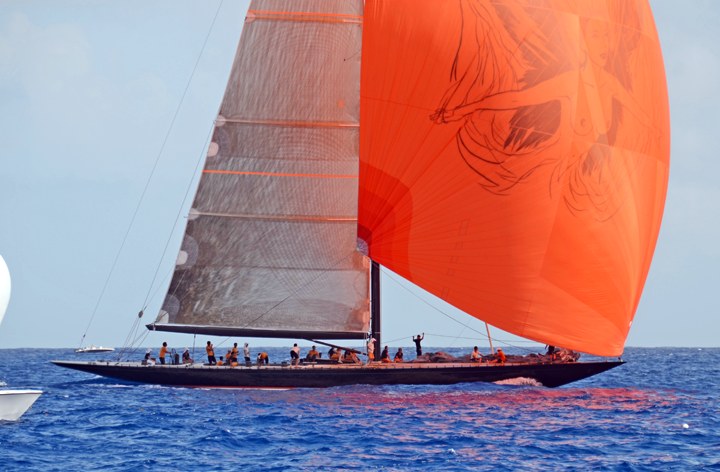 How can that be? It turns out, this year's big prize was for cumulative elapsed time. So while Lone Fox hadn't done well in the first two races, she was only a few seconds off the pace in class and in fleet. And when she won the last two races, she'd won big on corrected time, not only in class, but also in fleet. When it was all over, Lone Fox surprisingly had the best cumulative corrected time.
When Le Bon presented Ira with the Panerai watch, this year Ira hung onto it with a strong grip. Having lost one watch already, and having confirmed that watch was to be for the yacht's owner and not the charterer, he wasn't going to give it up. While the charterer/helmsman Don Ward of Antigua didn't complain, members of his entourage did. "I got hissed at and more," remembers Ira. But he stuck to his guns, which is why he's wearing the Panerai watch in the accompanying photo.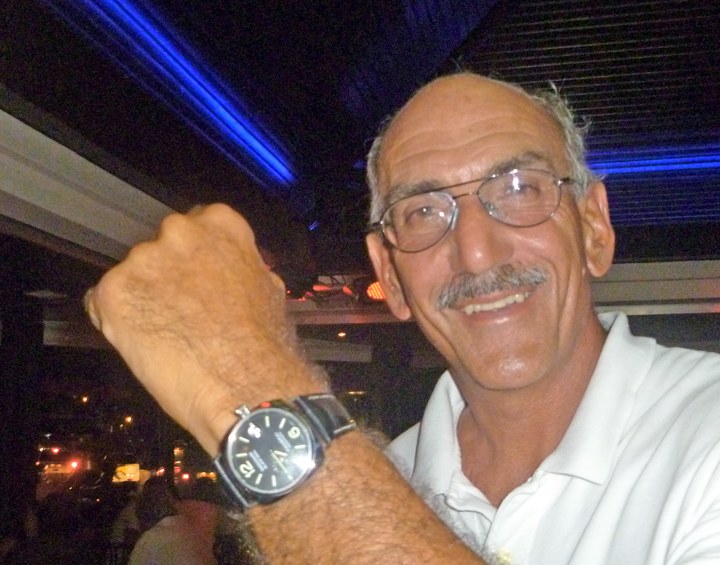 In the future, it would be nice if Panerai specified who the watch was to go to.
The other Northern California-based boat in the Antigua Classic Regatta, Matt and Pam Brooks S&S 52 Dorade, continued her international winning ways, with three firsts and a second.
How soon they forget. Prior to the first race of the Antigua Classic Regatta, some participants say there was "an older, very obese man, walking the docks with a grocery-store like plastic bag with sunscreen, water and food, and asking — in a high-pitched voice — if anyone needed crew." The young bucks on the boats, being young bucks, looked the other way and smirked among themselves. But when Carlo Falcone, owner of the 80-ft ketch Mariella saw the man, he immediately recognized him and snapped him up. For while America's Cup legend Dennis Conner of San Diego is hardly an ideal physical specimen these days, he still knows his stuff. Indeed, Mariella went on to win all four races.
As for sailing legend Dennis Conner apparently paying his own way to the Caribbean, then humbly walking the docks in Antigua asking for a crew position, it says one thing to us — the man truly loves his sailing. Respect.
Receive emails when 'Lectronic Latitude is updated.
SUBSCRIBE