Visiting with Vesper and Dawn Riley in 112th Chicago-Mac
Chicago Yacht Club's magical freshwater adventure to Mackinac Island returned for the 112th time. More than 326 yachts took part in what turned into three races for the price of one.
On July 16, a blustery Saturday afternoon with steady 12- to 14-knot breezes and up to 6-ft lake swells, 20 divisions started at 15-minute intervals just south of Chicago's historic Navy Pier. The boats pointed their bows to the north in unison. A majority tacked over toward Michigan's sandy beaches in groups of packrats, heading toward the Manitous in breezes they knew would die come nightfall.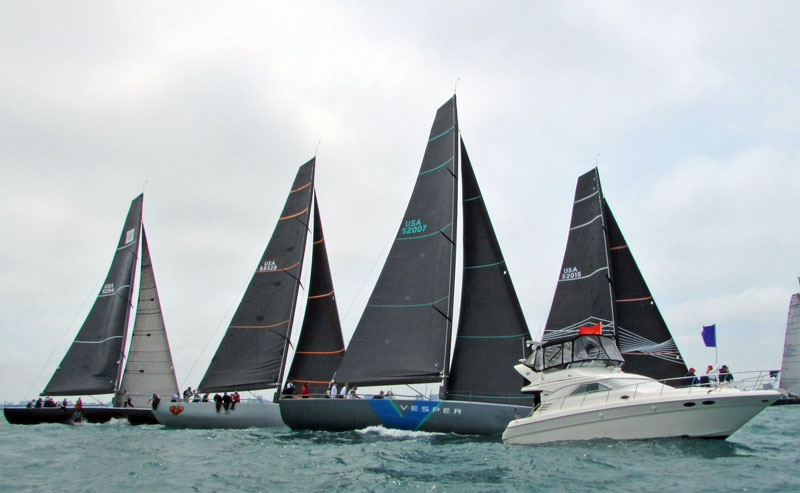 This was a race with three Acts. The first was the healthy start and sprint north toward Ludington, MI, which lies south of Sleeping Bear Dunes National Park's Manitou Islands, a strategic center point for the skippers and their crews. The racers spent the second Act connecting the dots in a patchwork of light air as the fleet separated into the groups that captured a little bit of breeze and those that didn't. For all the teams, it was an agonizing night of trying to stay ahead of your competitors while swatting away the hordes of mosquitoes and flies. (Never a bat around when you need one — or many.) This led to Act 3, beautiful spinnaker finishes in a nice southwesterly under the Mackinac Bridge (which closed briefly on Sunday for a bomb threat) and onto the Straits to the finish line off Windermere Point on Mackinac Island.
It wasn't the fastest Race to Mackinac in history, but after last year's COVID hiatus it was a welcome relief.
Mackinac has a unique charm and character all of its own. The island, which lies on Lake Huron sandwiched between Michigan's Upper and Lower Peninsulas, is home to majestic Victorian-era hotels, lots of fudge — and no automobiles!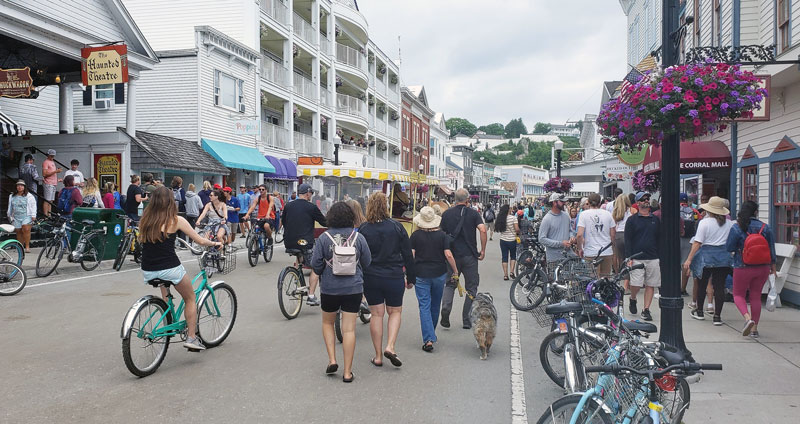 On approach one cannot mistake the elegant and historic Grand Hotel, which hovers majestically over the island. The hotel plays host to the infamous Porch Party, which for the elegant women of the yacht club and their fanciful hats has become the Kentucky Derby of yacht racing.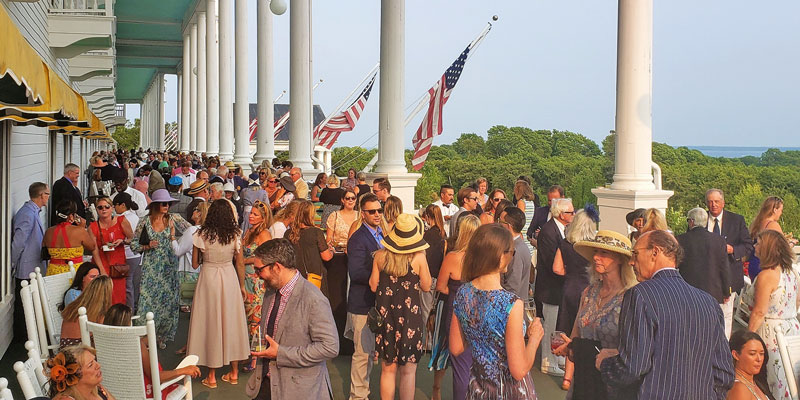 Checking in with Dawn Riley
The fleet included a dozen Great Lakes (Santa Cruz) 70s, six of the blazingly fast TP52s in one of the more competitive divisions, and OC 86 (ex-Windquest), the Frers 80 skippered by Dawn Riley and crewed by students from the Oakcliff Sailing Academy. For Riley, recently named to the National Sailing Hall of Fame class of 2021 and originally from Michigan, it wasn't her first Chicago-Mac, but for her 'kids', about half the crew, it was! In many respects, Riley was not only the skipper but the 'camp' director and counselor too.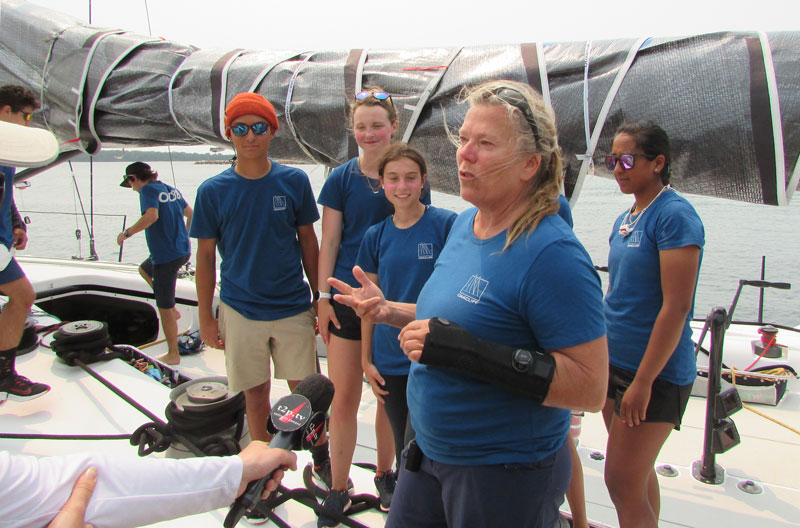 "We started off really well; it was maximum for this boat because it is so powerful," said Riley. "We kept it safe." She noted that the Academy kids were her rock-star grinding team. "They spent a lot of time practicing jumping on and off the grinders. When the winds died, we drifted sideways over toward Wisconsin a bit. I have never seen it so close! That allowed everyone to catch up to us."
We're planning a longer interview with the former America's Cup skipper; look for that in the August issue of Latitude 38.
Visiting Vesper
California sailors raced on several boats, none more so than on Vesper (TP52), which has several Rolex Big Boat Series to its credit. The name pays homage to one of 007's gorgeous girls. Unfortunately, her engine failed to start after the finish, which led to an admonishment from the race committee and a stiff penalty for the safety infraction.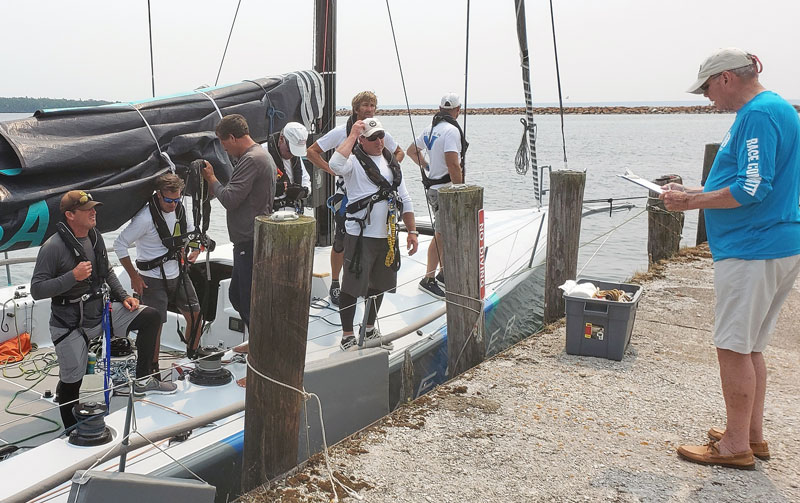 Vesper's owner David Team hails from Newport Beach, California, as does most of the crew. "It was a great race until we finished!" said Team. Their closest TP52 competitor was Natalie J. "We went to the outside [of the Manitous], and there were a couple of holes on the weather side of both islands. They stayed outside much farther. Once we finally got inside them, they were much farther ahead as they went out toward Beaver Island. We were both becalmed for a couple of hours. This morning they got the wind first and scooted away from us. Natalie J did a great job!
It was Matt Reynolds' second Mac race. He's from San Diego. "It was a bit light," said Reynolds. "But, there are different aspects of the race, and you have to be on your toes the entire time. It rewards you when you do it right!"
Vesper's watch captain and tactician Morgan Larson is from Santa Cruz. He also sails in the TP52 Super Series in Europe on Bronenosec Gazprom from the St. Petersburg YC in Russia. "It was a great race with plenty of opportunities," said Larson. "We had a little bit of luck in the middle of the race and extended to a nice lead until this morning [Monday], when we ran out of wind and Natalie J sailed up to us. We drifted with them for a few hours and eventually they got away.
"We had a little dispute with them because they used a masthead jib they were not rated for in order to get out to the wind line," said Larson, who added that they probably weren't going to protest them. "They hoisted a staysail up from the bowsprit to capture the higher wind, which wasn't legal to their rating certificate. But, they sailed an amazing race anyway!"
Most of sailing's rock stars have at least one Mac Race on their résumé, if not more. Larry Ellison brought Sayonara here in 1998 for the 100th anniversary and almost broke the record set by Roy Disney on Pyewacket of 23 hours and 30 minutes on the 289.4-mile course. This year's race was a bit more pedestrian. Riley and her student contingent brought OC 86 in at 45 hours and 47 minutes.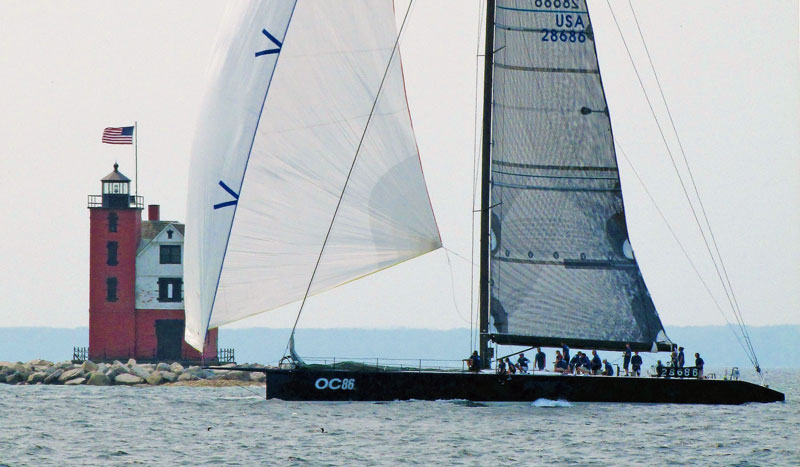 The largest boat in the fleet was Whitehall, a 104-ft ketch. The smallest was Nemo, a Seascape 27. The oldest sailor was 93 and the youngest 14, with plenty of 'old goats' (minimum 25 races) in between.
See the full results and more at www.cycracetomackinac.com.
Receive emails when 'Lectronic Latitude is updated.
SUBSCRIBE