Transpac 40 Years Ago this Month: 46 Seconds Made the Difference
Times change, but the Transpac remains a legendary race with an idyllic course and destination. We looked back to our July 1981 edition to see, first, if we'd done a Transpac Preview, which we had. And also if, like this month, we'd picked some winners. We did that too.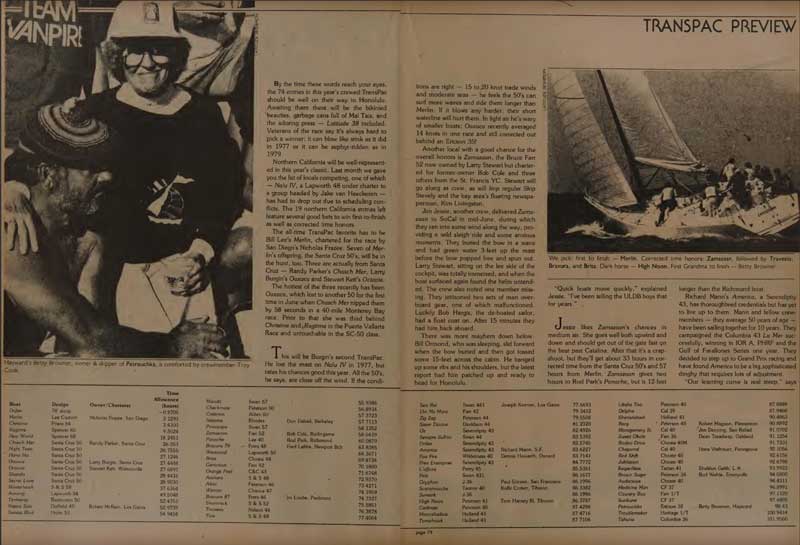 In the July 1981 issue of Latitude 38 we picked the following to come out on top: first to finish — Merlin (which is racing again this year!). Corrected time honors: Zamazaan, followed by Travesio, Bravura, and Brisa. The dark horse for a possible long-shot victory was High Noon. First grandma to finish — Betty Browner.
Where does "46 seconds" come in? It was a fast year for the Transpac. Nicholas Frazee, a former commodore of the San Diego Yacht Club, had chartered the four-year-old Transpac record holder Merlin, with hopes of earning barn-door honors by being first to finish. It turned out we were right, though it was a surprisingly close contest. On the course that year was the previous year's winner, Drifter, the 62-ft Ragtime (now under refit at Sugar Dock in Richmond), and the 84-ft Christine.
After damage to their main rivals, it was Nick Frazee and the crew aboard Merlin racing down the Molokai channel in solid position to take first-to-finish honors. But, given the breezy year, they were also within sight of beating Merlin's 1977 Transpac record. As they neared the finish the breeze lightened and they slowed from their 28-knot peaks to 10-12 knots of boat speed. When they crossed they were easily first overall but had missed the Transpac record by 46 seconds.
We know it's easy to lose 46 seconds on a five-mile beer can course, so you can imagine the hundreds of ways they might have thought of to find those 46 seconds on the 2,250-mile Transpac. Overall winners in 1982 were 1st: Farr 36 Sweet Okole, 2nd: Choate 40 Audacious, and the Frers 46 Bravura.
Zamazaan had a great race, winning Class A with current St. Francis YC Staff Commodore Kimball Livingston aboard. Our 'dark horse' pick, High Noon, had a wild ride, surviving with a 10th-place finish and with the 'port watch' earning the nickname the 'Broach Brothers.'
If you're racing the Transpac this year you might want to reread the story from 1981. Those 46 seconds will help keep you motivated at 2 a.m.. The 2021 Transpac starts on July 13.
One other oddity we rediscovered looking back on 1981 — we printed two July issues and no June issue. How do things like that happen? We can only imagine that the 2 a.m. deadline, typesetting and proofing was as crazy as ever.
Receive emails when 'Lectronic Latitude is updated.
SUBSCRIBE