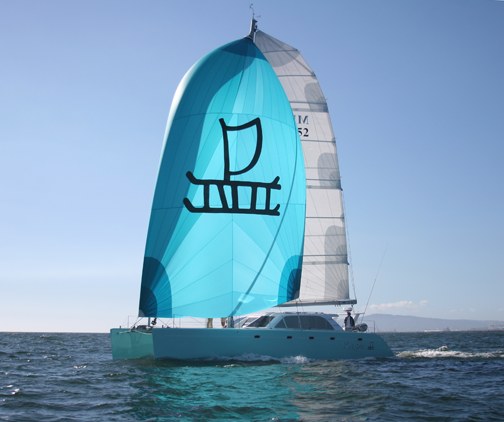 At the end of Wednesday's 'Lectronic report on John Haste's San Diego-based Perry 52 cruising cat Little Wing hitting 29.5 knots under main and genoa in the Caribbean, we asked for other owners of cruising cats to report their top speeds.
Brit Richard Woods, who is currently sailing out of British Columbia, says he got his 32-ft cat Eclipse up to 21 knots shortly after she was launched, and later hit 16 knots while crossing the Atlantic. You may remember that many ocean miles later, Eclipse was abandoned during a Tehuantepecker.
Scott and Cindy Stolnitz of the Marina del Rey-based Switch 51 Beach House report they hit 23.5 knots off Cabo Creus, which is at the border of France and Spain and known as 'The Cape Horn of the Med'. As was the case with Eclipse, this was just after Beach House was launched. By the way, the Stolnitzes are currently in La Paz, where they not surprisingly report that it's "hot."
We haven't heard from Paul Biery of the Emeryville-based Catana 43 New Focus yet, but on several previous occasions he told us that his cat hit something like 24 knots off the central coast of California. This happened during the delivery sail, when former owner Dean Daniels insisted it was alright to carry the chute when it was "blowing 40 and the sea was white." The chute didn't survive the trip down the coast, but Biery has subsequently cruised the cat more than 25,000 miles. As for Daniels, he's aiming for Pacific Cup honors in July with the Hobie 33 Sleeping Dragon.
While at Catalina a few weeks ago, we bumped into Pete and Susan Wolcott of the Kauai-based M&M 52 cat Kiapa that was built by Schooner Creek in Portland and launched about a year ago. We only got a few moments to speak with Pete, but he told us that the boat came in so light that she flew down the Central Coast of California, often sailing at over 20 knots. As for Susan, she says she almost feels guilty at how comfortable their boat is. We'll have more details on their top speeds — and cat — before they do the Ha-Ha this fall.
What about Profligate, Latitude's 63-ft cat? When she was new and therefore still relatively light, we got her up to 23.5 knots reaching on the Bay while flying a full main and her tiny jib. But she hit her top speed of 25.3 knots under a double-reefed main and small jib on the way from Antigua to Panama, a passage that included many 20+ knot bursts and sometimes had us looking for the brake pedal.
Just so nobody gets the wrong idea, we agree with Woods that top speeds can be very deceptive relative to average speeds, and that a good rule of thumb is that you'll average half of your top speed. It's also worth noting that, while high speeds are often possible, they're not necessarily always desirable. As far as we're concerned, hitting the 20s during the day for a few hours isn't bad, nor is hitting 15 during the night. Beyond that, you might find it more relaxing and comfortable to sail a little slower, thank you.
Receive emails when 'Lectronic Latitude is updated.
SUBSCRIBE