The Westward Migration Has Begun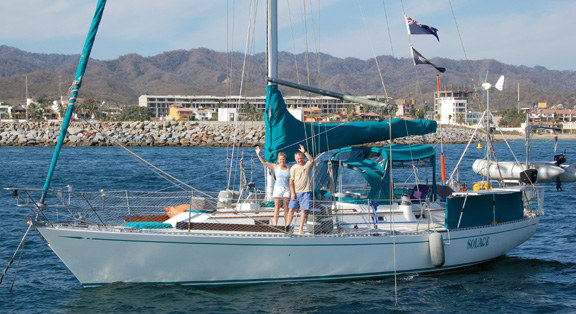 Reports are trickling in from this year's Pacific Puddle Jump fleet that boats have begun jumping off from a variety of locations along the Mexican coast.
Native New Zealanders Paul and Gina Rae of the Hylas 44 Solace are among the earlybirds. As predicted, winds were very light last week as they worked their way off the coast from Banderas Bay: "We only made 105 miles the first day, as we hit a calm patch and wallowed along at one to two knots," Gina reported. But the breeze picked up eventually, inspiring her to write, "All in all, things are moving along the way we like: We're sailing, we're happy and we're well fed." At the time, David and Candy Decker's Colorado-based Saga 43 Chinook was somewhere up ahead of them.
Meanwhile, John Bringetto and Amanda Berks of the San Francisco-based King's Legend 41 Gingi reported that five boats set out last Thursday from La Paz after an 'adios' dinner at the Giggling Marlin in Bahia de Los Suenos (formerly Muertos): the Brinnon, WA-based Mason 44 Hannah, the Juneau, AK-based Catalina 36 Wind Dancer, the New Mexico-based Rhodes Bounty II Linda, a boat called Prairie Oyster and Gingi.
For would-be Puddle Jumpers, Linda Maggart of Linda offers these reflections on the cruising life: "To the uninitiated, the idea of cruising brings to mind cocktails while watching a glorious sunset from the deck of your boat in a calm, tropical island anchorage, or a carefree downwind sail while listening to Jimmy Buffett. These things are part of cruising, but so is pounding to weather in 12-ft seas on a moonless night with seasick crew, cleaning out clogged heads, spending days searching for an engine part, and missing family. Cruising has the same highs and lows of everyday shore life; we find they just tend to be higher highs and lower lows. Knowing this up front and being prepared for this reality will make cruising more rewarding. Reaching your destination after many days at sea is a high that can't be overstated."
Receive emails when 'Lectronic Latitude is updated.
SUBSCRIBE