The Training Boat, Part 1
It was late summer and we met for lunch overlooking the Shelter Island yacht basin. The waitress took our order, and Phil cut to the chase: "So how's this whole boat-owning thing working out for you?" Phil Kinnison is a yacht broker and knows well that boat ownership can bring grief, especially to an absentee owner like me. With life firmly rooted in the desert — Phoenix, Arizona — I owned a boat in San Diego. And Phil shared some responsibility for my situation. A year earlier he'd helped guide me to the purchase of that boat, hoping that it would suit my purposes.
My answer to Phil's question was easy. "When I think of the best things that have ever happened in my life — putting myself through law school; my marriage; the birth of my son — buying this boat is right in there. I'm not sure how I would rank them from one to four, but this boat is on that list." Phil threw back his head in laughter, exclaiming "And it's the one that will f—k up the other three!" Laughing along with his wry quip, I assured him nothing of the sort was going to happen with me.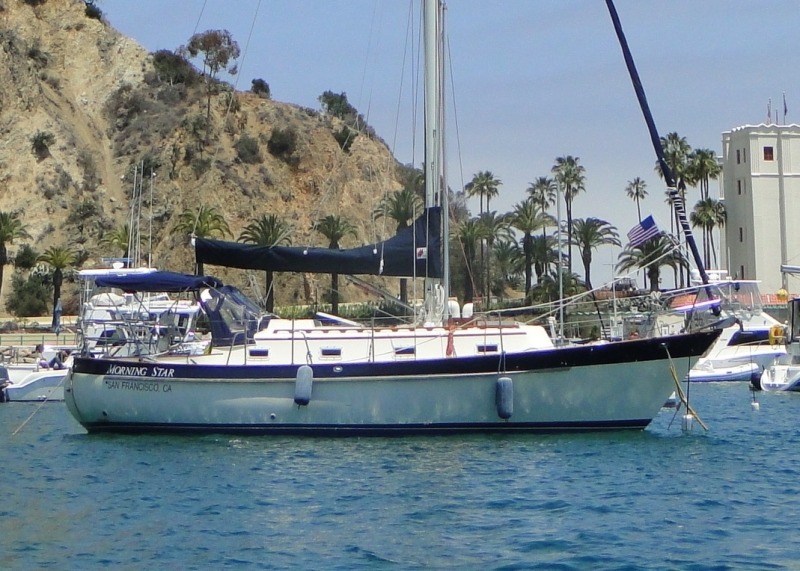 The sailing bug had bitten me long before I met Phil in my hunt for a boat to buy. For several years I sailed as often as possible — crewing in regattas on Lake Pleasant (a large artificial lake near Phoenix) and daysailing on rental boats out of San Diego. Each outing of this kind had something in common so basic that I scarcely recognized it: the sailing day always ended at the same dock from whence it had started.
Then in early 2005, I signed up for a four-day training excursion with Seaforth Boat Rental in Coronado, San Diego, to Catalina Island and back. It was a course covering the requirements for certifications in "Basic Coastal Cruising" and "Bareboat Chartering." I was eager for the experience and adventure as much as the certifications.
On the morning of day one, we set sail from Glorietta Bay Marina, on the west side of San Diego Bay. Heading north through the bay, under the San Diego-Coronado Bridge, we left the busy harbor and passed under the lee of Point Loma and out onto the North Pacific Ocean. Our instructor was Chuck Thrasher, a gregarious ex-Navy submariner with a US Coast Guard 50-ton master's license. When not teaching sailing classes or chasing women, Captain Thrasher was a delivery skipper and dive-boat captain. His sea stories were far more memorable than the course work.
Through that first day of drills and lessons, we made our way some 40 nautical miles up the coast to the small boat harbor at Oceanside. Making landfall was the crowning teaching moment of the day. In the fading light of early evening, we strained to make out the blinking Morse Code "a" of the Oceanside sea buoy light. Locating the light at last, less than a mile away, we shaped course for the entrance between the breakwaters, and followed the channel markers into the harbor and to the public docks beneath lighted sign boards spelling out "Oceanside" on the overlooking bluff.
Long after we checked in with the harbor police, finished dinner, and tidied up the boat for the night, I lay in my bunk listening to the quiet sounds of the boat in the slip, reflecting on the day's activities and accomplishments. I had never been to Oceanside before, and now I had made landfall there after a long day at sea. I was thrilled, astonished and supremely satisfied, and soon fell soundly asleep.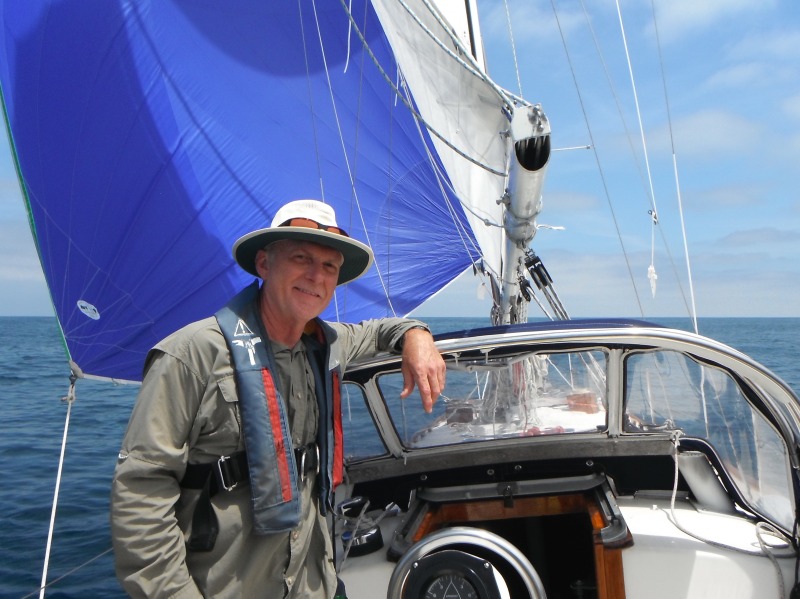 Day two we crossed the Gulf of Santa Catalina, picking up a mooring that night in Avalon Harbor. Day three we did anchoring and navigation drills in the waters around Catalina Island, and set out that afternoon for the return sail to San Diego. We anchored in Shelter Island Yacht Basin in the wee hours next morning, and after daybreak returned to the dock at Glorietta Bay. It was a thoroughly enjoyable, and very instructive course.
But the abiding impact of the outing was my realization that this kind of sailing — multi-day excursions on the ocean, where each day ended someplace other than where it had begun — was the kind of sailing I needed to be doing. And the idea of doing so via successive charters was not appealing. I wanted to be able to explore on my own terms, on my own boat, with or without crew. Moreover, I had long fantasized about sailing across oceans to distant ports. This coastal cruise brought that idea into sharper focus. I knew, however, that it would take a lot more experience in short and middle-distance cruising before the purchase of a bluewater boat would make sense. After all, I still didn't know if owning a boat in another state would prove viable for me at all.
We'll bring you part two of Lee Johnson's Training Boat on Wednesday.
Receive emails when 'Lectronic Latitude is updated.
SUBSCRIBE