The Real Deal — Larry Pardey, Legendary Sailor and Adventurer
As the Costa Mesa fiberglass boatbuilding boom was getting underway in Southern California in the 1960s, Lin and Larry Pardey were charting their own unique course from the same fertile boatbuilding soil. It was in Costa Mesa that they built their first boat, the 24-ft Lyle Hess-designed Seraffyn, to launch their own sailing dreams, and in the years following, they inspired thousands to follow their wake. While building a wooden boat and sailing engineless around the world was beyond the abilities of most, the book Cruising in Seraffyn conveyed a 'keep it simple' ethos that helped many sailors see cruising as an achievable goal.
Few modern sailors have seen more adventures or inspired more dreams than Larry Pardey. Sailing more than 200,000 miles and circumnavigating both east-about and west-about in engine-free boats he built himself, co-authoring 12 books with his wife and shipmate Lin Pardey, and creating five videos, Larry has been called 'the Enabler' and 'the man who launched 50,000 dreams.'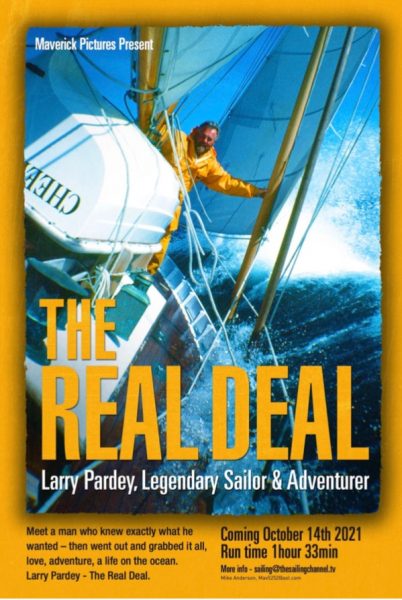 The Real Deal is an intimate profile created by Mike Anderson, video producer and boatbuilder and a longtime friend of Larry Pardey. The crux of the tale is the Pardeys' voyage to and around Cape Horn, the so-called 'Mount Everest of Sailing.' Along with at-sea footage, interviews with a variety of friends and associates, and archival film clips and photographs, the story is narrated via quotes from sailing writer Herb McCormick's critically acclaimed biography of the couple, As Long as It's Fun.
Lin Pardey provided access to dozens of hours of previously unseen video footage shot by her and Larry during their voyages, including from their record-setting, engine-free passage east from the Atlantic to the Pacific through the Straits of Le Maire and around the Horn.
"Mike has done an amazing job of gathering photographs from Larry's earlier Newport Beach escapades," Lin stated. "And he used some great ones of his own, taken when we were building Taleisin in Bull Canyon, our hideaway in the hills behind Lake Elsinore, California. But best of all, Mike has gathered video and interviews from some of the people Larry encouraged and helped along the path to their dreams. This doco has definitely caught the sometimes wild, always adventuresome, warm spirit of the man who shared his life with me."
The Real Deal will be released on October 14, 2021, to coincide with the opening of the Annapolis Sailboat Show. DVD and flash drive versions will be available at The Boat Galley, booth M5. The Real Deal is available now as a pre-order download or streaming rental from www.thesailingchannel.tv.
To view the trailer and pre-order page click here.
Let us know in the comments below how Cruising in Seraffyn and the Pardeys inspired your sailing life.
Receive emails when 'Lectronic Latitude is updated.
SUBSCRIBE