"The Longest Shakedown Cruise in History"
"I'm going to sail home and start over," Randall Reeves wrote us from Hobart, Tasmania, last night about the fate of the Figure 8 Voyage. After being forced to stop in Argentina and then Hobart following freak damage from even more freakish conditions, Reeves has decided to hit the reset button. "Sounds kinda nuts, but I think it makes the most sense."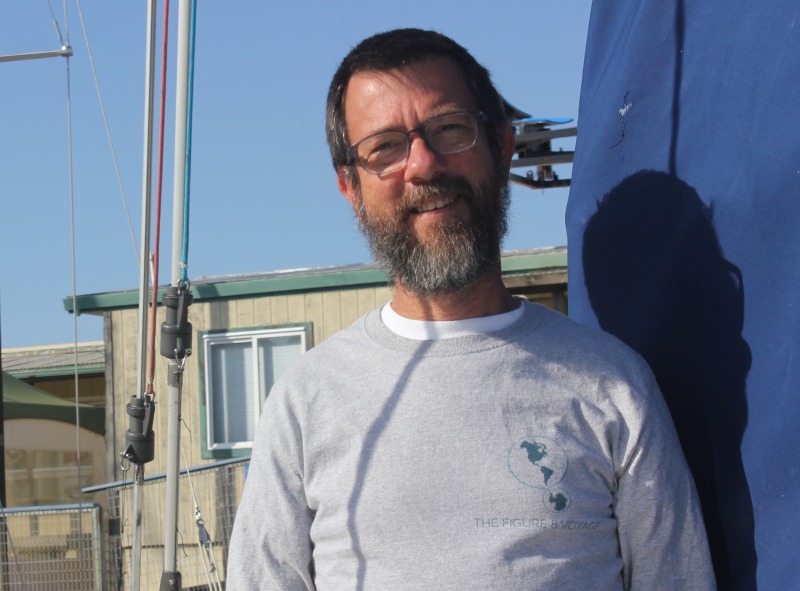 After considering spending the Southern Hemisphere winter in Tasmania and continuing on toward Cape Horn and the Northwest Passage in late 2018 (what he called "Option 2" of three possible choices), Reeves decided against it. "It's personal and difficult to convey, " he wrote in his blog. "But, simply put, such an approach is not how I envisioned the Figure 8. This adventure is meant to be an Everest-type attempt, not a site-seeing tour."
Another option Reeves considered was to "continue on with the original route now; depart Hobart for Cape Horn and the Arctic via the Atlantic as soon as possible. Why not? I left San Francisco later than I'd planned, over a month later, and now that I've stopped twice for repairs, Mo and I are significantly behind our original schedule. If I departed Hobart by mid-month, I'd arrive at Cape Horn toward the end of May or early June. The Pilot Charts show as much as a five-fold increase in gale activity in certain southern quadrants in May over, say, February, and even if I got lucky with a clean rounding of Cape Horn, I'd still need a picture-perfect passage up the Atlantic in order to arrive at the Arctic's eastern entrance to the Northwest Passage in time." Reeves said such a course would "leave no room for error, and we see how that's gone so far. Given that, I judge continuing on with the Figure 8 this season as too risky."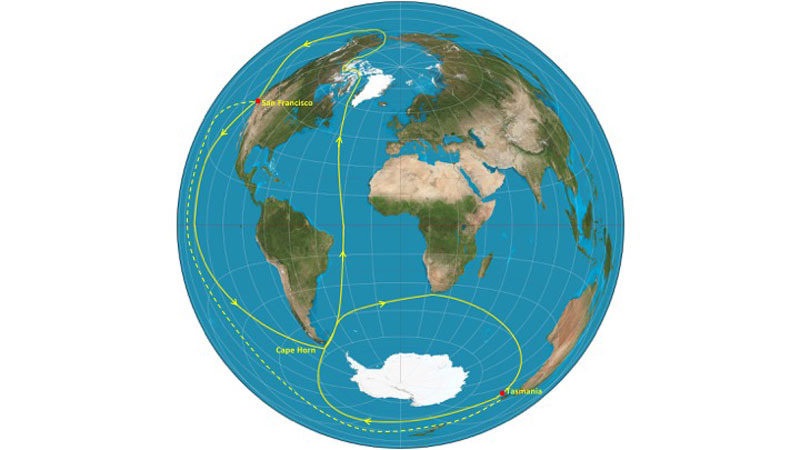 The final option was to sail home and start over. "To me, this is the only logical choice. I have made a number of mistakes in this first attempt — a late departure; poor storm management; omission of key safeguards (e.g. storm windows), all of which make for great story but poor accomplishment. Another attempt allows me a chance to correct these."
As we reported in last month's Sightings, Reeves has been candid about his first-ever venture into the Southern Ocean. "I feel exposed. A rank novice in a realm that eats novices like candy." With some experience now under his belt, Reeves said he's excited for another attempt. "I have made what I consider to be a number of heavy weather mistakes and (having survived) have learned a ton from them," Reeves wrote us from Tasmania. "I'm excited to apply what I've learned to what comes next."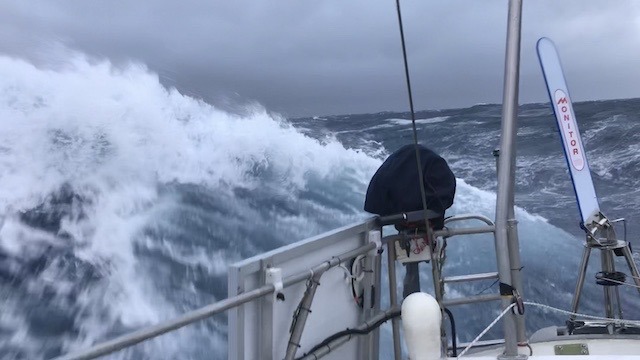 Randall Reeves hopes to sail under the Gate May or June, and let's not forget that he "will have completed a solo circumnavigation of some 25,000 miles via the Southern Ocean and in two stops — not so remarkable except that it may be the longest shakedown cruise in history."
Receive emails when 'Lectronic Latitude is updated.
SUBSCRIBE