The (Jimmy) Buffetting on 'ti Profligate' Continues . . .
Readers — On Monday, we brought you a little tale from Latitude founder Richard Spindler's Facebook page, where a certain salt-shaker-searching singer paid him a visit, and brought some good dope (which is to say, some interesting gossip about a storied boat, Escapade, and how she's being rebuilt). But that, apparently, was only half the tale. Here's how it all started: 
Jimmy Buffett paddled over to 'ti Profligate from his Drifter, making another 'Rose Sunday at Columbie' on our catamaran a little more special. He hung for about an hour talking with everyone about all kinds of stuff: How the Drifter concept wasn't his, how she didn't get finished right the first time, how much he loves the boat now, and how there won't be any others. That thanks to lots of push-button gear, he can singlehand Drifter. "Not that I ever will," he laughed. He also marveled that boats like his can be shipped all over the world without taking the mast off.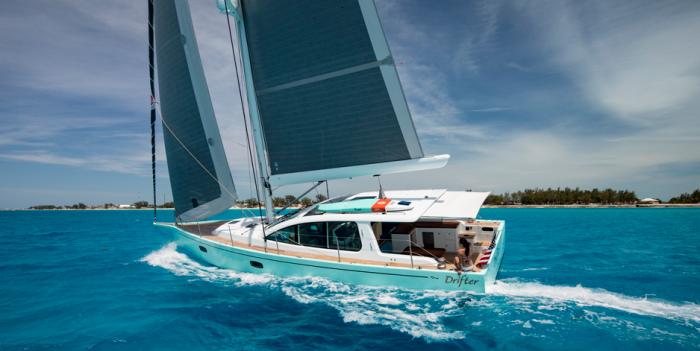 Jimmy reported the Margaritaville 'active retirement' projects are going great guns, with yet another one planned for Hawaii. He said they hadn't been his idea either. He says you can buy one in Florida for $250,000, which shocked pretty much everyone. But he didn't know the HOA fees.
He fondly remembered Liz Clark of the Santa Barbara-based Cal 40 Swell, who took him surfing during an unusually big day in Bora Bora. Jimmy took a bit of a beating that time. In fact, Liz was worried that she'd killed him.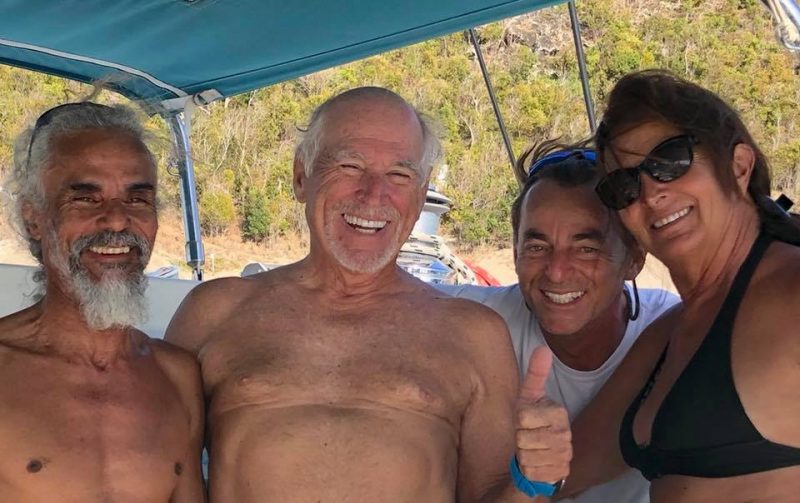 At 72, Jimmy still surfs as much as he can, and had gone out at Toiny that morning.
Jimmy commiserated with Doña when she told him that her future husband — that would be me — had once posted a video of her exercising on 'ti Profligate. "People post crazy stuff of me, like, all the time," he laughed.
Jimmy had recently been in La Jolla and said he really loves the San Diego area, and Shelter Island in particular. In fact, Jimmy had come over to 'ti Profligate to see his old friends Eddy of Eddy's and Jean-Marc of Baz Bar, two St Barth institutions. Later he paddled over to another character's — Frantz's — boat to see Lucky Poupon, English Stevie, and others. He's been coming to St Barth for ages and has lots of friends. Then he paddled back to cook hamburgers on Drifter's grill.
So what was Jimmy 'like'? Just like you'd think and hoped he'd be — a regular guy who gets a kick out of helping people have fun.
Another great day in St Barth. Wish you could have been with us.
Receive emails when 'Lectronic Latitude is updated.
SUBSCRIBE