If you're a sailor in the northern hemisphere, you're probably freezing your buns off. For example, today's high in Seattle is 39 and the low will be 27. It's a small consolation to those folks that by some calculations the previous 12 months have been the warmest year in history. In the City by the Bay, the numbers are a relatively balmy 54 and 39. So why not bundle up and go sailing this weekend!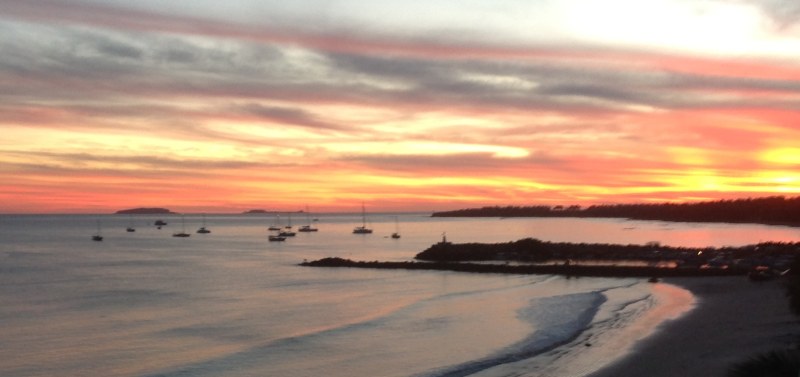 Down here on Mexico's Riviera Nayarit — where, by the way, tourism was way up over the holidays compared to the previous year — today's high is expected to be 83 with the low a bone-chilling 64. People are actually using a sheet to cover themselves at night. If that's not bad enough, the upcoming week should feature highs of just 77 and 78. Oddly enough, the ocean temp is still around 78. No wetsuits in sight.
Those of you up in the States might mock cruisers for moaning about highs in the low 80s — but folks in the tropics aren't used to such cold. We're suffering here in Puerto Vallarta. Indeed, some cruisers are talking about heading further south to thaw out. Zihua, for example, is expecting highs of 85 and lows of 70 during the next week. Lucky buggers.
Meanwhile, the trade winds have been blowing the dogs off their chains in the Caribbean, according to John and Lynn Ringseis of Novato, who are currently cruising aboard their British Virgin Islands-based Leopard 43 catamaran Moonshine. But that's the norm for this time of year. Caribbean vets know that mid-February to June is when the Caribbean sailing conditions are most delightful. Today's high there is expected to be 81 with a low of 77. Next week they are calling for a high of 79 and a low of 77. It's hard to believe there can be so little difference between the daily highs and daily lows.
The Caribbean, of course, is where the biggest boats go to play in the winter. Lynn, who shot a recent Latitude cover, took bow-on and transom-on photos of two of the biggest boats of their type as they were rafted together in Virgin Gorda's North Sound.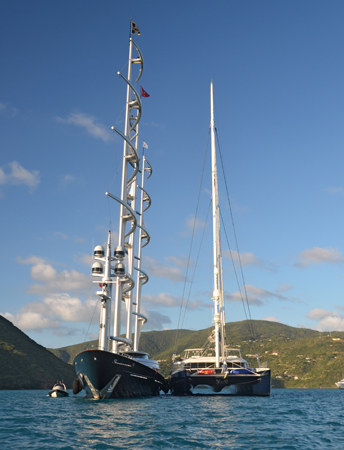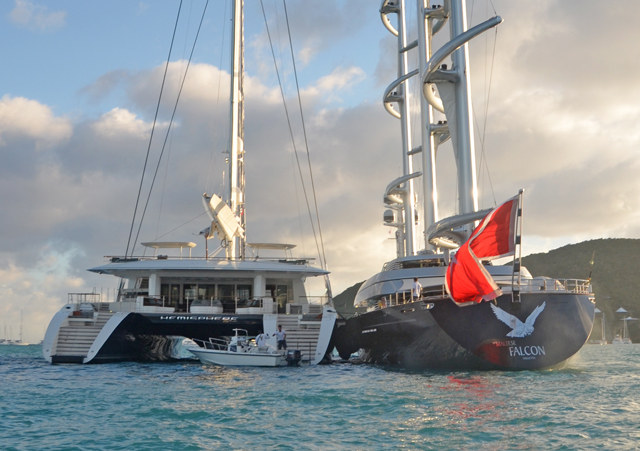 The nice thing is that no matter how small or humble your boats is, the air temp is the same as on the biggest and most expensive yachts.
Receive emails when 'Lectronic Latitude is updated.
SUBSCRIBE