Still Wylie After All These Years
Tom Wylie has pulled off an extraordinary achievement. We're not just talking about his boats, which are marvelous in their own right and diverse in appearance, materials and rigging, but always connected by the common thread of sleek, refined elegance. Warwick 'Commodore' Tompkins, who owns the Wylie 39 Flash Girl, said of the new Wylie-designed C3, "A lovely but wicked boat," referring to the speed that seemingly permeates from the low freeboard and sheerline.
But it is Tom Wylie's longevity that has separated him from the pack. He has designed two new boats that are being built on the West Coast — an extraordinary achievement unto itself. "Both boats are repeat business," Wylie told us from his East Bay home in July. "That doesn't happen much in our culture, but it used to happen all the time when I started." The 60-ft C3 (pronounced "C cubed") was launched on June 21 at Betts Boats in Anacortes, Washington, for owner Charlie Ray, a renowned sculptor. Ray has owned the Wylie 44 C2 ("C squared") for almost 20 years. Wylie's other new boat is the 80-ft Global Voyager, being built for Dave Raney, the current owner of the Wylie 70 Rage. The well-known Rage was built at Schooner Creek Boat Works in Portland, Oregon, some 30 years ago.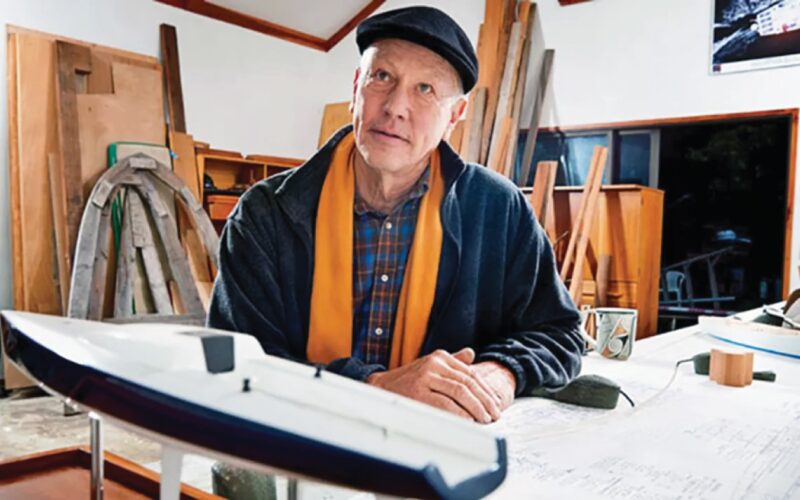 In 2004, Wylie told Latitude, "I may not have been the best at business, but of all the people I've worked with over the years, I can't think of one who I couldn't go up to and shake hands with. To me, that's every bit as important as the career." During our recent conversation, Wylie said, "It was probably a bad comment — that I'm a bad businessman. Some people will say to me, 'Oh, you're still in business? Everyone else has gone out of business.'" Wylie's relationships with his clients run deep and are often predicated on a fidelity to the sport and lifestyle. "One side of my owners that's unique is that they're addicted to sailing. They are so in love with it, they're not going to quit. I'm kind of like that in some ways."
Charles Ray's work has been called "difficult to classify; style, materials, subject, presence, and scale are all variable." The same could be said for Tom Wylie. "He defies stereotyping; variety has been the spice of [his then] 40-year career in boat design and construction," we wrote in the 2004 article. "Consider the four projects in which he's currently engaged: a 21-ft singlehanded ocean racer, a 60-ft aluminum cruiser, a 30-ft production fiberglass catboat and a 52-ft wood-composite cruiser." Wylie told us recently, "There's a large amount of similarity between Charlie and me. He views boats and sailing as moving sculpture," Wylie said of Ray. "He is doing black-and-white photography with his boat: a black sail, white hull and the wishbone — it's a stunning statement. The boats he's ordered for me are not something that you can mass produce. In every way, they're a custom design." Ray was similarly effusive of Wylie's work. "Charlie was there for the launch of C3," Wylie explained. "He said, 'Tom, I can't wait to see you when you see this boat, because you'll be as happy with your masterpiece as I am.'"
Continue reading at Latitude38.com.
Receive emails when 'Lectronic Latitude is updated.
SUBSCRIBE