SPECIAL REPORT: Crewman Injured in BBR Incident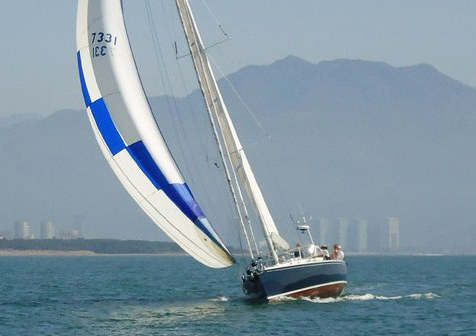 Banderas Bay sailmaker Mike Danielson suffered two broken legs in an incident during the Class A start of race two yesterday in the Banderas Bay Regatta. Craig Shaw, driving his father Howard Shaw's Portland-based Hunter 54 Camelot was literally in the middle of it, and gives this report:
"We — my mom, dad, sister Trudy, girlfriend Jane, and crew Jim and Laura Campbell — had a perfect start today. The Variana 44 Olas Lindas, with former J-World instructor Eugenie Russell at the helm, forced us up near the starting line about 10 seconds before the start. She had every right to do this, as she was the leeward boat. We were hard on the wind, maybe 30 or 40 feet from the Race Committee boat, when the J/160 Blue came barging in — which is illegal — between us and the RC boat at about 10 knots. I yelled 'No room!' My crew tells me that I hollered it three times. Those on the RC boat said they heard me. Blue finally responded by heading up, going over the line early. But their transom came into our boat at about the shrouds. We didn't feel or hear any contact, but saw someone on Blue rush to the closest point of contact to help someone. We later learned that Mike Danielson had fallen while trying to cross the stern of Blue to fend off, fell overboard between the boats, and had both legs broken. Naturally, we all felt horrible about it."
Randy Hough of the Vallarta YC, who was on the RC boat, wrote the following to Shaw. "We talked with Ken Sears, the owner of Blue, and many witnesses. Blue put herself into a bad position with nowhere to go. They were not aware that Olas Lindas was taking you up and that you had nowhere to go. Eugenie from Olas Lindas was very open, and it was her account that helped everyone understand what happened. From our vantage point on the RC boat, we were not aware of any contact. It looked like a barging/over early 'no harm no foul' sort of thing, and we expected Blue to come charging around the RC boat to restart."
We've talked to several participants, and all give the race committee high marks for a well-run regatta. For example, setting a limiting buoy off the Rio Ameca to keep boats from running aground in the shallows.
We feel terrible for Mike, who is a friend of ours, and hope that he recovers quickly. He apparently had a compound fracture in one leg, with lots of blood, he also broke the other leg, and perhaps also broke a wrist. We're told Mike was operated on, is in good spirits, and encouraged everyone to go out and have fun on the last race (today at 1 p.m.).
In a more general sense, we're deeply disappointed in the incident and the potential fallout it might have for the Banderas Bay Regatta and other events on the bay. We've done the Banderas Bay Regatta many times and love it, as we believe it's held on one of the best venues in the world, with the best sailing conditions in the world, for a 'cruisers' regatta'. And this is where we get to the core of the issue. As a 'cruisers' regatta', the Banderas Bay Regatta is an event where most participants 'race their homes'. As such, the attitude of most participants is that winning a pickle dish isn't worth the risk of a collision, which may ruin their cruising plans, and certainly not the risk of injury. In the many years we did the BBR, we were thankful that the other members of the multihull class we sailed in shared the same attitude — no contact! Don't even come close. We were friends having fun racing against each other, and it was the fun, not winning, that made it so great.
We're not sure the same attitude reins in the more competitive classes of the Banderas Bay Regatta. But for the future of the event, and other events on Banderas Bay, we think it's critical that the 'fun', not the 'winning' be re-emphasized.
In a somewhat related matter, during some December races on Banderas Bay, we noticed that the starting lines were quite short — and impossibly short for multihulls, which are generally larger and less maneuverable than monohulls. The race committee was nice enough to lengthen the line the day after we complained, but we still didn't believe they were long enough for safe mulithull starts. So for the third race of the Banderas Bay Blast, we created a starting line that was about a mile long. While way too long for most starts, it worked great for that particular race. And it was safe as milk.
We love racing, and we love racing on Banderas Bay. But no racing is worth risking injury or damage to one's boat, particularly when one's boat is also one's home. As such, we urge both the race committees and participants to put safety — and therefore fun — first, second and third.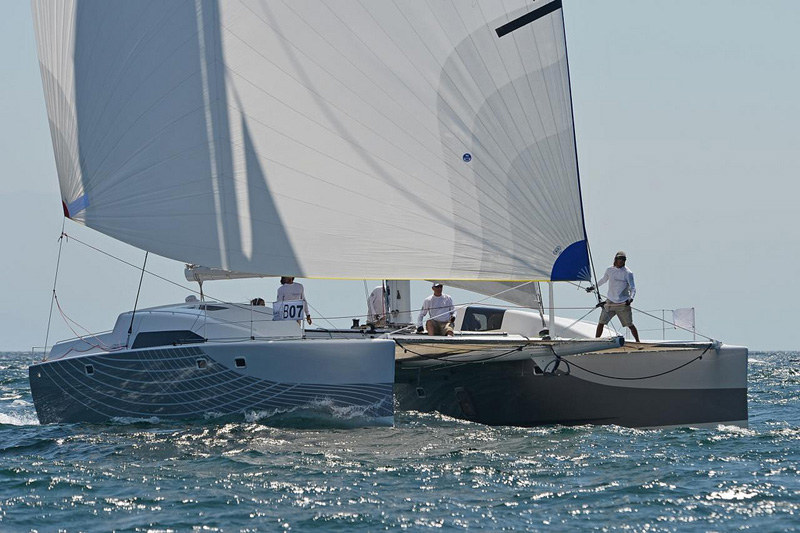 There was another interesting development in the regatta that we like to think should represent the spirit of racing on Banderas Bay. Thomas Siebel, the owner of the rocket fast ZIG 45 catamaran Vamanos!, requested that the race committee change his rating from -9 to -45, in the interest of making racing more fair. Other racers told us they enjoyed the sight of Siebel's carbon cat rocketing upwind on one hull.
Receive emails when 'Lectronic Latitude is updated.
SUBSCRIBE