Ski/Sail Gets Banner Conditions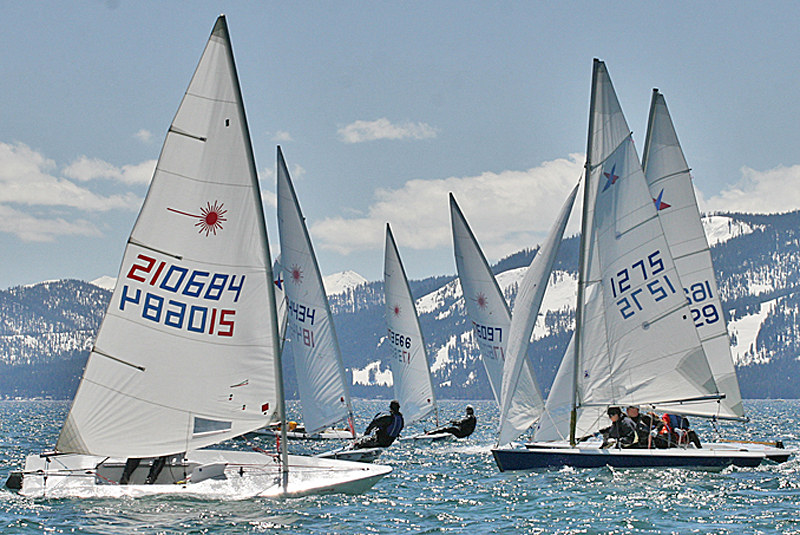 Eleven Lasers and eight Vanguard 15s showed up at Lake Tahoe this weekend for Ski/Sail the one-of-a-kind triathlon regatta you won't find anywhere else. The sailors got conditions they've never found before — the 60-degree air temps arrived when the racers showed up, and all the snow fell on the mountains well before.
"In the 165 . . . okay, 17 years of hosting this event, we have never had such great sailing or skiing conditions," said Ski/Sail founder and 'King' Ralf Silverman. "We had 5- to 15-knots of breeze and over 10 feet of snow. What could be better?"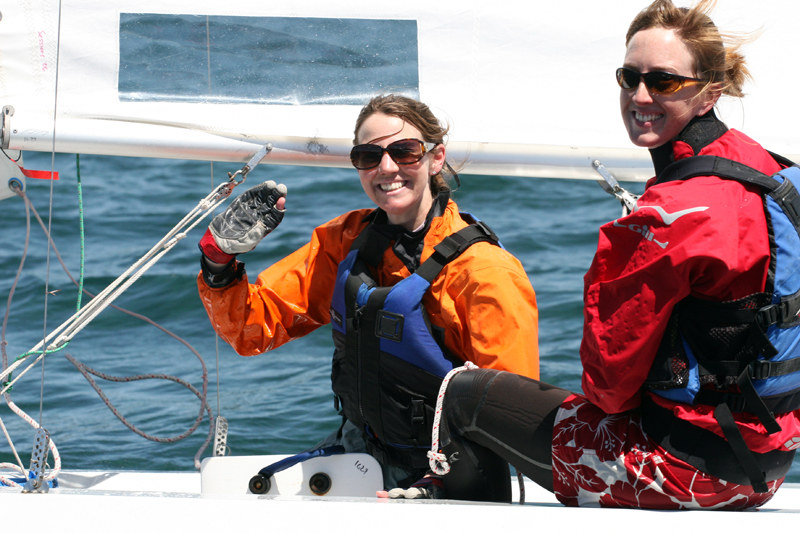 The first day's buoy racing was ideal for dinghy sailing on Lake Tahoe in late April — that water is cold, and it's better not to end up in it! Typically at Ski/Sail, everyone's fingers start to go numb well before completing the six races Silverman was able to run in the balmy conditions. First-time Ski/Sailors, the Bay Area's Alex Symes and Brian Kerr, led the Vanguard 15 fleet after the sailing, and no one was surprised to see Tahoe's Nick Pullen leading the Laser fleet.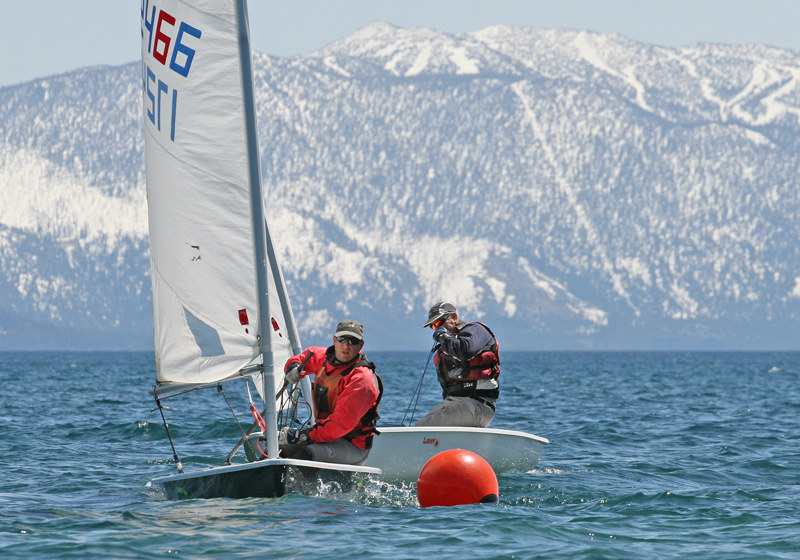 The second portion of the event, Saturday night's party, was held at Squaw Valley's Cornice Cantina. San Francisco's Matt Gregory was this year's winner of "The Suit," a bright yellow, skintight, ski-racing suit that must be worn by its recipient for at least two laps of the party. Most of The Suit's winners wear it only for the required amount of time, but Gregory apparently liked the fit and the way it made him feel; he took it to the next level — wearing it for the rest of the night, including into the hot tub! This type of behavior is not necessarily encouraged, but no one's decision-making skills are expected to be at their best on Saturday night of Ski/Sail.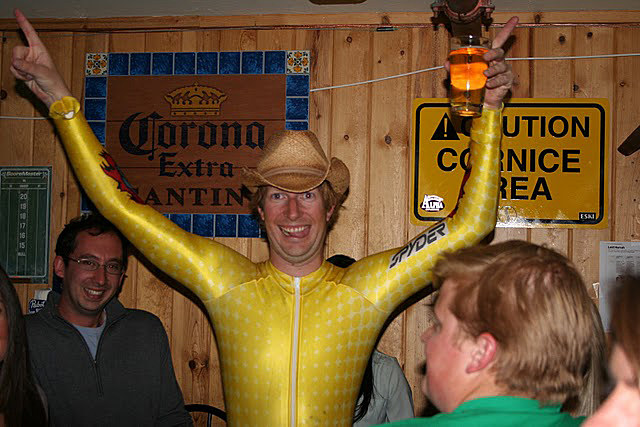 Regatta sponsor Squaw Valley ran the ski-racing event on Sunday in T-shirt-conditions. As always, the Laser sailors, mostly Tahoe locals, had ski-race times that were twice as fast as the Vanguardians — primarily weekend warriors from San Francisco. Each racer made four runs, and the one throw-out per person absolved a few Olympic-quality crashes. Local Justin Roach had the fastest ski times of the Laser fleet despite carrying a goose egg on his forehead from the day before. The Bay's Chad Gray and Adam Eichorn once again edged out the rest of the Vanguard fleet in the skiing. Sponsor Helly Hansen provided some fancy skiing and sailing gear for the top three in each fleet. When the final scores were tallied, Tahoe local Stan Eriksson took the Laser title and three-time Ski/Sail champions Gray and Eichorn were the top Vanguard 15 team.
Receive emails when 'Lectronic Latitude is updated.
SUBSCRIBE