Should Sailors Assist or Stay Clear?
This weekend, the Coast Guard plucked two kiteboarders from San Francisco Bay in separate, unrelated rescues.
On Saturday, the Coast Guard recovered a kitesurfer and his gear off of Coyote Point and returned him to shore around 5 p.m. About an hour later at Crissy Field, a rescue team from Golden Gate Station pulled a kiter out of the water near Anita Rock. The man was taken to Pier 45, according to a Coast Guard press release.
These rescues remind us of the potential dangers of kite- and windsurfing on the Bay and the useful role that sailors can play when practicing thoughtful seamanship.
At any given time, the kiteboarders and windsurfers who are out on the Bay will possess a wide variety of skill levels, and even the best are prone to equipment failure, injury or bad luck. Technically speaking, kite- and windsurfers worth their salt should be able to get themselves out of trouble, yet sailors occasionally find themselves in a position to assist or rescue a downed boarder.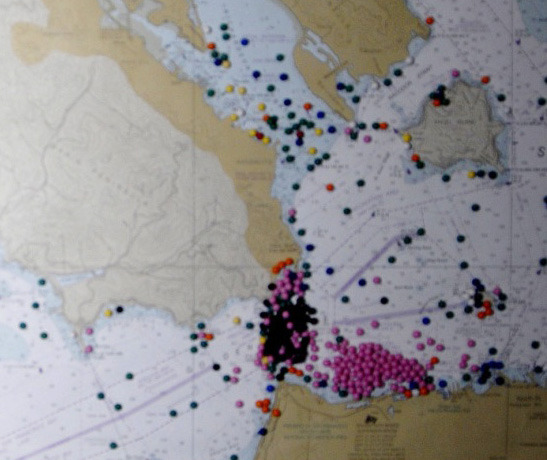 "Any decent kiting school will go over the self-rescue," said Ovi Banuta of Kite415, adding that an avid kiter should have no problem getting back to shore in the event of an equipment failure. "Our school puts a lot of emphasis on it. The self-rescue is also an exercise you want to practice multiple times in many conditions."
Banuta said some "weekend warriors," lured by the apparent safety of shallow water or proximity to shore, might not realize the importance of the self-rescue.
But what role do or should sailors play if they see someone stranded in the water? If you do approach a downed kitesurfer, remember that there are four 25- meter lines floating in the water (perfect for fouling a prop or wrapping around a keel). If the kiter is not able to secure their lines, boat skippers must be sure to give this gear plenty of room.
And remember, just because someone is down and apparently flailing doesn't necessarily mean they're in distress. For example, I have self-rescued on my windsurfer many times, but have had boats circle me, kicking up a wake to ask if I'm OK. The thought is always appreciated, but if you can keep your distance when hailing someone awkwardly paddling their board, please do.
Regarding the rescues this weekend, the Coast Guard said, "These cases are common in the San Francisco Bay… We advise kiteboarders to keep a marine-band radio with them, as that is the quickest way to contact rescue services."
Receive emails when 'Lectronic Latitude is updated.
SUBSCRIBE