SF Schooner Talofa T-Boned in Carib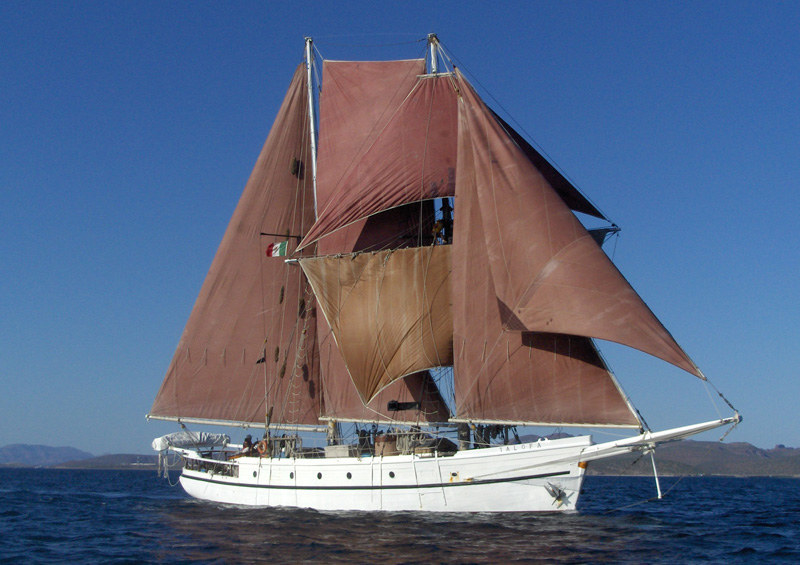 "At around 5 a.m. on April 23 my family's historic schooner Talofa was T-boned while at anchor off Spanish Town, Virgin Gorda [BVI]," writes Beau Bryan, son of owners Cactus and Betsy Bryan. The 97-ft (LOA) schooner, whose keel was laid in Oakland in 1928, had charter guests aboard at the time.
"The vessel that hit her was a steel landing craft loaded with road-building equipment bound for Virgin Gorda. My father was able to beach her before the rising water flooded the engine. The force of the impact was tremendous and it was lucky that nobody was injured or killed by this senseless act of negligence."
With the help of local marine resources, Talofa was refloated, but she is severely damaged along her starboard side and underbelly. Sadly, she was uninsured, and as Beau notes, "all of the income we were expecting from the second half of the charter season is no more." Consequently, the family is looking for any help they can get from the sailing community to facilitate repairs. (Email Betsy here.) They anticipate having to endure a lengthy legal process before a settlement can be reached with the landing craft's owners.
As longtime readers may recall, Talofa has a very colorful history. Her story began during World War I, when brothers Charles and Chester Carter discovered a sunken trove of copper ingots while on duty with the Navy in the Solomon Islands. The story goes that when they returned home, they decided to build a strong, ocean-going vessel so they could return to their 'treasure' site, retrieve the booty and become rich.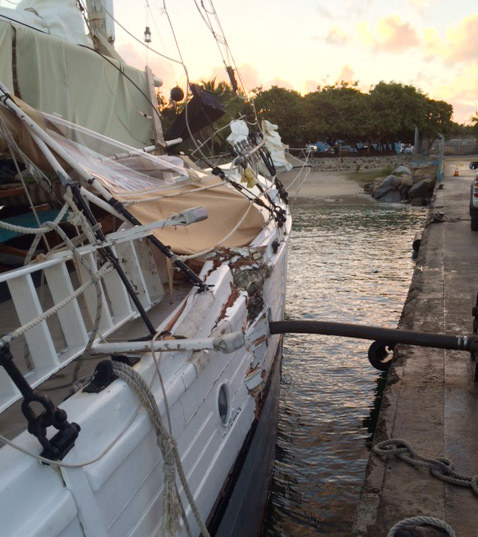 The Carters and others worked on Talofa diligently for over 14 years, but had to give up their building site and launch her prematurely when WWII broke out. At the time, they had finished her hull, but had not yet rigged her. Sadly, the Carter brothers never realized their dreams of treasure hunting under sail, and Talofa was relegated to the inglorious status of an Oakland Estuary liveaboard for the then-aging Carters. Later owners did complete her, however, and she reportedly did a 10,000-mile South Pacific circuit, and served for some time as a sail training vessel for U.C. Irvine. During the 1970s she raced in the Master Mariner's Regatta, and became a fixture on the Sausalito waterfront,
In 2004, the Bryans bought her and did an exhaustive refit on her prior to sailing her to Mexico to begin her career as a crewed charter vessel.
Many West Coast sailors helped with her daunting refit a decade ago, and some later sailed aboard her. We hope some of these 'friends of Talofa' will come to her aid again now, so she can soon sail again.
Receive emails when 'Lectronic Latitude is updated.
SUBSCRIBE