Rolex Yachtspeople of the Year
On the last day of February, US Sailing returned to the St. Francis Yacht Club to present the awards for 2018 Rolex Yachtsman and Yachtswoman (actually women) of the Year. Among sailing luminaries spotted in the crowd or addressing the audience were previous winners Cory Sertl, Daniela Moroz, Johnny Heineken and his family (dad Paul is the 2019 commodore of StFYC), JJ Fetter, John Kostecki, Paul Cayard, Liz Baylis, Bora Gulari and others we might have missed. Attending his 29th such ceremony, Gary Jobson MC'd for the 23rd year.
The format was a little different this year. Instead of speeches, Gary interviewed the finalists and winners on the podium. Nominees Will Welles (2018 J/24 world champion), Zeke Horowitz (J/22 world champion) and Daniela Moroz (the Women's Formula Kiteboard and IKA Kitefoil world champion) were included in the festivities and interviews. Finalist Paige Railey (Laser Radial) wasn't able to attend but sent a congratulatory video greeting — from the airport. Another change was that past winners, along with a panel of esteemed sailing journalists, voted for this year's winners.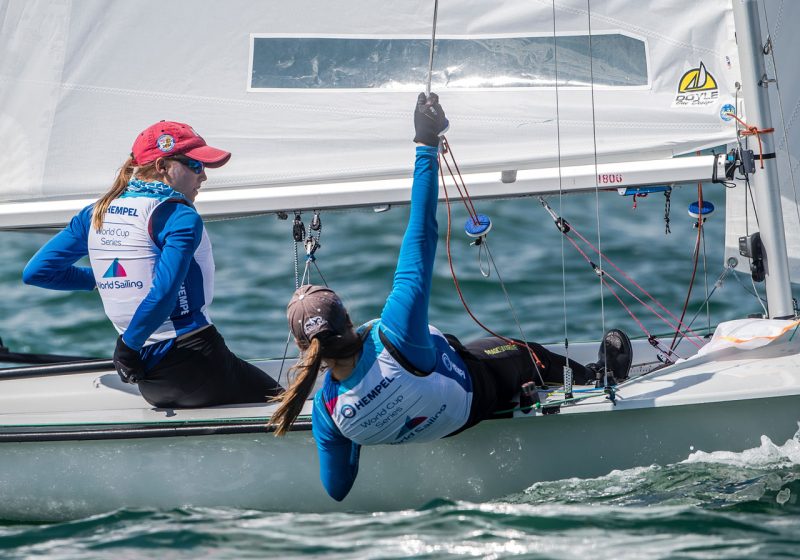 Jobson said that the cool thing about sailing is that you can do it at any age, from very young to old. The 2018 honorees demonstrate that. The Yachtswomen of the Year are 18-year-old identical twins Emma and Carmen Cowles, who won the Youth World Championship in the 420 two years in a row. The Yachtsman of the Year is 61-year-old Jud Smith, the J/70 World Champion. Smith is the oldest recipient of this award; the Cowles are the second-youngest after Moroz, who won at the age of 16 two years ago.
When Gary interviewed Daniela, he asked her, "What are your favorite tricks?" She replied, "My best trick is going fast." The foiling kites will do 20 knots upwind and 30-40 knots downwind.
"How do you go fast?"
"I line up against people like Johnny [Heineken] for training." She's looking forward to the 2024 Olympics, when kiteboarding will be one of the sailing events. "I went to my calendar and got out a calculator to count the days." A high school senior, she'll be off to the University of Hawaii later this year.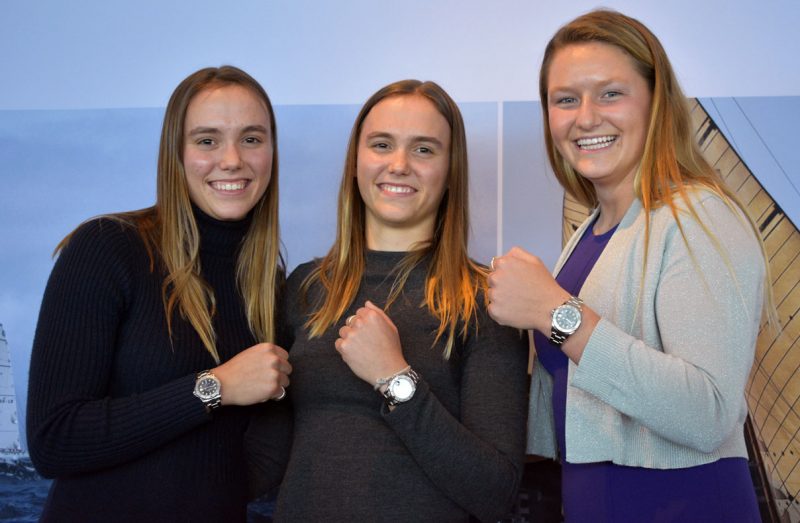 Rolex Yachtwomen of the Year
After the Cowles girls finished first and second in the 2015 Opti Nationals, it was time for them to move up to a bigger boat. Their parents only wanted to manage one boat, so, in 2016, they teamed up in the International 420. In 2017 they won the Youth Worlds 26 points ahead of their closest competition. They focused on "making sure we weren't too stressed-out and keeping a level head." Now they've moved up to the 470 in anticipation of the 2020 Olympics. In the 420 they felt they were only racing against half the fleet, whereas in the 470 they are rounding marks within 40 seconds of all the other competitors. They're now in their senior year of high school. Planning to go to Yale, they'll first take a gap year.
It didn't escape our notice that the three male finalists all won world championships in small J/Boats. Zeke also won North American championships in the Viper and Flying Scot classes. The 89-boat 2018 J/24 Worlds were held in Lake Garda, Italy. "Lake Garda was on my bucket list," said Will Welles. He and two of his regular crew borrowed a boat and took on two Italian crew, including the tactician.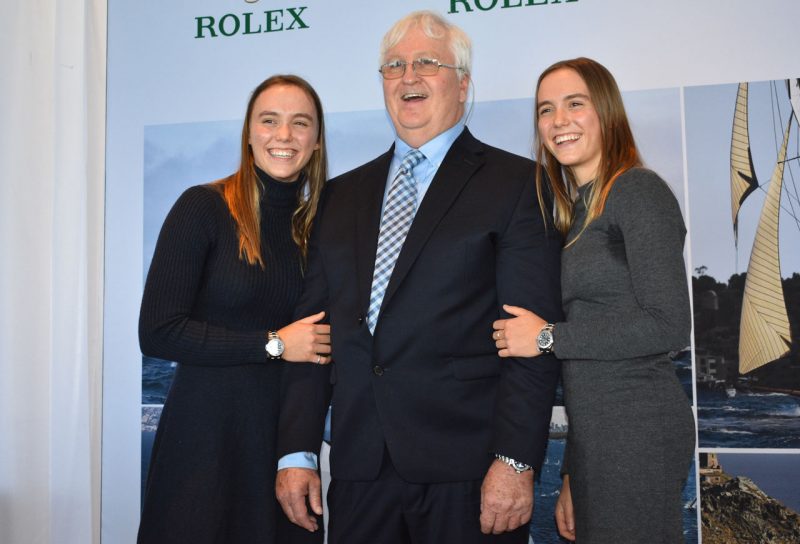 Rolex Yachtman of the Year
Jud Smith is the son of Olympic Gold Medalist David Smith, who won gold at the 1960 Rome Games in the 5.5-Meter. Jud hails from Marblehead, MA. He was the main trimmer for Dennis Conner's 1995 Stars & Stripes America's Cup team in San Diego. In 2006 he won the Etchells Worlds in Perth, with his daughters on the crew. In 2017, he crewed for that year's Rolex Yachtsman of the Year, Peter Duncan. They won the J/70 Worlds in Italy. Then Marblehead welcomed 91 J/70s for their 2018 Worlds, and Jud won by one point with Africa. (Africa, by the way, does not refer to the continent. Rather, it is an acronym for "Another frickin' raceboat I can't afford." Jud has a sense of humor.)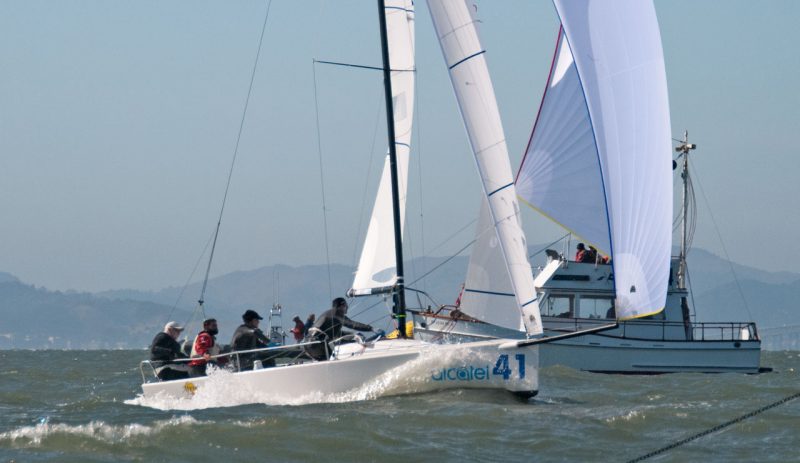 Smith is also a coach. "You learn more when you're coaching. The coach always comes away the smartest one," he said. For the 2018 Worlds, he trained in Newport, RI, and Marblehead. "Marblehead is the windiest city year-round. I study the buoy reports on NOAA for two weeks. Chances were we'd get plenty of breeze." This year, Smith is continuing to coach and is hoping to do the Etchells Worlds. He's having a new boat built in the UK. "I haven't steered on an Etchells since 2012," he said.
The 2019 awards will be announced and bestowed at US Sailing's Leadership Forum. San Diego Yacht Club will host in the second week of February, 2020.
Cruising Club of America Far Horizons Award
In recognition of his numerous record-setting voyages as navigator, the CCA will honor Stan Honey with its 2018 Far Horizons Award. The CCA established the award to recognize a member or members for "a particularly meritorious voyage or series of voyages that exemplify the objectives of the Club."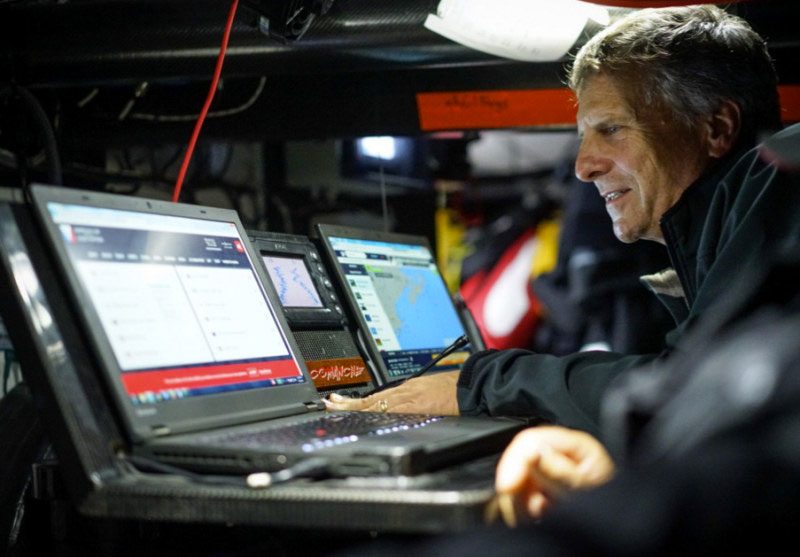 A Bay Area resident and Rolex Yachtsman of the Year (2010), Honey holds 22 sailing records as a navigator or singlehanded skipper, including records won on five Transpacs, three Newport Bermuda Races, two Transatlantic Races and one Rolex Sydney Hobart Race. As navigator Honey has won numerous class or line honors, most notably as the 2006 Volvo Ocean Race-winning navigator aboard ABN Amro One. In 2010, again as navigator, he set a record for the fastest global circumnavigation — in 48 days, seven hours and 45 minutes — on the maxi-trimaran Groupama 3.
Stan holds 30 patents in navigation and graphics. He co-founded Sportvision Inc., the leading developer of live-tracking enhancements for sports telecasts. Combining his passions led to the development of an augmented-reality technology for sailing broadcasts — known as AC LiveLine — that overlaid geo-positioned lines and data streams on live race-course video. He won an Emmy for its use covering the 2013 America's Cup.
Receive emails when 'Lectronic Latitude is updated.
SUBSCRIBE