The Resourceful Sailor: Building Transparent Drop Boards
Have you ever been tucked cozily below and wished you could see astern? Or had more daylight shining belowdecks? Sampaguita, a 1985 Pacific Seacraft Flicka 20, has three companionway drop boards made from 3/4-inch teak. They have stood the test of time but make the cold, dark winters darker. What if there were transparent drop boards as an alternative? This installment of The Resourceful Sailor explores what he came up with for Sampaguita.
I knew I wanted to make at least one clear plastic drop board. I thought through a few design and material ideas, deciding the best approach was the simplest, mimicking the dimensions of one of the upper two of three factory drop boards. The criteria were low weight and cost, water resistance on par with the factory boards, no rattling, and of course, see-through. The intention was not to permanently replace the present drop boards but to offer options depending on the weather and situation.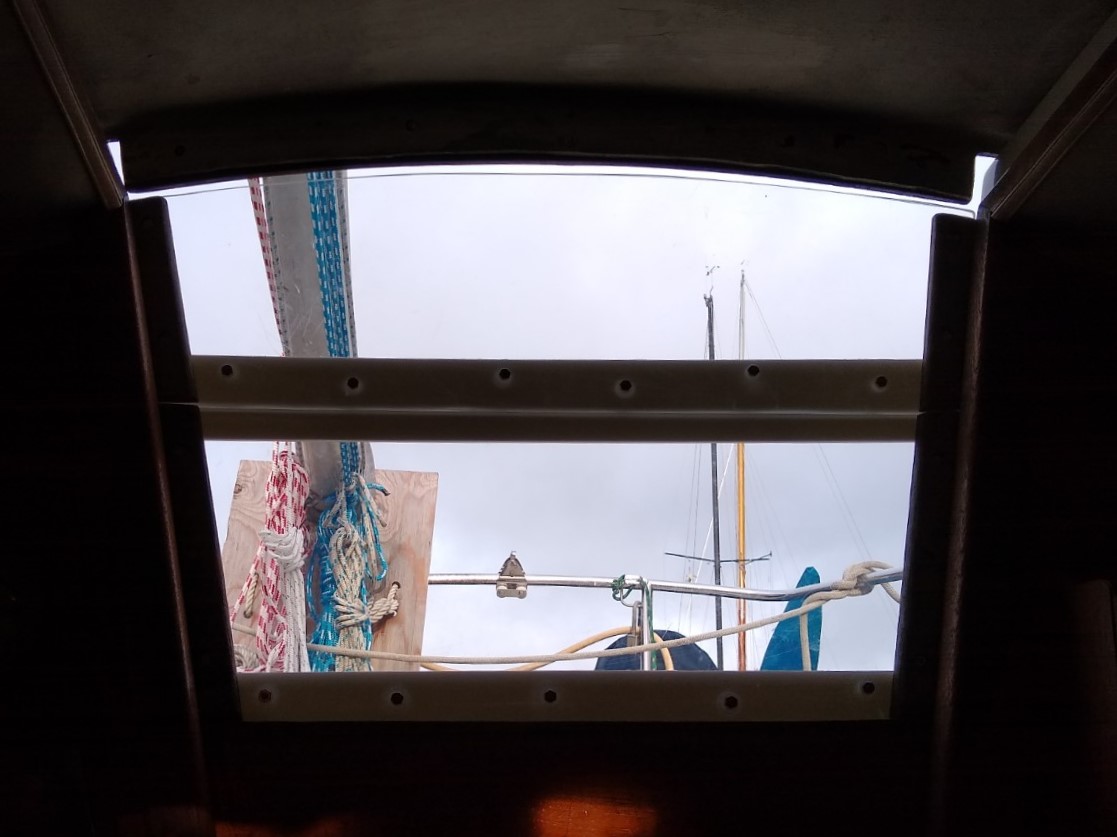 Acrylic (Plexiglass) or polycarbonate (Lexan) seemed like the go-to options when selecting the board material. Presently, both of these can be tricky to source due to supply chain issues and demand. While polycarbonate is the stronger, I decided on acrylic because it is more scratch-resistant and costs less. As for the type of acrylic, I prefer cast to extruded because of its hardness, and because it machines more cleanly.
However, a friend settled any debate when he offered me a piece of acrylic with an unknown heritage that was right-sized for the job. It was large enough to make both of the upper drop boards. At only 1/4 inch thick, it meant trim was necessary to fit the companionway slots, which were 7/8 inch wide, but it would also save considerable weight.

I traced the shapes of the top two companionway boards on the acrylic, mostly straight edges, and used a table saw with a fence rail to make straight cuts. The one curved side I cut with a jigsaw. I smoothed out the rough edges with sandpaper.
The trim came from my old teak bow platform that I replaced and Starboard remnants from a different project. While the teak had some rot, there was enough good wood to cut four 1/2-inch-thick strips to fasten to the short sides of each acrylic board. The widths were just right, and already had rounded edges. Convenient. In addition to being spacers, they added rigidity. Again, a table saw worked nicely for making smart cuts.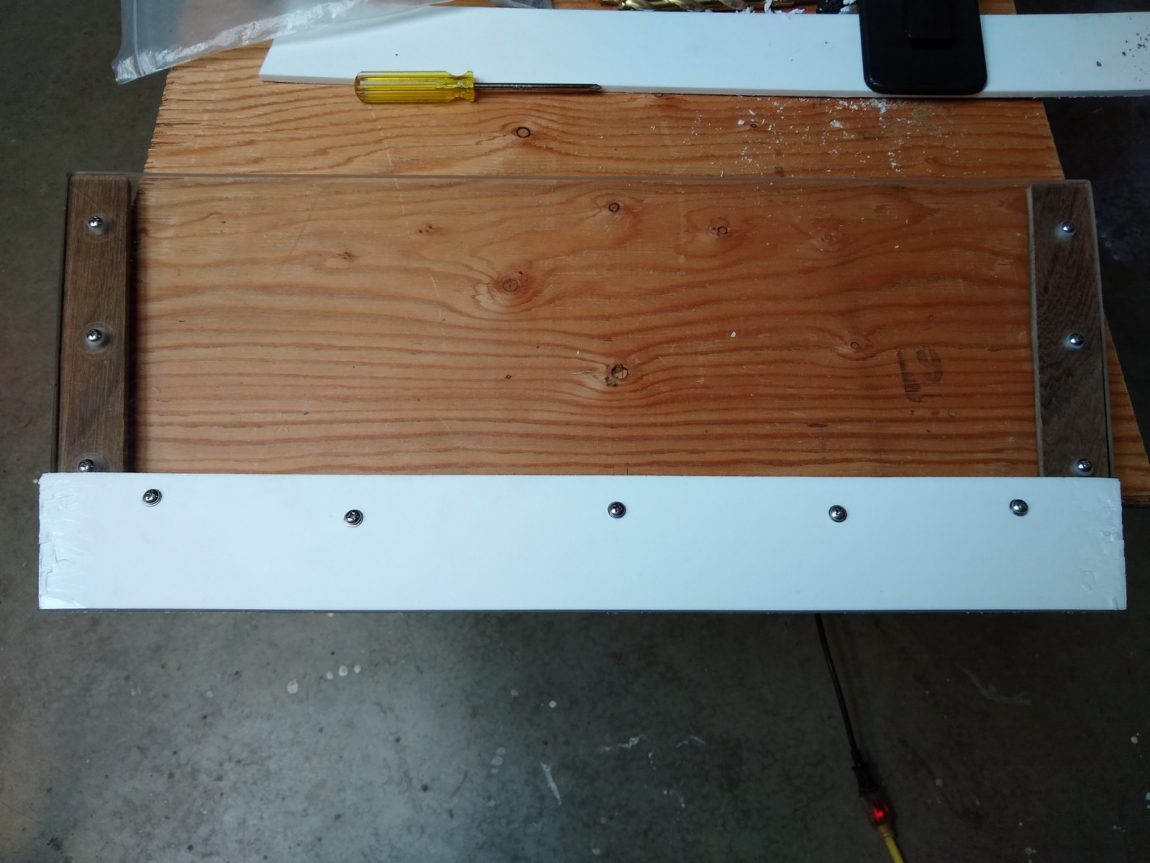 I cut long, three-inch strips of 1/4-inch Starboard to fit the bottom length of each acrylic board. These would act as an additional spacer and overlapping lip to the board below, mitigating the water coming through the cracks.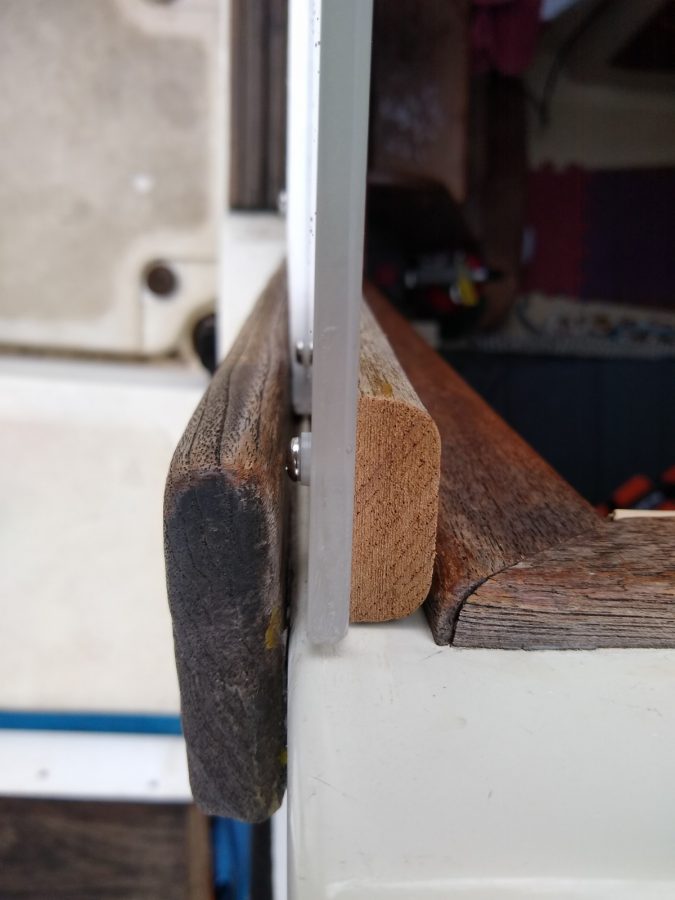 I drilled holes in the acrylic, teak, and Starboard and fastened them together with #8 pan head stainless steel machine screws and nuts. I selected screw lengths to be as short as possible to minimize protrusion. I counterbored holes in the teak trim, so the nuts and screw ends sat below its surface. I anticipated these would be the worst offenders for snagging and gouging their surroundings. Once all this was assembled, I sanded the Starboard down on the ends a little to achieve a snug fit in the slots.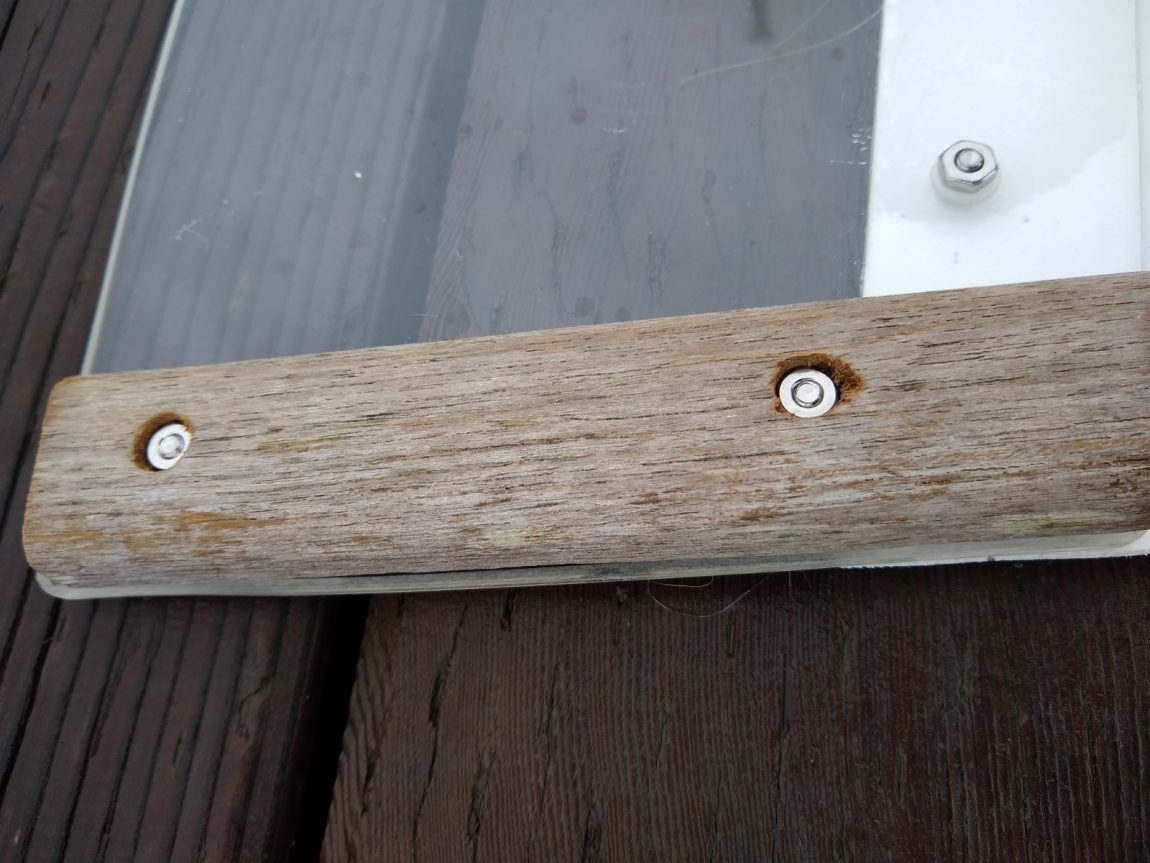 Besides measuring and getting things square, there are tools and techniques for machining acrylic to mitigate chipping and melting. I highly recommend buying a drill bit designed for plastic and reading what the experts say about how best to use it. It is an article in itself. Then practice with some scraps to get a feel for working with it. The acrylic wants to chip when you cut and drill it. Every chip likely means a crack, even if it is too small to see. Rest assured, these cracks will migrate over time.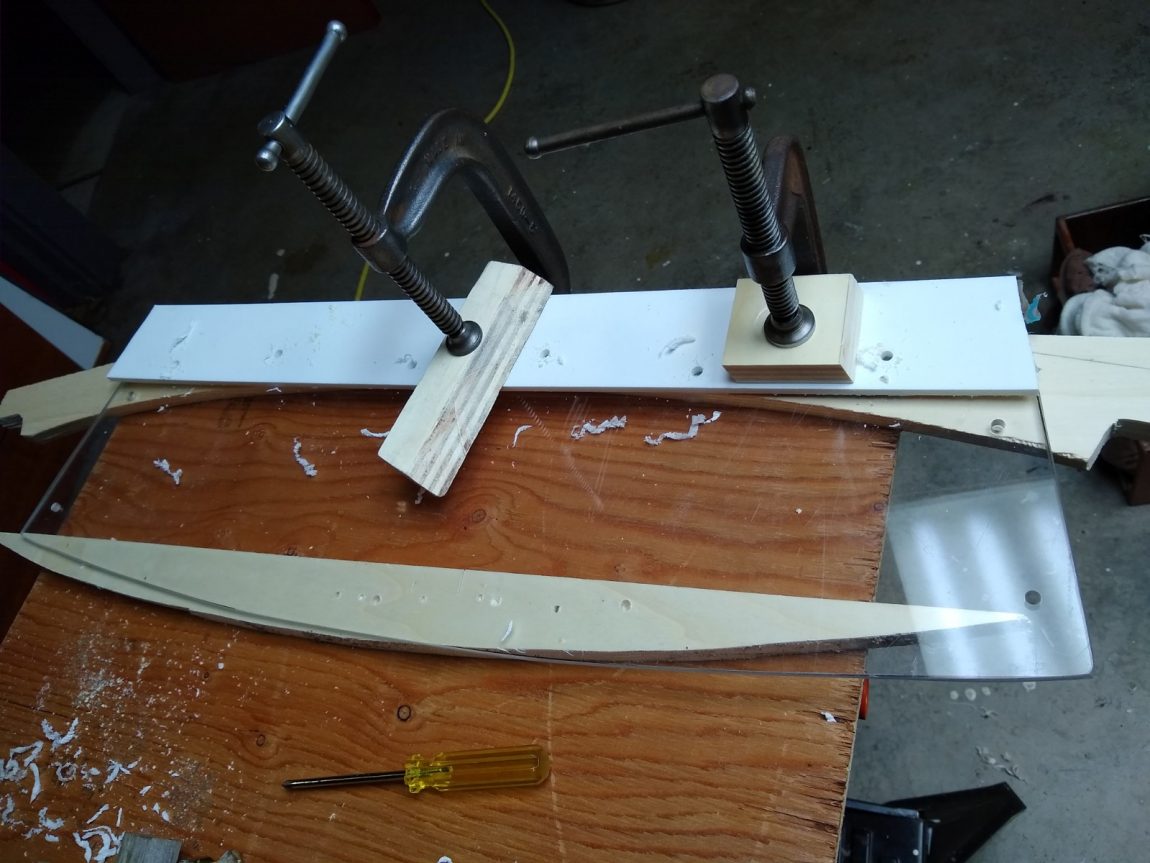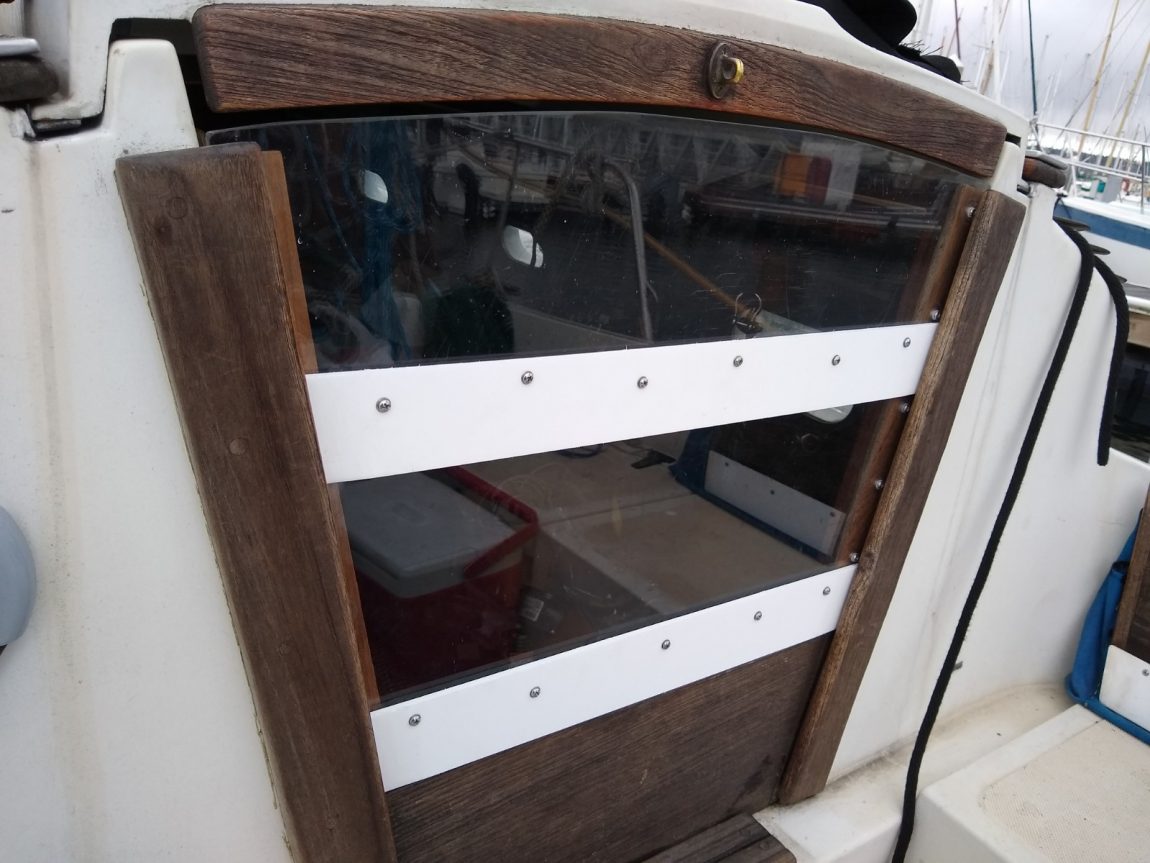 The Resourceful Sailor used gifted, leftover, and repurposed materials in a way that fit the criteria for Sampaguita. While creating the boards from solid pieces of thick acrylic would have reduced the drilling, at 3/4-7/8 inch thick, they would be both heavy and expensive. The thinner acrylic determined the choice of pan head screws over flat head countersunk ones to avoid extra machining likely to compromise the material over time. Starboard lips were previously attached to the factory drop boards to mitigate water ingress, so there was experience as well as remnants. Remember, keep your solutions prudent and safe, and have a blast.
Want to see more from The Resourceful Sailor? Here's a previous article we published: Chafe Is Your Enemy.
Receive emails when 'Lectronic Latitude is updated.
SUBSCRIBE